One thousand children have "co-written" the ideal story, with a friendship considered more important than a romantic relationship and the hero using a magic wand.
New research said the best possible nighttime story has traditional characters including princesses and dragons and is 8.6 minutes long.
According to 2,000 children and parents surveyed, a dragon, a princess, a wizard and a fairy, with a mythical castle as backdrop and a scary moment overcome by the hero, is the right combination for dropping off.
Also popular was the presence of a Light Saber, an Xbox or Dr Who's Sonic Screwdriver.
The research cannot quite account for the surrealist and globally best-selling stories of children's authors such as Dr Seuss and Roald Dahl. None feature princesses or magic and are often darkly humorous.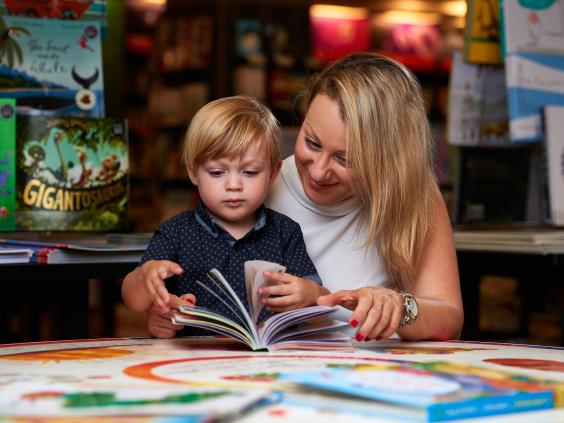 The research, commissioned by Butlins, comes amid what is apparently the most stressful months for parents - August and September - when children will struggle to adjust to going back to school after the holidays.
The study also showed that 1 in 10 parents worry their storytelling abilities is not up to scratch - with one in 10 feeling inadequate and five per cent concerned their children are bored.
Children's best reads 2015
Children's best reads 2015
1/11 The Most Wonderful Thingin the World

Vivian French & Angela Barrett: The Most Wonderful Thing in the World (Walker 7+) - A Venetian Princess can only be won by the best - least expected - gift. Exquisitely heart-felt.

2/11 Mountford School For Ghosts

Toby Ibbotson: Mountford School For Ghosts (Macmillan 8+) - A supremely funny, gripping caper.

3/11 Jessica's Ghost

Andrew Norriss: Jessica's Ghost (David Fickling 11+) - Why can a lonely boy see and talk to a ghost? A spooky comedy turns into a heartening account of teenage depression especially for boys.

4/11 The Little Gardener

Emily Hughes: The Little Gardener (Flying Eye Books 6+) - A tiny gardener delights in the garden that is his home but it is dying, until a human child helps. Gentle and moving.

5/11 Five Children on the Western Front

Kate Saunders: Five Children on the Western Front (Faber, 9+) - E Nesbit's children fight in the First World War. Can they save each other and the Psammead? Outstanding 2015 Costa children's winner asks deep questions about courage and tyranny.

6/11 Ten Little Dinosaurs

Ten Little Dinosaurs: Mike Brownlow and Simon Rickerty

7/11 Deep Water

Lu Hersey: Deep Water (Usborne 12+) - Danni's mother disappears, her Dad takes her to Cornwall and she is battling old evil with new magic. Mslexia prize-winner; excellent.

8/11 Car-Jacked

Ali Sparkes: Car-Jacked (OUP 8+) - A genius boy with asthma is accidentally kidnapped by a bank-robber. Who will win the chase? Full of clever twists and genuine humanity.

9/11 Buffalo Soldier

Tanya Landman: Buffalo Soldier (Walker 12+) - Former slave Charlie steals a dead man's clothes to win freedom. Gripping, vivid, superb, the 2015 winner of the Carnegie Medal.

10/11 Finding Audrey

Sophie Kinsella: Finding Audrey (Doubleday 12+) - Bullied girl gets agoraphobia, but finds hope in sharply sensitive story from the queen of romantic comedy.

11/11 Pike

Anthony McGowan: Pike (Barrington Stoke 8-14+) - Written in direct, dramatic language, a boy and his disabled brother brave deep waters and brutal gangsters in search of gold.
The research also found that a quarter of children expect the story to be acted out, according to the research.
Sound effects, different voices and a happy ending are essential, leading the research to provide parents with a step-by-step breakdown on how to "warm up" the story and build up towards its exciting moments.
Alex Charalambous, who put the formula together, said a steady bedtime routine was a good idea for after the holidays.
"As the research shows, the familiarity of a classic tale draws children in and the happy ending makes for a pleasant night's sleep," he said.
He added that story boxes - a shoebox placed on its side and decorated with scenery and with finger puppets - allowed parents more freedom to experiment with the story.
Reuse content