'Libraries gave us power," Manic Street Preachers' 1996 single "A Design For Life" noted with anthemic gusto. And on BBC Radio 6 Music that connection between music and literature is further amplified with a special edition of Guy Garvey's Finest Hour.
In the teeth of a crisis that in the three years to the end of 2014 saw 324 British libraries close, the Elbow frontman is broadcasting his radio show live from Manchester Central Library. It's part of an afternoon of family-friendly activities at the refurbished grade II*-listed neo-classical building, relaunched last November with a week-long arts festival curated by Manchester band Everything Everything. Garvey will be joined by drummers Stephen Morris of New Order and Phil Selway of Radiohead for a discussion on the books and authors influencing them and their music.
Selway will also make a special presentation in memory of a member of Radiohead's road crew. Drum technician Scott Johnson, 33, was killed when a section of rigging collapsed before a band concert in Toronto in 2012. Johnson's parents and friends established a memorial fund which, Selway said, "buys electronic drum kits for schools, to inspire that next generation of drummers and musicians. One is going into the music library at the Manchester Central Library."
Selway points at the benefits of losing yourself in a book, and in a library. "At points in your life you can view libraries as quite stuffy and straight-laced. But actually they're amazing places of discovery.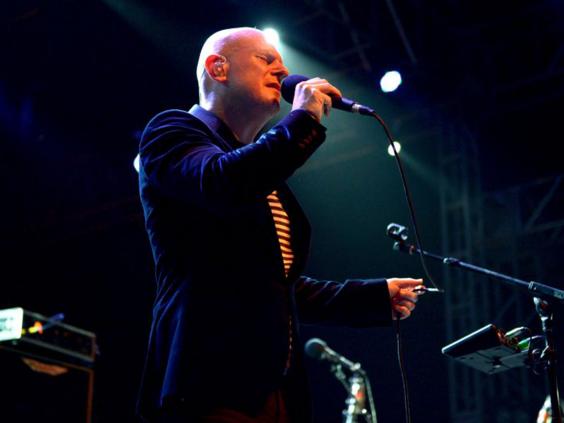 "I think it's great that libraries are evolving," he added. "But that core purpose of the building is still there: that shared area where people can delight in learning – and in this case, find an outlet for their expression. You're going there to better yourself, in whatever way that is."
Selway highlighted the power of tactile engagement with music or reading. To his mind, a book, record or CD, more so than a screen or a download, forges a "physical connection with the process" of creativity. "And you can't beat it."
As for Garvey, Selway could think of no better radio DJ to hymn the praises of the opportunities for illumination and quiet reflection offered by libraries.
"He's a fantastic lyricist, so he flits well between those two worlds. But it's not as if there's a division between the two – music and literature are both sources of almost sensual delight, if you like. And that comes across in the playlists he puts together for his show."
Guy Garvey's Finest Hour, BBC Radio 6 Music, 2pm-4pm on 6 September
Reuse content