Marvel Comics' new female Thor is proving that women can outsell men by shifting more copies than those featuring the male version of the Norse Go
The popular comic was rebooted for a female edition in October, with the eighth issue currently in the pipeline.
Marvel's move to attract more female fans to the franchise received a mixed reaction but now, comparison figures released by comics research website ComiChron show that it is enjoying significant commercial success.
The first four female Thor comics have been selling more than the last four male ones from 2012 by almost 20,000 copies per month, not including digital.
New Thor sold 150,862 copies when it debuted in October last year, compared to the 110,443 copies sold of the first original version two years ago.
Marvel's best superheroes
Marvel's best superheroes
1/19 Black Widow

The Black Widow (Natasha Romanoff) played by Scarlett Johansson

AP

2/19 Spider Man

British actor Andrew Garfield as Spider-Man

PA

3/19 Captain America

Chris Evans in 'Captain America: The First Avenger'

Rex

4/19 Iron Man

Robert Downey Jr in Iron Man 3, who won favourite action movie star at the People's Choice Awards 2014

Iron Man 3

5/19 Wolverine

Hugh Jackman bears his claws and loses the plot in X-Men movie 'The Wolverine'

Twentieth Century Fox Film

6/19 Hulk

Edward Norton as Hulk in The Incredible Hulk

YouTube

7/19 Thor

Chris Hemsworth as Thor. Recently Marvel revealed its plans to make the hammer-wielding Norse superhero Thor a woman

Rex Features

8/19 Hank

Nicholas Hoult as Kan in 'X-Men: Days of Future Past'

AP

9/19 Raven Darkhölme

Jennifer Lawrence as Raven Darkhölme in X-Men: Days of Future Past

10/19 Hawkeye

Jeremy Renner as Hawkeye in 'Avengers Assemble'

Marvel

11/19 Winter Soldier

Sebastian Stan as the villainous Winter Soldier in the 'Captain America sequel

Marvel

12/19 The Avengers

The Avenger's superheroes

Marvel

13/19 Cyclops

The optic blast hero has long been played by James Marsden

YouTube

14/19 Professor X

Patrick Stewart landed the role as Professor Charles Xavier in Bryan Singer's comic-book blockbuster X-Men

Rex Features

15/19 Rocket Raccoon

Bradley Cooper voices Rocket Raccoon in Guardians of the Galaxy

Marvel

16/19 Groot

Also known as the Monarch of Planet X, Groot is played by Fast and Furious star Vin Diesel in Guardians of the Galaxy

Marvel

17/19 Drax

Known as 'the destroyer', Drax is played by actor Dave Batista in Guardians of the Galaxy

YouTube

18/19 Gamora

A soldier and assassin played by Zoe Saldana in Guardians of the Galaxy

YouTube

19/19 Guardians of the Galaxy

Bill Mantlo's comic creation on screen in Guardians of the Galaxy

Marvel
"This is not She-Thor. This is not Lady Thor. This is not Thorita. This is Thor. This is the Thor of the Marvel Universe. But it's unlike any Thor we've ever seen before," said Jason Aaron, series writer, last summer.
"This inscription on Thor's hammer reads, 'Whoever holds this hammer, if he be worthy, shall possess the power of Thor'. Well it's time to update that inscription," added Will Moss, Marvel editor.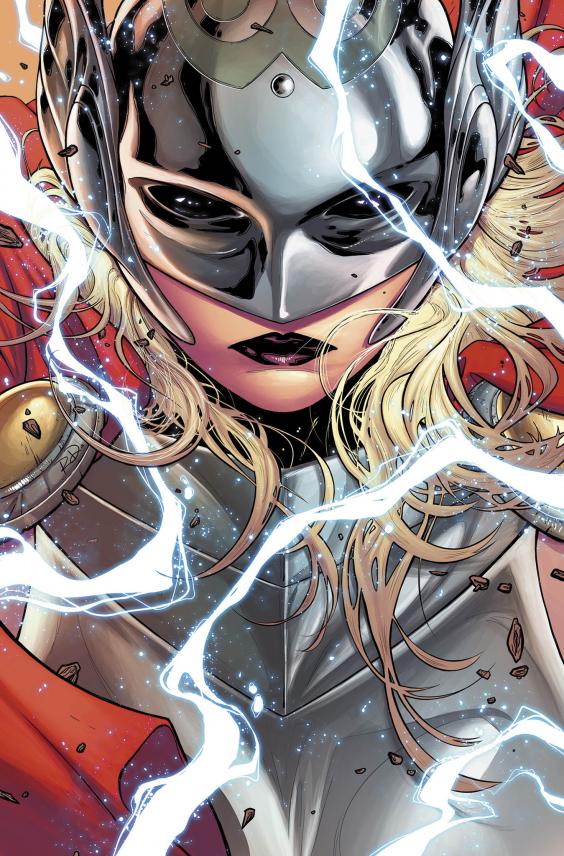 "The new Thor continues Marvel's proud tradition of strong female characters like Captain Marvel, Storm, Black Widow and more."
Marvel said in a statement on its website that it hopes female Thor will "speak directly to an audience that long was not the target for superhero comic books in America: women and girls".
Writers are promising to reveal the identity of female Thor, depicted with long blonde hair, metal armour and a red cape, in the May issue of the comic.
Reuse content