Everybody's favourite secret agent is set to return in the first James Bond comic for more than twenty years.
Newly-announced writer Warren Ellis, known for Gun Machine and Red, has hinted that fans can expect the "original, brutal, damaged" 007 from Ian Fleming's iconic novels when he publishes a gritty next series in November.
Jason Masters is in charge of the artwork, with the six-issue story arc seeing Bond in London following a "mission of vengeance" in Helsinki.
"Something evil is moving through the back streets of the city and sinister plans are being laid for Bond in Berlin," published Dynamite revealed.
Ellis is a long-term Fleming fan and described Bond as "England's blunt instrument of international assault - the spiteful, vicious b*****d of a faded empire that still wants the world to do as it's b****y well told" in comments made in 2012.
Bond on screen through the years
Bond on screen through the years
1/8 Barry Nelson

The first ever Bond on screen, Nelson played James Bond in 1954 in Climax! Casino Royale

Hulton Archive/Getty Images

2/8 Sean Connery

The Scottish actor first played Bond in the 1962 'Dr. No'. He portrayed the secret agent from 1962 until 1967, although he reprised the role twice: once in 1971 for 'Diamonds Are Forever' and again in 1983 in 'Never Say Never Again'

Hulton Archive/Getty Images

3/8 David Niven

Niven was 007 the time of one film; the 1967 'Casino Royale'

Roy Jones/Hulton Archive/Getty Images

4/8 George Lazenby

Lazenby played Bond in the 1969 'On Her Majesty's Secret Service'

Larry Ellis/Hulton Archive/Getty Images

5/8 Roger Moore

Moore's Bond started with 'Live and Let Die', the 1973 film directed by Guy Hamilton. He was the face of 007 for 12 years, when his tenure finished with the 1985 'A View to a Kill'

Keystone/Hulton Archive/Getty Images

6/8 Timothy Dalton

Timothy Dalton was James Bond in 'The Living Daylights' and 'Licence to Kill'

Mychele Daniau/AFP/Getty Images

7/8 Pierce Brosnan

Brosnan took over the role in 1995 when he played the spy in 'GoldenEye'. He played in a total of four films, and his last time playing 007 was in 2002 'Die Another Day'

Hulton Archive/Getty Images

8/8 Daniel Craig

Daniel Craig was announced as the new James Bond in 2005. His first appearance as the secret agent was in the 2006 'Casino Royale'. He has since starred as Bond in 'Quantum of Solace' and 'Skyfall'. He is expected to appear once again on screen in 2015 for 'Bond 24'

Greg Williams/Getty Images
"Bond is not a superman," Ellis wrote. "He prevails because he is quite simply nastier and more determined to wreak utter bloody havoc than the next guy. He is what Allen Ginsberg called 'bleak male energy', causing and taking immense damage in single-minded pursuit of what he wants."
Fleming's novels present a Bond who is "scarred with clear psychological damage, often on the edge of being removed from service by M on mental health grounds", Ellis said, with the books "notably less spectacular and more low-key" than the blockbusters.
Fleming's Bond first appeared in comic strips in the late Fifties and fans will no doubt be greatly excited to have him back.
The 24th film in the Bond franchise, Spectre, is due in cinemas on 6 November with a star-studded cast including Daniel Craig and Christoph Waltz. It follows the hugely successful Skyfall, which grossed $1.1 billion at the global box office in 2012.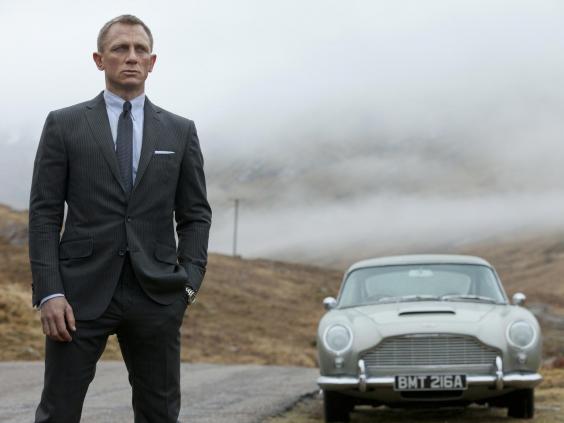 Plans for a Bond musical are also underway with Merry Saltzman, daughter of Bond film producer Harry Saltzman securing the rights for a stage show.
"Production schedules and trial runs are still being worked out in anticipation of a late 2017-early 2018 opening," she told Playbill.com, adding that the production would feature several classic Bond villains and "our own Bond girl".
Reuse content