Lady Gaga's former assistant is reported to have signed a $1 million book deal that looks set to spill the beans on the singer's bizarre lifestyle.
The pop star's former PA Jennifer O'Neill is confirmed to be writing a book that is said to include details about having to sleep in the singer's bed every night and being woken up to change the DVD player at Gaga's request.
Atria Books, an imprint of Simon & Schuster, has confirmed it has signed a deal with O'Neill, which is claimed to be worth up to $1 million (£585,000), according to the New York Post.
Details of the book, entitled Fame Monster, are yet to be revealed, but based on evidence submitted in a court case between Gaga and her former employee, the tell-all account looks likely to paint the singer in an unflattering light.
Lady Gaga's most ridiculous outfits
Lady Gaga's most ridiculous outfits
1/8 2009

Gaga goes all sun goddess to perform at the launch of V61, hosted in NYC by V Magazine, Marc Jacobs and Belvedere Vodka

Getty Images

2/8 2009

Urm, we can't see your face Gaga? Lady Gaga (or is it?) accepts the award for Best New Artist at the MTV Video Music Awards

Getty Images

3/8 2010

Lady Gaga arrives dressed as a wannabe Disney princess at the Grammy Awards in Los Angeles

Getty Images

4/8 2010

Dressed in a controversial get-up made entirely of raw meat, Gaga poses in the press room at the MTV Video Music Awards in Los Angeles

Getty Images

5/8 2011

Gaga could have been beamed down from outer space as she waves to the crowd during the New Year's Eve celebration in New York's Times Square

Getty Images

6/8 2011

Gaga channels Marilyn Monroe's wind-blown red dress to perform at the MTV Europe Music Awards in Belfast

Getty Images

7/8 2012

A mane of flowers frames Lady Gaga's face as she sits in the front row for Philip Treacy's show at London Fashion Week

Getty Images

8/8 2013

Like something out of nightmares, Gaga attends the YouTube Music Awards in New York wearing a frankly terrifying mouthpiece...and that's before mentioning the rest of her attire

Getty Images
In 2011, O'Neill, a former friend and flatmate of the singer, sued Gaga claiming she was owed $393,000 for 7,168 hours of overtime, plus damages.
O'Neill stated in the legal papers: "I had no privacy, no chance to talk to any family, no chance to talk to any friends, no chance to have sex if I wanted to have sex. There was no chance of anything."
She also spoke about frequently having to share a bed with Gaga, real name Stefani Germanotta, because the singer allegedly "didn't sleep alone".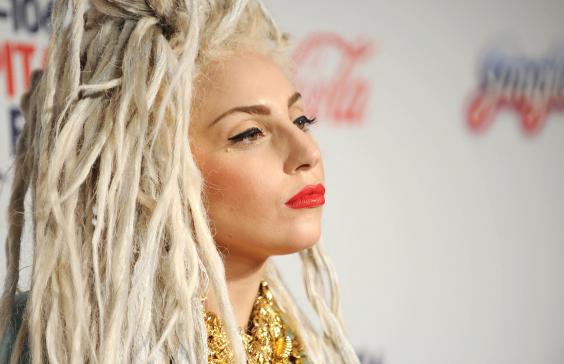 The former aide, who worked for Gaga between 2008 and 2011, claimed she was responsible for handling all of the pop star's 20 bags of luggage when they travelled, and for making sure "special food" was available at every location for the singer.
Gaga responded to the lawsuit at the time by calling O'Neill "a f**king hood rat who is suing me for money that she didn't earn."
The case was settled out of court in October 2013 and terms were not disclosed.
A release date for Fame Monster is yet to be confirmed.
Reuse content