Female Thor, black Captain America and a Muslim Ms Marvel have all joined the Marvel comic book universe and now, there's a new Hulk to add to its 'All New, All Different' line-up.
Bruce Banner will soon be no more when teenage genius Amadeus Cho dons the green suit for Totally Awesome Hulk #1 in December.
Fans of both Marvel and the Hulk will know Cho's name as he has featured in the stories as a supporting character for a decade, making his promotion seem more natural. The 19-year-old, Marvel's first Korean-American lead written and drawn by a Korean-American team, is both similar and different to Banner, but what do we know so far?
Axel Alonso, Marvel's editor in chief, dropped some big hints to Entertainment Weekly about what we might expect. "Physically, he's like Banner: he's the 98-pound weakling who's had everything but the physical aspect to make him super cool, but secondarily, he's so different from Banner," he said.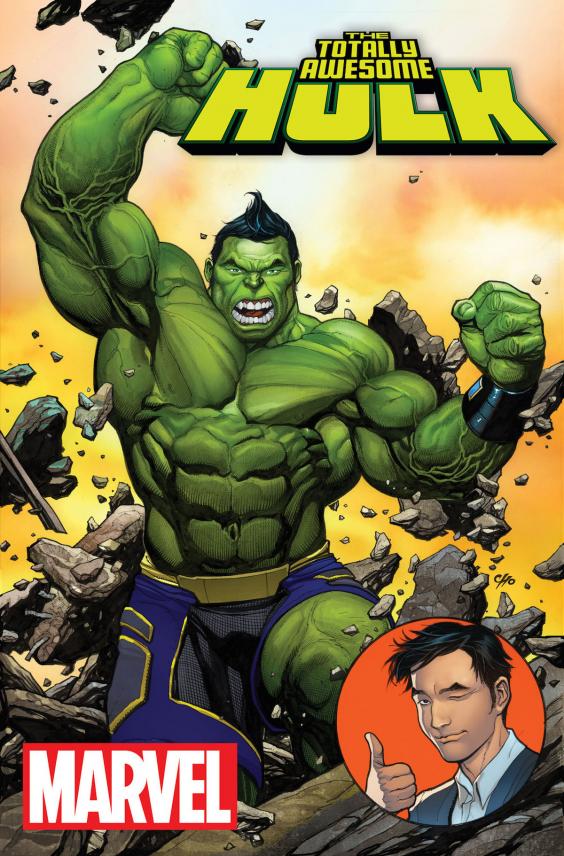 "He shares the monstrous intellect but he's a teenage kid who hasn't lived much yet. For Banner, the weight [of being Hulk] was like a boulder. For Cho, it's like a feather. He loves being the Hulk."
Alonso is convinced that by the time the new Hulk hits stores, the strongest character in the Marvel Universe will be Korean-American.
"I think the only person who can dispute that is the female Thor, which I think says a lot about our line," he said, adding that there will be no multiple Hulks.
"Just like there is one Thor and she's a she, there is one Hulk and it is Amadeus Cho," he said. "But I also want to say that there is a story to be told for Banner. Banner's story is not over."
Marvel's best superheroes
Marvel's best superheroes
1/19 Black Widow

The Black Widow (Natasha Romanoff) played by Scarlett Johansson

AP

2/19 Spider Man

British actor Andrew Garfield as Spider-Man

PA

3/19 Captain America

Chris Evans in 'Captain America: The First Avenger'

Rex

4/19 Iron Man

Robert Downey Jr in Iron Man 3, who won favourite action movie star at the People's Choice Awards 2014

Iron Man 3

5/19 Wolverine

Hugh Jackman bears his claws and loses the plot in X-Men movie 'The Wolverine'

Twentieth Century Fox Film

6/19 Hulk

Edward Norton as Hulk in The Incredible Hulk

YouTube

7/19 Thor

Chris Hemsworth as Thor. Recently Marvel revealed its plans to make the hammer-wielding Norse superhero Thor a woman

Rex Features

8/19 Hank

Nicholas Hoult as Kan in 'X-Men: Days of Future Past'

AP

9/19 Raven Darkhölme

Jennifer Lawrence as Raven Darkhölme in X-Men: Days of Future Past

10/19 Hawkeye

Jeremy Renner as Hawkeye in 'Avengers Assemble'

Marvel

11/19 Winter Soldier

Sebastian Stan as the villainous Winter Soldier in the 'Captain America sequel

Marvel

12/19 The Avengers

The Avenger's superheroes

Marvel

13/19 Cyclops

The optic blast hero has long been played by James Marsden

YouTube

14/19 Professor X

Patrick Stewart landed the role as Professor Charles Xavier in Bryan Singer's comic-book blockbuster X-Men

Rex Features

15/19 Rocket Raccoon

Bradley Cooper voices Rocket Raccoon in Guardians of the Galaxy

Marvel

16/19 Groot

Also known as the Monarch of Planet X, Groot is played by Fast and Furious star Vin Diesel in Guardians of the Galaxy

Marvel

17/19 Drax

Known as 'the destroyer', Drax is played by actor Dave Batista in Guardians of the Galaxy

YouTube

18/19 Gamora

A soldier and assassin played by Zoe Saldana in Guardians of the Galaxy

YouTube

19/19 Guardians of the Galaxy

Bill Mantlo's comic creation on screen in Guardians of the Galaxy

Marvel
Writer Greg Pak has teased two stories in the book's opening arc - one showing Amadeus "kicking ass and getting a threat that is scaled to his power" and another told in flashbacks about how he came to be Hulk and what happened to Banner.
"One thing is for certain - Amadeus Cho is a completely different kind of Hulk. Not tormented, not conflicted. Just a giant green wrecking machine who loves being the Hulk! What could possibly go wrong?" the official Marvel press release reads.
So there you go, Marvel fans. Your favourite gamma radiation expert is sticking around and you get a new Hulk to shake things up a little.
Reuse content