Pussy Galore, one of the best known Bond Girl, is to make a return in Anthony Horowitz's new Bond novel Trigger Mortis, which he hopes will be "the most authentic James Bond novel anyone has ever written".
The novel will be set two weeks after Ian's Fleming's Goldfinger in 1957, and will see the much-loved secret agent caught up in the middle of the Soviet-American Space Race as the US prepares for a critical rocket launch.
In addition to Pussy Galore, portrayed by Honor Blackman in the James Bond films, the novel also features brand new Bond Girl Jeopardy Lane and Jai Seung Sin, a sadistic, scheming Korean adversary. 
Horowitz joins a long line of contemporary writers who have written James Bond novels, including William Boyd, Kingsley Amis and Sebastian Faulks, but Trigger Mortis will be the first time a novelist has has placed Bond directly into Fleming's original canon.
The author has also drawn on original Ian Fleming material in the novel for the first time, using a TV treatment for Murder on Wheels, an episode that was never made about motor racing, as the starting point for the book's action.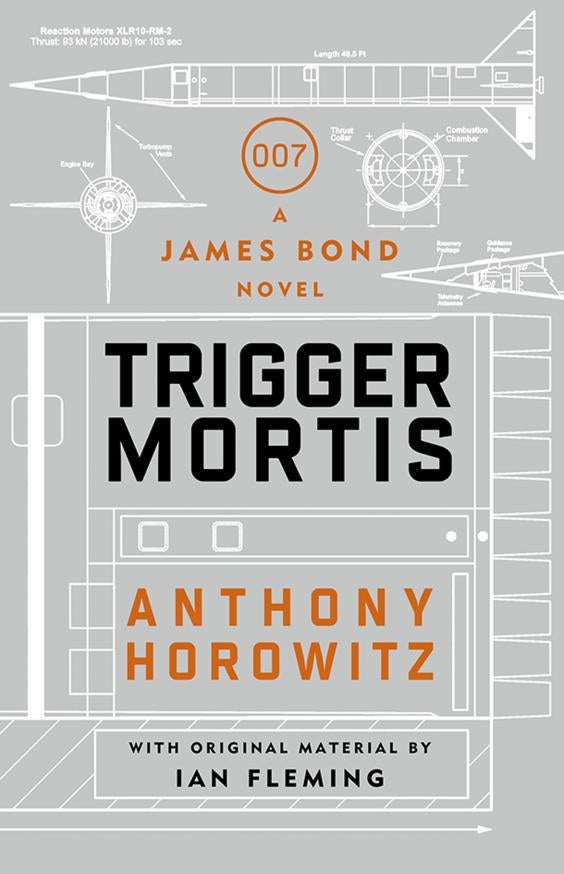 Announcing news of the novel's title and plot on what would have been the 107th birthday of Ian Fleming, Horowitz said: "I was so glad that I was allowed to set the book two weeks after my favourite Bond novel, Goldfinger, and I'm delighted that Pussy Galore is back!
"It was great fun revisiting the most famous Bond Girl of all - although she is by no means the only dangerous lady in Trigger Mortis.
"I hope fans enjoy it. My aim was to make this the most authentic James Bond novel anyone could have written."
Trigger Mortis will be released on 8 September by Orion Publishing.
Bond on screen through the years
Bond on screen through the years
1/8 Barry Nelson

The first ever Bond on screen, Nelson played James Bond in 1954 in Climax! Casino Royale

Hulton Archive/Getty Images

2/8 Sean Connery

The Scottish actor first played Bond in the 1962 'Dr. No'. He portrayed the secret agent from 1962 until 1967, although he reprised the role twice: once in 1971 for 'Diamonds Are Forever' and again in 1983 in 'Never Say Never Again'

Hulton Archive/Getty Images

3/8 David Niven

Niven was 007 the time of one film; the 1967 'Casino Royale'

Roy Jones/Hulton Archive/Getty Images

4/8 George Lazenby

Lazenby played Bond in the 1969 'On Her Majesty's Secret Service'

Larry Ellis/Hulton Archive/Getty Images

5/8 Roger Moore

Moore's Bond started with 'Live and Let Die', the 1973 film directed by Guy Hamilton. He was the face of 007 for 12 years, when his tenure finished with the 1985 'A View to a Kill'

Keystone/Hulton Archive/Getty Images

6/8 Timothy Dalton

Timothy Dalton was James Bond in 'The Living Daylights' and 'Licence to Kill'

Mychele Daniau/AFP/Getty Images

7/8 Pierce Brosnan

Brosnan took over the role in 1995 when he played the spy in 'GoldenEye'. He played in a total of four films, and his last time playing 007 was in 2002 'Die Another Day'

Hulton Archive/Getty Images

8/8 Daniel Craig

Daniel Craig was announced as the new James Bond in 2005. His first appearance as the secret agent was in the 2006 'Casino Royale'. He has since starred as Bond in 'Quantum of Solace' and 'Skyfall'. He is expected to appear once again on screen in 2015 for 'Bond 24'

Greg Williams/Getty Images
Reuse content