An author who was driven to follow a childhood dream of training a goshawk by the death of her father has won the UK's most prestigious prize for non-fiction books.
Helen Macdonald was last night awarded the 2014 Samuel Johnson Prize for Non-Fiction for H is For Hawk, described by the judges as a "book like no other".
The work tells of Ms Macdonald's struggle with grief in the wake of her photojournalist father's fatal heart attack and how she felt compelled to take on the task of training the deadly bird of prey.
It is a memoir that talks intimately about grief and technically about the training of the bird she called Mabel in Cambridge. It also weaves in the story of novelist TH White, author of The Goshawk, who tried to train the bird of prey himself.
Ms Macdonald, a poet, writer, illustrator and academic, was presented the £20,000 prize by Claire Tomalin, the chair of the judges, at the Royal Institute of British Architects.
Ms Tomalin said: "We were all very surprised, this book is so intense and magnificent it knocks you over. It has these amazing moments."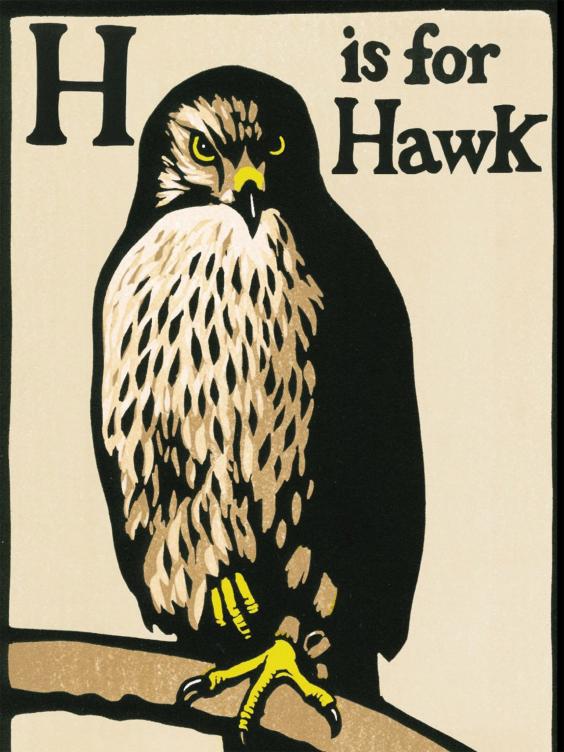 The author had been a falconer for many years, training her first hawk at 13, and wrote an academic treatise on the subject. Her father had introduced her to the wilds of nature and after his death dreamed of training a goshawk, which she said was Britain's "wildest, most formidable and elusive bird of prey".
She wrote in The Independent that she was in thrall to the birds, which were "huge, baleful killers, too highly strung and psychopathic for my liking" but did not feel she had "any choice" but to train one.
H is For Hawk saw off competition from five other titles including John Campbell's biography of Roy Jenkins, Marion Coutts's The Iceberg: A Memoir and Village of Secrets: Defying the Nazis in Vichy France by Caroline Moorehead.
The eventual winner was an early favourite among the judges: "Very early it was apparent this book was flying above the others," the chair of the judges said. "This is a truly extraordinary book. The quality of the writing is outstanding. It's all very cleverly done."
Last year the prize went to Lucy Hughes-Hallett for The Pike, a biography of Gabrielle D'Annunzio. It was set up in 1999 and Antony Beevor won the inaugural prize with Stalingrad.
Reuse content