Discworld fans are in mourning. Their literary wizard, Sir Terry Pratchett, local journalist turned internationally bestselling novelist of more than 70 books, died today aged 66.
Shortly after 3pm, his official Twitter feed (run in conjunction with his friend and assistant, Rob Wilkins) sent a desolate yet typically unfussy message to fans: "The End". The message before that made the point more lyrically: "Terry took Death's arm and followed him through the doors and on to the black desert under the endless night."
In the end he died at home, not in the Swiss clinic, Dignitas, about which he made a powerful documentary in February 2009, calling for assisted dying to be made legal in Britain. He had latterly become a fierce and fervent campaigner for the "right to die" after announcing in 2007 that he was suffering from posterior cortical atrophy, a rare variant of Alzheimer's disease (which he called his "embuggerance").
Larry Finlay, the managing director of his publishers, Transworld, said: "Terry passed away in his home, with his cat sleeping on his bed surrounded by his family."
When Pratchett revealed to the world that he had Alzheimer's, he did so in stalwart fashion, talking about the need to be cheerful, and about his own necessity to carry on working as long as he could.
Terry Pratchett: A career in quotes
Terry Pratchett: A career in quotes
1/13 "Inside every sane person there's a madman struggling to get out" –The Light Fantastic

Pratchett photographed in 1990

Corbis

2/13 "We Pratchetts are a feisty bunch"

Pratchett with his daughter Rhianna at home in 2009. Rhianna is now a writer in her own right and has written the storylines to video games such as Tomb Raider and Overlord

Rex Features

3/13 "It occurred to me that at one point it was like I had two diseases - one was Alzheimer's, and the other was knowing I had Alzheimer's"

Terry Pratchett delivers a petition on behalf of the Alzheimer's Research Trust calling for an increase in government funding for dementia research in 2008

Getty Images

4/13 "Imagination, not intelligence, made us human"

Terry Pratchett with his double-row of six computer screens in 2009

George Wright

5/13 "If you don't turn your life into a story, you just become a part of someone else's story"

Pratchett was awarded an OBE in 1998

PA

6/13 "Sometimes glass glitters more than diamonds because it has more to prove" - The Truth

Terry Pratchett launches his 25th novel of the 'Discworld' series, 'The Truth' in 2000

Corbis

7/13 "Time is a drug. Too much of it kills you"

In 2007, the year he announced he had Alzeihmer's

Getty Images

8/13 "You can't ask a fantasy writer not to want a knighthood"

Receiving his knighthood in 2009

AFP PHOTO/Ian Nicholson/POOL

9/13 "Life doesn't happen in chapters - at least, not regular ones"

Pratchett at home in 2009

Rex

10/13 "The trouble with having an open mind, of course, is that people will insist on coming along and trying to put things in it"

Pratchett at the world congress of the World Federation of the Right-to-Die Societies in Zurich, 2012

Corbis

11/13 "Inside every sane person there's a madman struggling to get out"

Attends the South Bank Sky Arts Awards in 2012

Getty Images

12/13 "Insanity is Catching"

Pratchett won the Bollinger Everyman Wodehouse Prize at the Telegraph Hay Festival, pictured with Snuff the pig in 2013

Getty

13/13 "People don't alter history any more than birds alter the sky, they just make brief patterns in it" - Mort

Campaigning for Dementia Friends in 2014

PA
He completed his last book, a new Discworld novel, only last summer. When he could no longer type, he bought voice-sensitive software that did the typing for him – he wasn't precious. "I don't need a special pen to write", he said, in a jibe to those authors who demand perfect conditions in which to finesse their prose.
He had worked as a journalist on the Bucks Free Press, in Buckinghamshire, long enough to know how to write on the go, in all conditions.
Wilkins, his assistant of 14 years, became indispensable to him after his diagnosis, doing much of the day-to-day computer work for him. Yet he kept on writing the books, doing the book tours. A quote from his 1990 black comedy Good Omens encapsulated his attitude: "'Don't think of it as dying,' said Death. 'Just think of it as leaving early to avoid the rush'."
I met him in 2012, by which time he had lived with Alzheimer's for five years. As someone who lives at close quarters to dementia – my father has suffered from the illness for the past 13 years – I am well-acquainted with the signs. In our conversation, Pratchett was warm, engaging, mischievous and loquacious, only occasionally lapsing into pauses that were a just slightly too long, and stumbling occasional mid-sentence, so that I couldn't be certain he would carry on.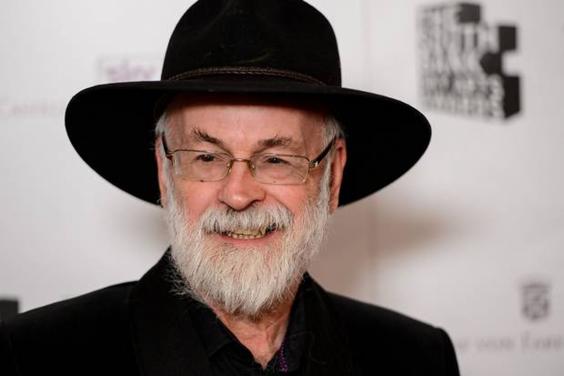 But he did carry on, and it was one of my most memorable and enjoyable interviews. He told me stories about his childhood love of science fiction – how he would have to sneak into a local porn shop in High Wycombe because it was only place that sold fantasy books in the late 1950s and early 60s.
He said – tantalisingly – that he had an unfinished memoir – half-written then because he kept getting distracted by his fictive universes. He subsequently published A Slip of the Keyboard, a book of collected non-fiction, though I half suspect this may not be the memoir he was referring to. I will not be the only one who waits on tenterhooks to see if further work will be published posthumously.
Most importantly, he told me that he was well up for the fight against his "embuggerance" at a time when my own struggles with dementia – witnessing its slow, savage progress in the case of my father – were fraught and depressing. I told him about my father, and it was inspiring to hear his intransigence, his incorrigible bolshiness. He clearly wasn't anywhere near giving in, despite the tremor in his handshake. "What keeps me going is the fight," he said. "My mum was always up for a fight. The fight keeps you alive, fills you up with fire."
Asked how he felt about receiving an OBE but never a major fiction prize, he said he didn't give a fig about being overlooked by the high literary establishment. He struck me as a quirky outsider, at peace with being on the outside.
Not that he was unloved. His popularity, which sometimes verged into fanatical fan-worship, knew no bounds. He was knighted for services to literature in 2009. His books have so far sold 85 million worldwide. In April 2009, two roads in a  Somerset town took names from his Discworld series. He was so popular that he was reputed to be the author that British shoplifters most liked to pilfer from bookshops – a fact he shared with me with a hoot of laughter.
We over-ran the hour allotted for our chat.  "Maybe we'll talk again," he said, referring to the novels he hoped to publish in future. He seemed to be writing voraciously, as if fending off the worst through sheer force of creative spirit. 
The "embuggerance" may have got him in the end, but it clearly didn't claim the energy, the intelligence, and the sheer zest for life that was Pratchett's along the way.
Reuse content