Scary Old Sex by Arlene Heyman
Scary Old Sex by Arlene Heyman, book review: Overturning conventional notions around ageing
A collection of bittersweet tales of OAP sexuality, told with warmth and honesty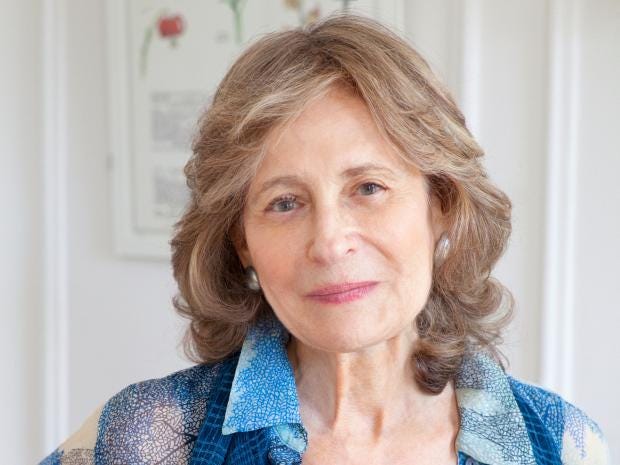 The punning title of this debut collection of tales nicely sums up its themes: sex can be scary, when it involves emotional intimacy, and the thought of older people having sex often scares younger ones. American writer Arlene Heyman turns such worries to wryly comic effect.
Her characters have no time to waste on sentimentality. Passion necessarily gives way to planning. Marianne, the clear-eyed narrator of the bittersweet opening story, "The Loves of her Life", wryly recognises that "now that she was sixty-five and Stu seventy, spontaneity was difficult. She had acid reflux, and so had to stay upright for two or three hours after a meal or else suffer burning pains in her chest. And she had to insert Vagifem, low-level estrogen tablets, in her vagina twice a week so her tissues didn't dry out. He used Viagra half an hour before sex, and…he also took a dose of clomipramine, an antidepressant that had as a side-effect retarded ejaculation."
Culture news in pictures
Culture news in pictures
1/30 26 September 2016

Jean-Michel Basquiat's 'Air Power', 1984, is displayed at the Bowie/Collector media preview at Sotheby's in New York

AFP/Getty Images

2/30 25 September 2016

A woman looks at an untitled painting by Albert Oehlen during the opening of an exhibition of works by German artists Georg Baselitz and Albert Oehlen in Reutlingen, Germany. The exhibition runs at the Kunstverein (art society) Reutlingen until 15 January 2017

EPA

3/30 24 September 2016

Fan BingBing (C) attends the closing ceremony of the 64th San Sebastian Film Festival at Kursaal in San Sebastian, Spain

Getty Images

4/30 23 September 2016

A view of the artwork 'You Are Metamorphosing' (1964) as part of the exhibition 'Retrospektive' of Japanese artist Tetsumi Kudo at Fridericianum in Kassel, Germany. The exhibition runs from 25 September 2016 to 1 January 2017

EPA

5/30 22 September 2016

Jo Applin from the Courtauld Institute of Art looks at Green Tilework in Live Flesh by Adriana Vareja, which features in a new exhibition, Flesh, at York Art Gallery. The new exhibition features works by Degas, Chardin, Francis Bacon and Sarah Lucas, showing how flesh has been portrayed by artists over the last 600 years

PA

6/30 21 September 2016

Performers Sean Atkins and Sally Miller standing in for the characters played by Asa Butterfield and Ella Purnell during a photocall for Tim Burton's "Miss Peregrines Home For Peculiar Children" at Potters Field Park in London

Getty Images

7/30 20 September 2016

A detail from the blanket 'Alpine Cattle Drive' from 1926 by artist Ernst Ludwig Kirchner is displayed at the 'Hamburger Bahnhof - Museum for Contemporary Arts' in Berlin. The exhibition named 'Ernst Ludwig Kirchner - Hieroglyphen' showing the complete collection of Berlin's Nationalgallerie works of the German artist Ernst Ludwig Kirchner and will run from 23 September 2016 until 26 February 2017

AP

8/30 20 September 2016

A man looks at portrait photos by US photographer Bruce Gilden in the exhibition 'Masters of Photography' at the photokina in Cologne, Germany. The trade fair on photography, photokina, schowcases some 1,000 exhibitors from 40 countries and runs from 20 to 25 September. The event also features various photo exhibitions

EPA

9/30 20 September 2016

A woman looks at 'Blue Poles', 1952 by Jackson Pollock during a photocall at the Royal Academy of Arts, London

PA

10/30 19 September 2016

Art installation The Refusal of Time, a collaboration with Philip Miller, Catherine Meyburgh and Peter Galison, which features as part of the William Kentridge exhibition Thick Time, showing from 21 September to 15 January at the Whitechapel Gallery in London

PA

11/30 18 September 2016

Artists creating one off designs at the Mm6 Maison Margiela presentation during London Fashion Week Spring/Summer collections 2017 in London

Getty Images

12/30 18 September 2016

Bethenny Frankel attends the special screening of Disney's "Beauty and the Beast" to celebrate the 25th Anniversary Edition release on Blu-Ray and DVD in New York City

Getty Images for Walt Disney Stu

13/30 17 September 2016

Visitors attend the 2016 Oktoberfest beer festival at Theresienwiese in Munich, Germany

Getty Images

14/30 16 September 2016

Visitors looks at British artist Damien Hirst work of art 'The Incomplete Truth', during the 13th Yalta Annual Meeting entitled 'The World, Europe and Ukraine: storms of changes', organised by the Yalta European Strategy (YES) in partnership with the Victor Pinchuk Foundation at the Mystetsky Arsenal Art Center in Kiev

AP

15/30 16 September 2016

Tracey Emin's "My Bed" is exhibited at the Tate Liverpool as part of the exhibition Tracey Emin And William Blake In Focus, which highlights surprising links between the two artists

Getty Images

16/30 15 September 2016

Musician Dave Grohl (L) joins musician Tom Morello of Prophets of Rage onstage at the Forum in Inglewood, California

Getty Images

17/30 14 September 2016

Model feebee poses as part of art installation "Narcissism : Dazzle room" made by artist Shigeki Matsuyama at rooms33 fashion and design exhibition in Tokyo. Matsuyama's installation features a strong contrast of black and white, which he learned from dazzle camouflage used mainly in World War I

AP

18/30 13 September 2016

Visitors look at artworks by Chinese painter Cui Ruzhuo during the exhibition 'Glossiness of Uncarved Jade' held at the exhibition hall 'Manezh' in St. Petersburg, Russia. More than 200 paintings by the Chinese artist are presented until 25 September

EPA

19/30 12 September 2016

A visitor looks at Raphael's painting 'Extase de Sainte Cecile', 1515, from the Uffizi Gallery in Florence during the opening of a Raphael exhibition at the Pushkin State Museum of Fine Arts in Moscow, Russia. The first Russian exhibition of the works of the Italian Renaissance artist Raffaello Sanzio da Urbino includes eight paintings and three drawings which come from Italy. Th exhibit opens to the public from 13 September to 11 December

EPA

20/30 11 September 2016

Steve Cropper and Eddie Floyd perform during Otis Redding 75th Birthday Celebration - Rehearsals at the Macon City Auditorium in Macon, Georgia

Getty Images for Otis Redding 75

21/30 10 September 2016

Sakari Oramo conducting the BBC Symphony Orchestra, the BBC Symphony Chorus and the BBC Singers at the Last Night of the Proms 2016 at the Royal Albert Hall in London

PA

22/30 9 September 2016

A visitor walks past a piece entitled "Fruitcake" by Joana Vasconcelo, during the Beyond Limits selling exhibition at Chatsworth House near Bakewell

REUTERS

23/30 8 September 2016

A sculpture of a crescent standing on the 2,140 meters high mountain 'Freiheit' (German for 'freedom'), in the Alpstein region of the Appenzell alps, eastern Switzerland. The sculpture is lighted during the nights by means of solar panels. The 38-year-old Swiss artist and atheist Christian Meier set the crescent on the peak to start a debate on the meaning of religious symbols - as summit crosses - on mountains. 'Because so many peaks have crosses on them, it struck me as a great idea to put up an equally absurd contrast'. 'Naturally I wanted to provoke in a fun way. But it goes beyond that. The actions of an artist should be food for thought, both visually and in content'

EPA

24/30 8 September 2016

A girl dressed as the Virgin Mary poses for a photo during the Lantern Festival celebrating the eve of the nativity of the Virgin Mary in Ahuchapan, El Salvador

REUTERS

25/30 7 September 2016

British artist Anthony Gormley poses for a photograph next to his artwork entitled 'Object, 199', a life-size cast-iron sculpture cast from the artist's body and hung from the ceiling of the National Portrait Gallery. The work is accompanied on 5 October by 'Fall, 1999', a selection of drawings also by Mr Gormley

Getty Images

26/30 7 September 2016

A dresser applies final touches to the exhibit items at the preview of 'You Say You Want a Revolution? Records and Rebels 1966 - 70' exhibition at Victoria and Albert Museum in London

Getty Images

27/30 6 September 2016

A series of eight large-scale photographs depicting GB para-athletes as ancient Greek gods and goddesses is on display at London's Canary Wharf. Created by Hackney-based artist Clare Newton, the free exhibition titled Spirit of Legends is on display at Crossrail Place Roof Garden until 2 October 2016

28/30 5 September 2016

A giant oil painting portrait of former Chinese Chairman Mao Zedong on display during an art exhibition at Beijing Exhibition Center

AFP/Getty Images

29/30 4 September 2016

Artists sit next to the exhibited paintings during the city festival in Vilnius, Lithuania

REUTERS

30/30 3 September 2016

Performers Morag and Jean, also known as The Tea Ladies, entertain visitors during the Vintage By The Sea Festival in Morecambe. Vintage By The Sea is a celebration of 20th century design, fashion and entertainment. Now in it's fourth year Vintage By The Sea is hosted in the seaside resort of Morecambe

Getty Images
Undeterred by these unromantic practicalities, this married couple proceed to their bedroom. Marianne, who is tall, slender and attractive; a part-time model, studies her naked husband, who has "every wrinkle exposed, as if her were in a Lucian Freud painting. He had loose flesh on his chest, small sagging breasts beneath his nipples, and little pink outgrowths here and there." She judges herself with equal severity: "her breasts and waist were not bad, maybe better than that, if you ignored the yearning her breasts seemed to have developed for her waist... And her ass and thighs were bony, the flesh hanging a little."
As they give each other pleasure in a businesslike way, Marianne clothes the encounter in fantasy and memory, so that the half hour of lovemaking paradoxically contains a lifetime's thoughts and feelings. Both partners duly come, but the narrative's climax, delayed like the kindly husband's orgasm, delivers a shock of taboo desire that is lusciously sensual.
All the stories overturn conventional notions around ageing. The son narrating "Night Call" certainly finds his father's sex life upsetting, but that's less because his father is old than because he is conducting a secret affair that ends in a mixture of farce and tragedy.
In Heyman's deft account of obsession and adultery, "In Love With Murray", nineteen-year-old Leda fancies middle-aged Murray precisely because he is so much older, a mythic swanner-about in studios and galleries.
In "Dancing", Ann and Matt – facing Matt's imminent death from leukemia – are able to remember fondly the sex games they enjoyed only recently.
Heyman, the blurb informs us, works as a psychiatrist and psychoanalyst. Once you know this, it is tempting to see her profession's influence on her narrative method; her narrative position. She sets up a certain meditative, often ironic distance between observer and observed, informing us of people's thoughts and feelings as often as she evokes them.
She does not judge her characters even as they quarrel and insult each other. Her cool, clipped, spare writing is objective, dispassionate: "The sun is shining. She is glad to be outside. In natural light and heat."
Some of these stories suggest the case study. Each one tracks a particular individual caught up not just in the dilemmas of ageing but those caused by change, divorce, guilt, taboo desire, all the components of what Freud called the family romance.
Freud's case histories, it has often been pointed out, read like short stories. Now that some therapists, respecting their patients' right to confidentiality, consider it unethical to publish case histories, no wonder the would-be writers amongst them turn to fiction.
Heyman's cautionary tales are wonderfully anti-prudish.
Bloomsbury, £16.99. Order at £14.99 inc. p&p from the Independent Bookshop
Reuse content
Comments