Shylock is My Name by Howard Jacobson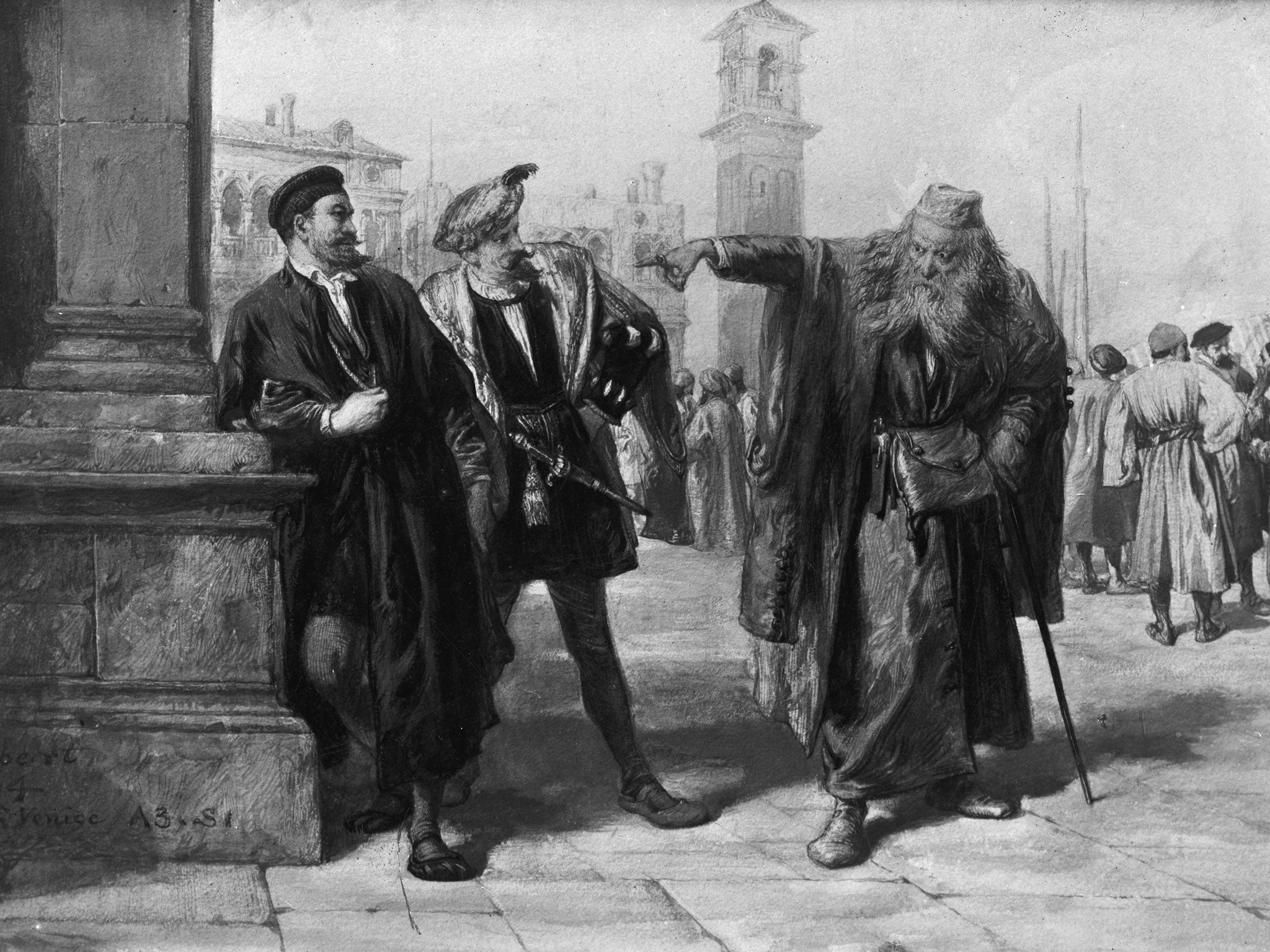 Shylock is My Name by Howard Jacobson, book review
A retelling of 'The Merchant of Venice' that, says Lucasta Miller, is supremely stylish, probing and unsettling
Click to follow
The Independent Culture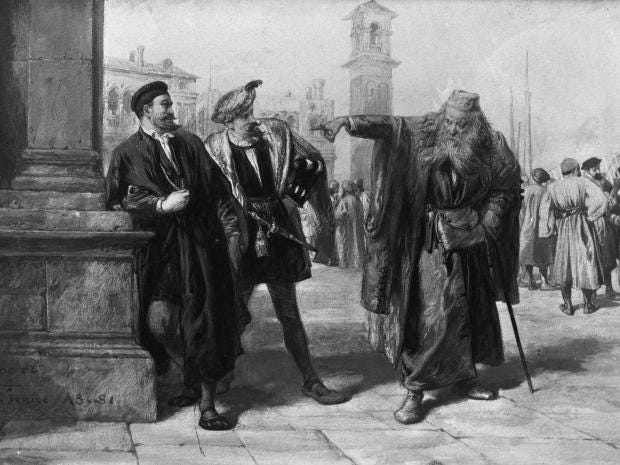 The merchant of venice is perhaps Shakespeare's most troubling play. Most scholars now tend to see the work as simply reflecting back the ingrained cultural anti-Semitism of its time, but the fecund multiplicity of Shakespeare's language continues to make Shylock more complex than a straight villain demonised beyond empathy. The play wants to objectify him as the "other", but the playwright's imagination gives him a self.
This is, of course, what Shakespeare also does with a host of openly unsavoury individuals, including outright murderers such as Macbeth. His famous ability to get inside all of his characters makes his plays infinitely rich but, in this case, infinitely discomfiting. By humanising Shylock, is Shakespeare inviting us to question his contemporaries' anti-Semitic attitudes or employing a particularly subtle ruse to make us complicit in those abhorrent views?
"These Jews! They don't know whether to cry for me, disown me or explain me," exclaims the title character in Shylock is my Name, Howard Jacobson's updating of the story, which interrogates the terms of the original play, but also broadens out into an exploration of modern Jewish identity.
Culture news in pictures
Culture news in pictures
1/30 30 September 2016

An employee hangs works of art with "Grand Teatro" by Marino Marini (R) and bronze sculpture "Sfera N.3" by Arnaldo Pomodoro seen ahead of a Contemporary Art auction on 7 October, at Sotheby's in London

REUTERS

2/30 29 September 2016

Street art by Portuguese artist Odeith is seen in Dresden, during an exhibition "Magic City - art of the streets"

AFP/Getty Images

3/30 28 September 2016

Dancers attend a photocall for the new "THE ONE Grand Show" at Friedrichstadt-Palast in Berlin, Germany

REUTERS

4/30 28 September 2016

With an array of thrift store china, humorous souvenirs and handmade tile adorning its walls and floors, the Mosaic Tile House in Venice stands as a monument to two decades of artistic collaboration between Cheri Pann and husband Gonzalo Duran

REUTERS

5/30 27 September 2016

A gallery assistant poses amongst work by Anthea Hamilton from her nominated show "Lichen! Libido!(London!) Chastity!" at a preview of the Turner Prize in London

REUTERS

6/30 27 September 2016

A technician wearing virtual reality glasses checks his installation in three British public telephone booths, set up outside the Mauritshuis museum in The Hague, Netherlands. The installation allows visitors a 3-D look into the museum which has twenty-two paintings belonging to the British Royal Collection, on loan for an exhibit from 29 September 2016 till 8 January 2017

AP

7/30 26 September 2016

An Indian artist dressed as Hindu god Shiva performs on a chariot as he participates in a religious procession 'Ravan ki Barat' held to mark the forthcoming Dussehra festival in Allahabad

AFP/Getty Images

8/30 26 September 2016

Jean-Michel Basquiat's 'Air Power', 1984, is displayed at the Bowie/Collector media preview at Sotheby's in New York

AFP/Getty

9/30 25 September 2016

A woman looks at an untitled painting by Albert Oehlen during the opening of an exhibition of works by German artists Georg Baselitz and Albert Oehlen in Reutlingen, Germany. The exhibition runs at the Kunstverein (art society) Reutlingen until 15 January 2017

EPA

10/30 24 September 2016

Fan BingBing (C) attends the closing ceremony of the 64th San Sebastian Film Festival at Kursaal in San Sebastian, Spain

Getty Images

11/30 23 September 2016

A view of the artwork 'You Are Metamorphosing' (1964) as part of the exhibition 'Retrospektive' of Japanese artist Tetsumi Kudo at Fridericianum in Kassel, Germany. The exhibition runs from 25 September 2016 to 1 January 2017

EPA

12/30 22 September 2016

Jo Applin from the Courtauld Institute of Art looks at Green Tilework in Live Flesh by Adriana Vareja, which features in a new exhibition, Flesh, at York Art Gallery. The new exhibition features works by Degas, Chardin, Francis Bacon and Sarah Lucas, showing how flesh has been portrayed by artists over the last 600 years

PA

13/30 21 September 2016

Performers Sean Atkins and Sally Miller standing in for the characters played by Asa Butterfield and Ella Purnell during a photocall for Tim Burton's "Miss Peregrines Home For Peculiar Children" at Potters Field Park in London

Getty Images

14/30 20 September 2016

A detail from the blanket 'Alpine Cattle Drive' from 1926 by artist Ernst Ludwig Kirchner is displayed at the 'Hamburger Bahnhof - Museum for Contemporary Arts' in Berlin. The exhibition named 'Ernst Ludwig Kirchner - Hieroglyphen' showing the complete collection of Berlin's Nationalgallerie works of the German artist Ernst Ludwig Kirchner and will run from 23 September 2016 until 26 February 2017

AP

15/30 20 September 2016

A man looks at portrait photos by US photographer Bruce Gilden in the exhibition 'Masters of Photography' at the photokina in Cologne, Germany. The trade fair on photography, photokina, schowcases some 1,000 exhibitors from 40 countries and runs from 20 to 25 September. The event also features various photo exhibitions

EPA

16/30 20 September 2016

A woman looks at 'Blue Poles', 1952 by Jackson Pollock during a photocall at the Royal Academy of Arts, London

PA

17/30 19 September 2016

Art installation The Refusal of Time, a collaboration with Philip Miller, Catherine Meyburgh and Peter Galison, which features as part of the William Kentridge exhibition Thick Time, showing from 21 September to 15 January at the Whitechapel Gallery in London

PA

18/30 18 September 2016

Artists creating one off designs at the Mm6 Maison Margiela presentation during London Fashion Week Spring/Summer collections 2017 in London

Getty Images

19/30 18 September 2016

Bethenny Frankel attends the special screening of Disney's "Beauty and the Beast" to celebrate the 25th Anniversary Edition release on Blu-Ray and DVD in New York City

Getty Images for Walt Disney Stu

20/30 17 September 2016

Visitors attend the 2016 Oktoberfest beer festival at Theresienwiese in Munich, Germany

Getty Images

21/30 16 September 2016

Visitors looks at British artist Damien Hirst work of art 'The Incomplete Truth', during the 13th Yalta Annual Meeting entitled 'The World, Europe and Ukraine: storms of changes', organised by the Yalta European Strategy (YES) in partnership with the Victor Pinchuk Foundation at the Mystetsky Arsenal Art Center in Kiev

AP

22/30 16 September 2016

Tracey Emin's "My Bed" is exhibited at the Tate Liverpool as part of the exhibition Tracey Emin And William Blake In Focus, which highlights surprising links between the two artists

Getty Images

23/30 15 September 2016

Musician Dave Grohl (L) joins musician Tom Morello of Prophets of Rage onstage at the Forum in Inglewood, California

Getty Images

24/30 14 September 2016

Model feebee poses as part of art installation "Narcissism : Dazzle room" made by artist Shigeki Matsuyama at rooms33 fashion and design exhibition in Tokyo. Matsuyama's installation features a strong contrast of black and white, which he learned from dazzle camouflage used mainly in World War I

AP

25/30 13 September 2016

Visitors look at artworks by Chinese painter Cui Ruzhuo during the exhibition 'Glossiness of Uncarved Jade' held at the exhibition hall 'Manezh' in St. Petersburg, Russia. More than 200 paintings by the Chinese artist are presented until 25 September

EPA

26/30 12 September 2016

A visitor looks at Raphael's painting 'Extase de Sainte Cecile', 1515, from the Uffizi Gallery in Florence during the opening of a Raphael exhibition at the Pushkin State Museum of Fine Arts in Moscow, Russia. The first Russian exhibition of the works of the Italian Renaissance artist Raffaello Sanzio da Urbino includes eight paintings and three drawings which come from Italy. Th exhibit opens to the public from 13 September to 11 December

EPA

27/30 11 September 2016

Steve Cropper and Eddie Floyd perform during Otis Redding 75th Birthday Celebration - Rehearsals at the Macon City Auditorium in Macon, Georgia

Getty Images for Otis Redding 75

28/30 10 September 2016

Sakari Oramo conducting the BBC Symphony Orchestra, the BBC Symphony Chorus and the BBC Singers at the Last Night of the Proms 2016 at the Royal Albert Hall in London

PA

29/30 9 September 2016

A visitor walks past a piece entitled "Fruitcake" by Joana Vasconcelo, during the Beyond Limits selling exhibition at Chatsworth House near Bakewell

REUTERS

30/30 8 September 2016

A sculpture of a crescent standing on the 2,140 meters high mountain 'Freiheit' (German for 'freedom'), in the Alpstein region of the Appenzell alps, eastern Switzerland. The sculpture is lighted during the nights by means of solar panels. The 38-year-old Swiss artist and atheist Christian Meier set the crescent on the peak to start a debate on the meaning of religious symbols - as summit crosses - on mountains. 'Because so many peaks have crosses on them, it struck me as a great idea to put up an equally absurd contrast'. 'Naturally I wanted to provoke in a fun way. But it goes beyond that. The actions of an artist should be food for thought, both visually and in content'

EPA
The narrative is set among the mansions of Cheshire's so-called "golden triangle". It focuses on Simon Strulovitch, a fabulously wealthy middle-aged art collector and philanthropist whose conflicted relationship with his own Jewishness forms a running thread in the story. His father disowned him for marrying outside of his faith first time round. The marriage failed because he refused to play up to his wife's overly romantic views of his Jewish heritage (she imagined noble Cordoba; he offered her dirty jokes from the shtetl). When he chose a Jewish second wife, his father welcomed him back, but she was tragically disabled by a stroke. When we meet him, Strulovitch is caring single-handed for their rebellious, over-sexed teenage daughter.
So far so naturalistic, but in an early moment of magical realism Strulovitch encounters his doppelganger in a graveyard: Shylock, who has become the eternal wandering Jew, a character in search of the closure denied him in Shakespeare's play. This Shylock is a sympathetic character in his private life, forever mourning his beloved wife. His monologues over her grave are truly touching. In his dialogues with Strulovitch he is both savagely funny and intellectually searching, both wise and sophistical, intimate and coldly controlling.
He is also addicted to self-analysis. "Was I acting out my desires or theirs?" he asks, pondering the deep psychology behind his demand for a pound of flesh from a Christian Jew-hater. The irony on which Jacobson so expertly plays is that of making Shylock – about whom critics have asked so many unanswerable questions – a character who questions absolutely everything.
In the "golden triangle" world of Porsches rather than Portias, many of the characters are drawn as caricatures: the manipulative It girl turned reality TV star called Plurabelle; the dim-witted footballer who's been sent off for making a Dieudonné-style Nazi salute on the pitch without realising what it meant; the sinister art connoisseur who submerges his residual anti-Semitism under a polite veil of high culture and non-racism (the latter is a chillingly believable picture of modern prejudice). This near-pantomime element reflects the absurdism in which Jacobson often takes refuge when faced with a philosophical or critical impasse.
Shakespeare's text is riddled with disturbing lacunae. Jacobson poses all those bothersome questions you were too afraid to ask, such as how did the site of Shylock's revenge suddenly become the heart rather than flesh from any other part of the body? Why couldn't it have been, for example, the penis? This startling suggestion turns out to make a lot of sense given the thematic strand in the novel which ends up fuelling its witty denouement: circumcision. With a nod to Philip Roth, Jacobson has an awful lot to say on the subject.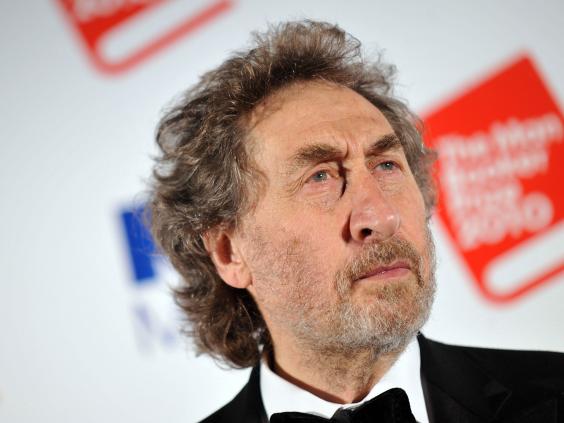 While his plot can on occasion seem a little convoluted (something which could, admittedly, also be said of Shakespeare's), Jacobson's writing is virtuoso. He is a master of shifting tones, from the satirical to the serious. His prose has the sort of elastic precision you only get from a writer who is truly in command, whether he's discussing masturbation or Zionism, commenting on middle east politics or referencing Kafka and the pre-Raphaelites. He never uses his braininess to cynical or meretricious ends. There's also deep and sincere soul-searching going on here.
This novel is a highly rhetorical artefact whose rigour and vigour resides in the dialogue, the voices, and the subtlety of argument. But under the stylised characterisation and intellectual pyrotechnics, Jacobson explores some heartfelt psychological insights into family conflicts. One of the most distressing aspects of The Merchant of Venice is Shylock's betrayal by his daughter Jessica, who runs off with her Christian lover and steals her father's money, which she ultimately spends on a monkey in an act of frivolous yet obscurely symbolic bizarrerie. You'll find lots of ideas as to why it was a monkey here, but Jacobson also tries to see the generational conflict from both viewpoints, wondering whether Jessica was reacting against her father's emotional absence in his grief at being widowed. His portrayal of the parallel relationship between Strulovitch and his daughter Beatrice – who is threatening to marry the footballer with the Nazi salute – rings true in its exploration of paternal possessiveness.
Shylock is My Name is the second novel to be published in Vintage's Hogarth Shakespeare series. Future titles include rewrites of The Tempest (Margaret Atwood), The Taming of the Shrew (Anne Tyler), Othello (Tracy Chevalier) and King Lear (Edward St Aubyn). On the strength of what we've seen so far I'm looking forward to them. Shakespeare himself was a borrower of other people's stories, forever making something new from existing sources, and inviting his audiences to give his characters an afterlife. These modern retellings could not capture his spirit better.
Hogarth, £16.99. Order at the discounted price of £14.99 inc. p&p from the Independent Bookshop
Reuse content
Comments