Shylock is My Name by Howard Jacobson
Shylock is My Name by Howard Jacobson, book review
A retelling of 'The Merchant of Venice' that, says Lucasta Miller, is supremely stylish, probing and unsettling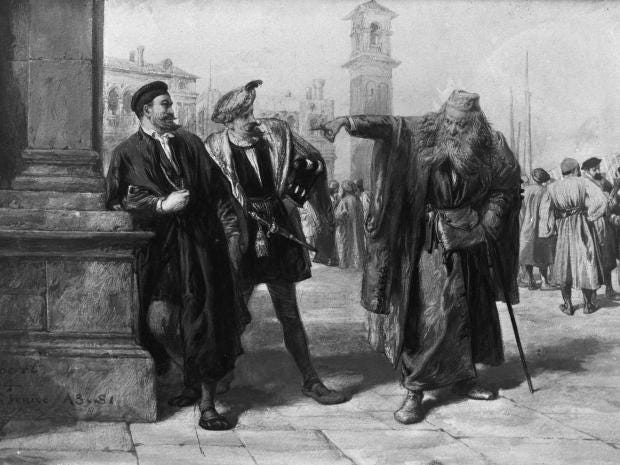 The merchant of venice is perhaps Shakespeare's most troubling play. Most scholars now tend to see the work as simply reflecting back the ingrained cultural anti-Semitism of its time, but the fecund multiplicity of Shakespeare's language continues to make Shylock more complex than a straight villain demonised beyond empathy. The play wants to objectify him as the "other", but the playwright's imagination gives him a self.
This is, of course, what Shakespeare also does with a host of openly unsavoury individuals, including outright murderers such as Macbeth. His famous ability to get inside all of his characters makes his plays infinitely rich but, in this case, infinitely discomfiting. By humanising Shylock, is Shakespeare inviting us to question his contemporaries' anti-Semitic attitudes or employing a particularly subtle ruse to make us complicit in those abhorrent views?
"These Jews! They don't know whether to cry for me, disown me or explain me," exclaims the title character in Shylock is my Name, Howard Jacobson's updating of the story, which interrogates the terms of the original play, but also broadens out into an exploration of modern Jewish identity.
Culture news in pictures
Culture news in pictures
1/30

(L-R) Chris Warner Drake as Fred, Charlie Bull as Daphne, Joe Goldie as Scooby-Doo, Charlie Haskins as Shaggy and Rebecca Withers as Velma appear on stage in Scooby-Doo Live! at London Palladium

Getty Images

2/30 16 August 2016

Stone collector Luigi Lineri, 79, walks through his stone collection found along Adige river, at his home workshop in Zevio, near Verona, Italy. The stones resemble animal heads, human faces and other forms, and the artist and poet believes may have been shaped by prehistoric humans. Lineri has built his vast collection over the last 50 years. "I haven't counted them and don't intend to do so but the quantity is significant," Lineri said. "At first I thought that a few stones for each different shape would be enough and then I understood that in their thousands, they give a sense of community... For me the quantity is sacred: it takes a lot to build a cathedral." Lineri says there has been no independent verification of whether the stones are indeed prehistoric sculpture and has not sought one, being more interested in them as "a work of art"

REUTERS

3/30 15 August 2016

Iraqi dancers, from the Folk Arts group, perform on the stage of the National Theatre, to mark the 61 anniversary of the founding of the cinema of Iraq

AFP/Getty Images

4/30 14 August 2016

British rapper Tinie Tempah performs at the 24th Sziget (Island) Festival on Shipyard Island, northern Budapest, Hungary

EPA

5/30 14 August 2016

Auctioneers Lyon & Turnbull are to sell an iconic image of Brigitte Bardot valued at £3,000-£5,000 by the legendary artist Gerald Laing in a sale at the auction house in Edinburgh

PA

6/30 14 August 2016

Claudette Mukasakindi of Rwanda runs by the Puffed Star by Frank Stella during the Women's Marathon on Day 9 of the Rio 2016 Olympic Games at the Sambodromo

Getty Images South America

7/30 13 August 2016

Festivalgoers enjoy the colour party, when participants throw colored powder at each other, on the Obudai-sziget (Old Buda Island), the venue of the 24th Sziget Festival, in Northern Budapest, Hungary

EPA

8/30 12 August 2016

A general view of the 20th giant flower carpet at the Grand Place, in Brussels, Belgium. This year the theme of the flower carpet is celebrating 150 years of Belgian-Japanese friendship

EPA

9/30 11 August 2016

Members of the public look at an artwork entitled 'Museum of the Moon', a 7 metre diameter inflatable moon covered with imagery of the lunar surface, on the opening day of the Bristol International Balloon Fiesta in Bristol

AFP/Getty Images

10/30 11 August 2016

Visitors look at tapestries by Jean Lurcat on display at a preview at the gallery of the Talstrasse art association in Halle/Saale, Germany. The show dedicated to the French artist runs from 11 August to 20 November

EPA

11/30 10 August 2016

"Carmen High" cast performs at Spotlites Theatre during a recital of Stephanie Vlahos' "Carmen High" at the Edinburgh Fringe Festival

Getty Images

12/30 9 August 2016

Sia performs during Byblos International Art Festival, north of the Lebanese capital Beirut

AFP/Getty Images

13/30 19 July 2016

People apply wax on 'Le Penseur' (The Thinker), a sculpture by late French sculptor Auguste Rodin, to protect it from weather damages and pollution at the Rodin museum in Paris

AFP/Getty Images

14/30 18 July 2016

The painting 'Venus in Furs' hangs in the Picture Gallery in Park Sansouci in Potsdam, Germany. After having been missing for 70 years, the painting fom 1640 by a Flemish master was returned from private hands. The Foundation Prussian Palaces and Gardens Berlin-Brandenburg has been missing around 2,000 objects since the Second World War

EPA

15/30 17 July 2016

Artists of the French pyrotechnic company "Groupe F" perform during the show "A fleur de peau" (On edge) at the Venaria Reale Palace, in Venaria, near Turin

AFP/Getty Images

16/30 16 July 2016

Dancers of the British dance company Balletboyz perform in "Rabbit", choreographed by Pontus Lidberg, during the Malta Arts Festival in Valletta, Malta

REUTERS

17/30 15 July 2016

Singer Gwen Stefani performs on NBC's "Today" Show at Rockefeller Plaza in New York City

Getty Images

18/30 14 July 2016

People sit under illuminated giant raindrop-shapes at an interactive art installation to raise awareness of autism, in Shanghai

Rex Features

19/30 13 July 2016

An installation 'A wall of life jackets and their stories' by Andrew Wakeford and Fred George is on display at Johanneskirche in Saarbruecken, Germany. The installation is made of original life jackets found on the beaches of Greece and barbed wires, along with interviews and portraits of who have fled from the conflict in the Middle East to Europe. The exhibition runs from 15 July to 26 August

EPA

20/30 12 July 2016

Chinese artist Ai Weiwei poses next to a sculpture that is part of his installation "Circle of Animals/Zodiac Heads" in front of the Upper Belvedere palace in Vienna, Austria. From 14 July to 20 November 2016, the 21er Haus museum presents Ai Weiwei's solo show "translocation - transformation", with the central exhibit of a tea merchant family's ancestral temple from the Ming Dynasty, whose main hall will be reconstructed in the 21er Haus

AFP/Getty Images

21/30 11 July 2016

"Mediterranean Body", a monumental sculpture by COSKUN is seen at the 11th Taehwa River Eco Art Festival in Ulsan, South Korea. The artist, with his wooden monumental sculpture pays tribute to refugees who lose their lives at sea

Rex Features

22/30 10 July 2016

A festival-goer paints a mandala during the 2nd Samsara Yoga and Music Festival in the Toreki neighbourhood of Siofok, 102 kms southwest of Budapest, Hungary. Visitors can enjoy music performed on three stages and attend workshops, lectures and conversations with yoga trainers, instructors, therapeutists, psychologists, doctors and healers between 6 and 11 July

EPA

23/30 9 July 2016

Naked volunteers, painted in blue to reflect the colours found in Marine paintings in Hull's Ferens Art Gallery, participate in US artist, Spencer Tunick's "Sea of Hull" installation in Kingston upon Hull

AFP/Getty Images

24/30 8 July 2016

Mark Rylance (L) is returning to the West End stage in Nice Fish - and fans will be able to see him for free if they dress up as fish. Nice Fish, the critically acclaimed comedy by Rylance and prose poet Louis Jenkins, will have a limited run from November at London's Harold Pinter Theatre after a successful season in New York

PA

25/30 7 July 2016

Women wearing summer kimonos, called yukatas, look at goldfish during the 2016 EDO Nihonbashi Art Aquarium exhibition in Tokyo. The 10th anniversary of the festival will start on 8 July and will continue until 25 September, displaying some 8,000 goldfish in various special art exhibits

AFP/Getty Images

26/30 6 July 2016

Musician Tim Lopez (L) and Tom Higgenson of the Plain White T's perform at the Grove's Summer Concert Series in Los Angeles, California

Getty Images

27/30 5 July 2016

Tourists walk through a lantern installation in Zhangjiakou, Hebei Province, China

REUTERS

28/30 4 July 2016

One of London's most iconic venues has sent a pair of show tickets into space to celebrate the world premiere of Independence Day Live – a new film-and-orchestra event being held in September. The Royal Albert Hall has marked the occasion by blasting the tickets into the stratosphere on Independence Day itself

29/30 3 July 2016

People walk on the installation 'The Floating Piers' by Bulgarian-born artist Christo Vladimirov Yavachev, known as Christo, northern Italy

REUTERS

30/30 2 July 2016

Performers dressed as angels take part in the Place des Anges spectacle in Hull, part of UK City of Culture 2017 and the Yorkshire Festival. Up to 10,000 people have descended on Hull to watch Place des Anges. The aerial show sees white-clad angels appear on rooftops before taking off on suspended wires across the city. The event culminates with thousands of white feathers cascading onto the crowds below

PA
The narrative is set among the mansions of Cheshire's so-called "golden triangle". It focuses on Simon Strulovitch, a fabulously wealthy middle-aged art collector and philanthropist whose conflicted relationship with his own Jewishness forms a running thread in the story. His father disowned him for marrying outside of his faith first time round. The marriage failed because he refused to play up to his wife's overly romantic views of his Jewish heritage (she imagined noble Cordoba; he offered her dirty jokes from the shtetl). When he chose a Jewish second wife, his father welcomed him back, but she was tragically disabled by a stroke. When we meet him, Strulovitch is caring single-handed for their rebellious, over-sexed teenage daughter.
So far so naturalistic, but in an early moment of magical realism Strulovitch encounters his doppelganger in a graveyard: Shylock, who has become the eternal wandering Jew, a character in search of the closure denied him in Shakespeare's play. This Shylock is a sympathetic character in his private life, forever mourning his beloved wife. His monologues over her grave are truly touching. In his dialogues with Strulovitch he is both savagely funny and intellectually searching, both wise and sophistical, intimate and coldly controlling.
He is also addicted to self-analysis. "Was I acting out my desires or theirs?" he asks, pondering the deep psychology behind his demand for a pound of flesh from a Christian Jew-hater. The irony on which Jacobson so expertly plays is that of making Shylock – about whom critics have asked so many unanswerable questions – a character who questions absolutely everything.
In the "golden triangle" world of Porsches rather than Portias, many of the characters are drawn as caricatures: the manipulative It girl turned reality TV star called Plurabelle; the dim-witted footballer who's been sent off for making a Dieudonné-style Nazi salute on the pitch without realising what it meant; the sinister art connoisseur who submerges his residual anti-Semitism under a polite veil of high culture and non-racism (the latter is a chillingly believable picture of modern prejudice). This near-pantomime element reflects the absurdism in which Jacobson often takes refuge when faced with a philosophical or critical impasse.
Shakespeare's text is riddled with disturbing lacunae. Jacobson poses all those bothersome questions you were too afraid to ask, such as how did the site of Shylock's revenge suddenly become the heart rather than flesh from any other part of the body? Why couldn't it have been, for example, the penis? This startling suggestion turns out to make a lot of sense given the thematic strand in the novel which ends up fuelling its witty denouement: circumcision. With a nod to Philip Roth, Jacobson has an awful lot to say on the subject.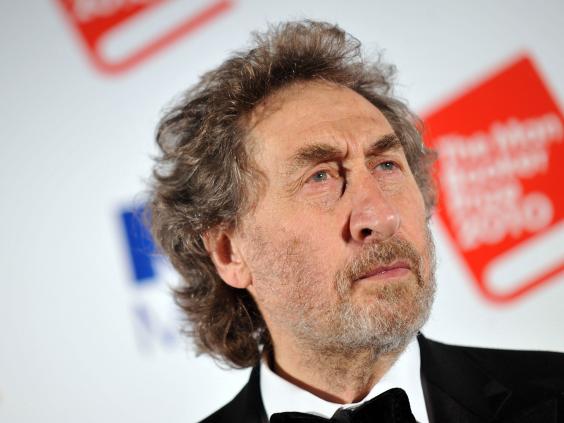 While his plot can on occasion seem a little convoluted (something which could, admittedly, also be said of Shakespeare's), Jacobson's writing is virtuoso. He is a master of shifting tones, from the satirical to the serious. His prose has the sort of elastic precision you only get from a writer who is truly in command, whether he's discussing masturbation or Zionism, commenting on middle east politics or referencing Kafka and the pre-Raphaelites. He never uses his braininess to cynical or meretricious ends. There's also deep and sincere soul-searching going on here.
This novel is a highly rhetorical artefact whose rigour and vigour resides in the dialogue, the voices, and the subtlety of argument. But under the stylised characterisation and intellectual pyrotechnics, Jacobson explores some heartfelt psychological insights into family conflicts. One of the most distressing aspects of The Merchant of Venice is Shylock's betrayal by his daughter Jessica, who runs off with her Christian lover and steals her father's money, which she ultimately spends on a monkey in an act of frivolous yet obscurely symbolic bizarrerie. You'll find lots of ideas as to why it was a monkey here, but Jacobson also tries to see the generational conflict from both viewpoints, wondering whether Jessica was reacting against her father's emotional absence in his grief at being widowed. His portrayal of the parallel relationship between Strulovitch and his daughter Beatrice – who is threatening to marry the footballer with the Nazi salute – rings true in its exploration of paternal possessiveness.
Shylock is My Name is the second novel to be published in Vintage's Hogarth Shakespeare series. Future titles include rewrites of The Tempest (Margaret Atwood), The Taming of the Shrew (Anne Tyler), Othello (Tracy Chevalier) and King Lear (Edward St Aubyn). On the strength of what we've seen so far I'm looking forward to them. Shakespeare himself was a borrower of other people's stories, forever making something new from existing sources, and inviting his audiences to give his characters an afterlife. These modern retellings could not capture his spirit better.
Hogarth, £16.99. Order at the discounted price of £14.99 inc. p&p from the Independent Bookshop
Reuse content
Comments