Are you ready to baroque and roll? With his electric-shock hair and Paris Conservatoire musical education, Jean Rondeau is the French prodigy on a mission to make the harpsichord hip.
In its 17th-century heyday, the harpsichord provided the accompaniment to palace intrigue and courtships.
Johann Sebastian Bach composed some of his finest works for the instrument, which was widely used in baroque and renaissance music.
However, the harpsichord fell out of favour as the piano, which was perceived as offering more tonal variety, began its dominance.
Now Rondeau, 23, plans to return it to centre stage, while his brooding looks make him the latest "sex symbol" in the classical firmament.
Warner Music, home to Coldplay and Lily Allen, has signed up Rondeau, who won first prize at the Bruges International Harpsichord Competition, where critics praised "a virtuosity that allows him to dash off lightning appoggiaturas, phrasing that nourishes and refreshes the drama, lively, ardent, captivating and always dynamically charged".
The musician, who also studied at London's Guildhall School of Music, plans to return to make his UK concert debut soon.
His debut Warner Classics album will be dedicated to the music of JS Bach. However, Rondeau is placing clips of his live performance of Scarlatti Sonatas on YouTube as a "taster" to encourage a new generation of fans.
"I want to share my love of the instrument and inspire young people to come up to me after shows and say they want to play the harpsichord," Rondeau says. "We take care over the pieces we choose for YouTube. You have four minutes to... touch an audience."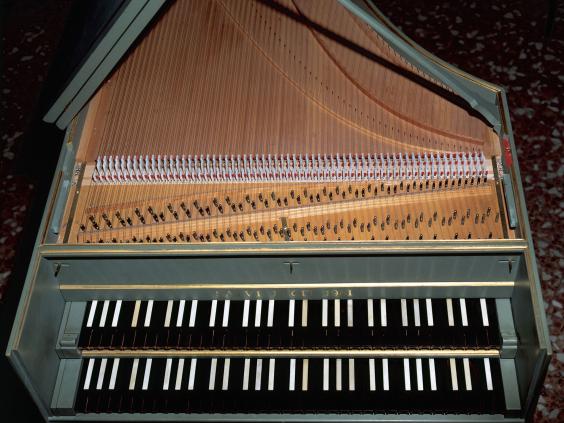 Rondeau also breaks with classical convention by breaking off to talk to the audience between pieces.
Yet the "punk" image is  not contrived.
"This is just the way I look naturally," he says. "But it's important for my CD to have great photography and a great cover, so it has the same style as a contemporary pop album.To popularise the harpsichord, I have to pay attention to  the details."
Rondeau, who studied philosophy alongside his musical education, believes the harpsichord need not sound like an "antique" instrument.
"It is a certain style of music, but there's a lot of really groovy stuff," he explains.
"It is not a 'heavy-sounding' instrument in the concert hall, but there are some really emotional compositions in baroque music."
He discovered the harpsichord aged six.
"I heard it on the radio. I didn't know what it was, but I said to my parents: 'I really want to make that sound.'
"I didn't even know what it looked like, or the name of the instrument. It's very attractive for a child, it's sensitive,  very delicate.
"There are also some pieces from great composers that aren't so difficult technically. But people forget that the harpsichord used to have huge popularity, it was bigger than the piano."
He was inspired by the psychedelic era's embrace of the harpsichord.
"I'm proud that the harpsichord is featured in rock and pop. The Beatles and the Rolling Stones used the sound," Rondeau says. "So did Led Zeppelin and Queen. It can do a lot of things."
Reuse content