Le Grand Macabre, Barbican Hall, London, review: Sellars couldn't find the work's throbbing political pulse
Simon Rattle conducts the London Symphony Orchestra in Peter Sellars's production of Ligeti's 'Le Grand Macabre' set in a land of nymphomaniacs, drunkenness and debauchery
3
Click to follow
The Independent Culture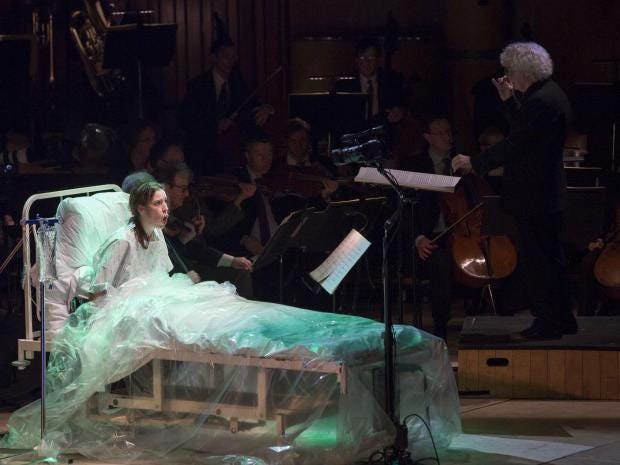 A filthy, Rabelaisian romp through a land of nymphomaniacs, dominatrices, drunks and hysterics, scored to the sounds of steamboat whistles, saucepans and an entire chorus of car horns, Ligeti's "anti-anti-opera" Le Grand Macabre is about as much fun as you can have in the opera house. So why was there so little laughter at this semi-staged performance by Simon Rattle and the LSO?
The answer lies with director Peter Sellars, whose iconic 1997 Salzburg production was reheated here in watered-down form. Transforming an anarchic, apocalyptic fantasy into a cautionary tale about nuclear disaster, Sellars shackles the work's joy, reins in its obscenity, turning its pointed wit into a blunt teaching tool.
An outstanding ensemble cast (and a very game LSO Chorus) did their best with what they were given; Audrey Luna's crazed Gepopo soared easily into Ligeti's musical stratosphere, Ronnita Miller and Elizabeth Watts clung and clutched musically at one another in a sequence of X-rated duets, while Heidi Melton made a memorable and deliciously wanton Mescalina. A percussion-heavy LSO delighted in all of the composer's outlandish textures and parodic musical borrowings, but tended a little heavy in the balance under the encouragement of Simon Rattle.
There was a time when Le Grand Macabre looked like a musical novelty, a disposable piece of 1970s experimentalism. Forty years on, this absurdist meditation on extremism and pleasure-addicted society, on a world poised on the edge of destruction, looks more timely than ever. What a shame Sellars couldn't find the work's throbbing political pulse.
Comments