Lulu, English National Opera, London, review: Sara Connolly is compelling as Lulu's admirer
William Kentridge's new ENO production of Lulu includes his animated films of pen and ink drawings projected onto the set to reveal the characters' innermost thoughts
5
Click to follow
The Independent Culture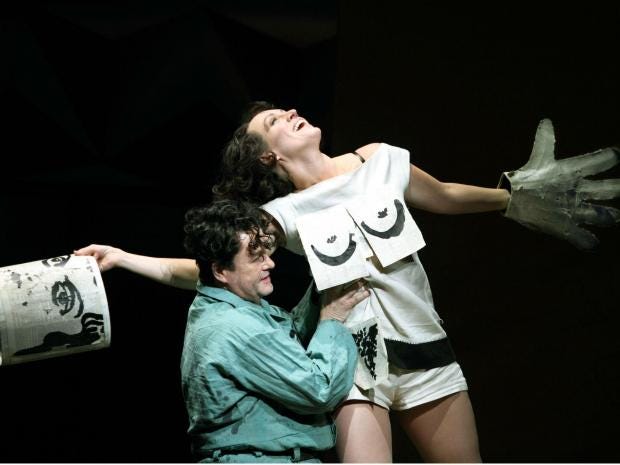 Already seen at the Met and Amsterdam, this inspired production of Lulu, one of Alban Berg's two seminal operas of the 20th century with designs and direction by the renowned South African artist William Kentridge, arrives at the ENO.
The pairing works brilliantly. Kentridge, holding a concurrent exhibition at the Whitechapel Gallery in London, is known for his animated films of pen and ink drawings which he erases and appends frame by frame. Here he projects drawings onto the set to provide a monochrome, period expressionist decor while at the same time commenting on the action, either depicting it or revealing the characters' innermost thoughts. This technique also speaks to the heart of the opera: how Lulu, the object of desire, offers all things to all men in an ever-shifting set of identities projected onto her – a multiplicity of possibilities.
Excellent Brenda Rae makes a suitably capricious femme fatale, surrounded a very strong cast of those helplessly pulled into Lulu's death-dealing orbit, including Willard White operating his particular brand of authoritative menace, and American bass-baritone James Morris as her first husband and nemesis Jack the Ripper.
Utterly compelling as always is Sara Connolly, bringing an intense desolation to the role of Countess Geschwitz, Lulu's lesbian admirer who sacrifices everything for her. Berg's sister was gay, and the depth of Connolly's performance makes perfect sense of why it is she – when Geschwitz is not otherwise a large role – who closes the opera.
Comments