Daniel Barenboim's West-Eastern Divan Orchestra has come a long way since he and Edward Said created it in 1999. The original idea was nothing so grand as an orchestra for peace, despite its being labelled as that: 'it's not a love story', Barenboim insisted, nor even a peace story, 'because it's not going to bring peace, however well it plays'. It was, he said, 'a project against ignorance.' He wanted to create 'a platform where the two sides can disagree and not resort to knives'.
As it happens, a book published this week underlines just how sharp those disagreements can be. In Children of the Stone: The Power of Music in a Hard Land, Sandy Tolan sympathetically lays bare the stresses behind the monolithic WEDO façade, as musicians whose off-stage lives couldn't be more different – comfortable affluence for the Israelis, poverty and hardship for the Arabs – find themselves in entrenched opposition regarding a stance over the West Bank occupation. Despite Barenboim's inspirational example of taking dual Israeli and Palestinian citizenship, that, for some Israeli players, would be a step too far.   
But onstage he has instilled in these musicians such confidence that they tackle the most formidable challenges without turning a hair. Under his baton, they opened their Prom with Schoenberg's Chamber Symphony No 1 Opus 9, which requires that each of its fifteen musicians should be a performer of soloist calibre. This work consists of many movements condensed into one, and here its intricately-woven melodic lines were as bracingly clear and astringent as a mountain stream. It was endearing to see Barenboim plant a kiss on the brow of a flautist who had had to struggle on and off with crutches.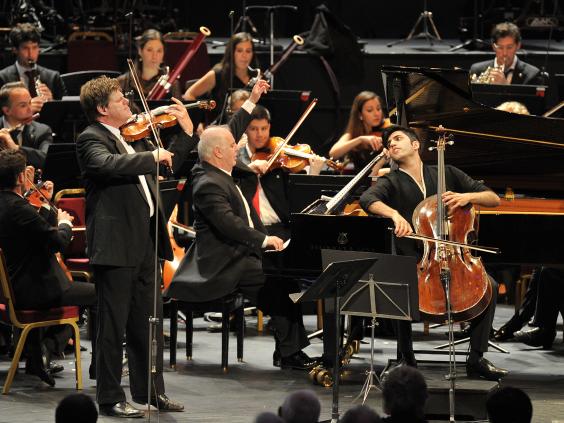 The full orchestra then came on for Beethoven's Triple Concerto for Violin, Cello, and Piano. The string soloists were violinist Guy Braunstein (born in Tel Aviv), and cellist Kian Soltani (born in Bregenz but of Iranian extraction). Barenboim would direct from the piano. Braunstein's delicate expressiveness was offset by Soltani's vibrant warmth of tone, with Barenboim's pianism being the voice of authority (as was the composer's intention): whatever he plays, he's incapable of turning in anything but a magisterial performance, but this was a reminder of his absolute pre-eminence as a Beethovenist. If the sound felt unbalanced throughout, I suspect the hall's acoustic was largely to blame. 
Winding up with Tchaikovsky's Fourth Symphony, the orchestra demonstrated their technical prowess in a variety of ways: brass brilliance in a fastidiously-sculpted opening movement, woodwind eloquence in the Andantino, muscular pianissimo pizzicatos in the Scherzo, and an infectiously manic finale.
Reuse content