Simplicius Simplicissimus, Sadler's Wells, London, review: Soprano Stephanie Corley performs with uncanny skill
Independent Opera returns to Sadler's Wells with the UK premiere of Karl Amadeus Hartmann's opera directed by Polly Graham
4
Click to follow
The Independent Culture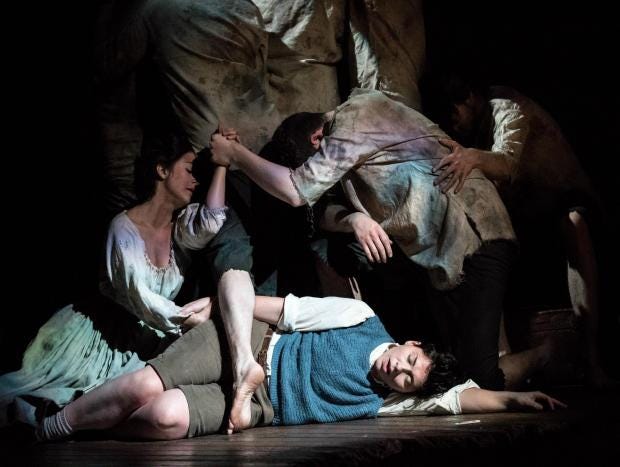 Don't let the title fool you. Simplicius Simplicissimus might reek of morally improving allegory and didactic earnestness, but there's nothing dusty about Karl Amadeus Hartmann's 1948 opera. Steeped in blood and bodily fluids, this tale of shepherd boy Simplicius, whose simple life is upended again and again by war, speaks with a clarity and directness that would be obscene if it weren't so horribly true.
Unperformed in the UK until now, Hartmann's work has its flaws, notably some oddly inert writing for voices that holds back the brilliant orchestral invention of this natural symphonist, but in the hands of Independent Opera and the outstanding Polly Graham (I can't remember the last time I felt so excited about a young director) these scarcely seem to matter. Graham finds the physical momentum Hartmann's vocal music lacks, and her Second World War framing device – elegantly imagined in Nate Gibson's multi-level set – takes on a particular poignancy in the context of the composer's own brave anti-Nazi stance.
The key to this tricky allegory is the figure of Simplicius himself, a role soprano Stephanie Corley inhabits with uncanny skill – a virtuoso piece of musical theatre. She's supported by a fine ensemble of singers, Adrian Thompson's Hermit and Tristan Hambleton's Sergeant notable among them. The Britten Sinfonia are the luxury band, and under conductor Timothy Redmond give rhetorical voice to this violent, sardonic score, full of musical wit and rage.
Reuse content
Comments