"I'll recognise an Idil Sukan photograph before I recognise the person in the photograph, even if it's me. That's how good she is," says Bridget Christie. The stand-up is one of hundreds who feature in This Comedian, an exhibition of portraits by Idil Sukan, a 31-year-old photographer who works out of a studio in her Richmond home. "I've had all sorts come here," says Sukan. "Hundreds. Julian Clary wore a pink PVC tuxedo and brought his performing dog. Every shoot, there's something..."
Sukan's portfolio unfolds like a directory of the comedy scene. "The idea of the exhibition is what it means to be a comedian. It's not like being a lawyer or a doctor, it's not a protected term. You can call yourself a comedian after one gig or still be a bit uncomfortable with it after 250," she says. As such, established faces like Clary, Steve Coogan, Eddie Izzard, Ruby Wax, Stewart Lee and Clive Anderson will hang alongside more recent success stories like Sara Pascoe, Josh Widdicombe, Josie Long, Nick Helm and Katherine Ryan. Christie is one of many acts she has shot several times over the years and watched as they have grown from Fringe newcomers to television staples in front of her lens.
She is currently sifting through some 80,000 frames, trying to whittle them down to 200 for her debut show, which opens in London tomorrow. As Christie says, the Sukan style is distinctive. Her portraits are lovely to look at, for a start – gorgeously lit, intimately composed and atmospheric. Odd props and distinctive costumes are a regular feature.
Shirley and Shirley are pictured in pearls and cocktail dresses about to tuck into a bloody pig's head that Sukan borrowed from a butcher; Lucy Porter in a flowery dress straddles a Yamaha motorbike; Phil Nichol is locked in an embrace with a giant lion mascot.
Idil Sukan's publicity shots
Idil Sukan's publicity shots
1/5 Comedy stars play it straight

Adam Riches is a regular Sukan subject

Idil Sukan

2/5 Comedy stars play it straight

Bridget Christie is one of many acts Idil Sukan has shot several times over the years

Idil Sukan

3/5 Comedy stars play it straight

Idil Sukan shot Olivia Colman backstage at the British Independent Film Awards in 2013

Idil Sukan

4/5 Comedy stars play it straight

This portrait of Celia Imrie was accepted into the National Portrait Gallery's collection in 2013

Idil Sukan

5/5 Comedy stars play it straight

Alex Brooker and Josh Widdicombe; Idil Sukan says it can be tough working with comedians as they are naturally inclined to find fault and poke fun at ideas

Idil Sukan
As for locations, anything goes. She photographed teacher-turned-stand-up David Trent in the Cambridge chalk pits, lively sketch troupe Ladygarden on a gritty rooftop, and Sara Pascoe in a park as the moon rose. There are live shots, too – a close-up of Hannibal Buress, glistening with sweat under the limelight, and Tim Vine sneering in a plastic Elvis jumpsuit at the comedy night Karaoke Circus.
Strikingly, her subjects rarely smile. "A lot of people don't know how to smile – they always second-guess themselves," explains Sukan. There are exceptions – a terrific shot of Reginald D Hunter in profile, his head flung back in a guffaw, and a dynamic Josie Long, mid-giggle. But there's a sting in the tail – her T-shirt reads: "It is difficult to be alive".
"If you're doing a publicity shot for a comedy show and the title is funny and the poster quotes are funny and the person in the picture is also being funny, it just screams 'shouty, needy nutbag'. No one will ever want to hang out with that person," says Sukan. Her photographs are the opposite of the traditional stand-up mugshot, namely of a man in a suit, with a microphone, wackily shrugging at the camera. "I'm trying to create depth – a rounded human being who will entice people. A show is a whole mini-universe and the poster is just the door into it."
It was through her posters and flyers that I first came across Sukan, at the Edinburgh Fringe in 2010. Her designs – sometimes sepia-tinged tableaux, sometimes gothically costumed, sometimes featuring pig masks – stood out in a sea of garish, gurning male stand-ups. Which is the point of a poster, after all.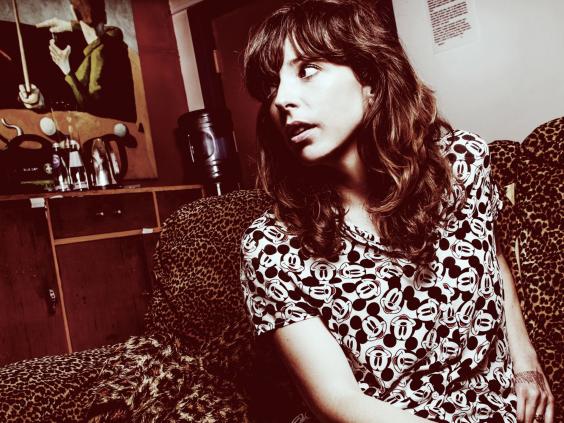 "Edinburgh is a dog show, a trade show", she agrees. "There are thousands of comedians. If you want a committed, nerdy fan base, then you have to give people things to collect that are beautiful." Besides, she adds, more people will see the photos than will see the show. A good shot can be a valuable, lasting, calling card.
Sukan first picked up a camera just six years ago. An arty child who taught herself Photoshop when she was 11 years old, she studied graphic design for a year but she hated it so much that she ended up reading economic history at Edinburgh. Inevitably, she was drawn into the festival there, first working at Bedlam Theatre for five years before breaking through as the producer of the successful sketch troupe, The Penny Dreadfuls.
It was while working with them, and producing and doing publicity for other shows, that she found herself being given wacky, badly lit publicity shots she didn't want to use. So she "kidnapped" a camera from David Reed (one third of the Dreadfuls) and took matters into her own hands. Having saved up for her own camera, she taught herself everything about it and did her first professional shoot – with Pappy's Fun Club – in 2009.
"She's just great, I love her," says Adam Riches, a regular Sukan subject who won the Edinburgh Comedy Award in 2011. "In the spirit of all great collaborators she's up for going against the grain, trying something for the hell of it and pushing you to find a better idea."
Collaboration is key, agrees Sukan. "I don't want to take pictures, I want to create pictures, with exciting people. It's like improvising together." It can be tough working with comedians, she says, who are naturally inclined to find fault and poke fun at ideas. "You definitely need a thick skin. You can't do this job unless you're funny." Having started out performing with The Improverts, she still keeps her hand in as a performer, doing the odd impro night or stand-up set, "very much just for fun".
Do comedians try out jokes on her as she shoots? "No! My god. That would be awful, no. I wouldn't stand for it," she says. OK, but does she have to find someone funny to take a good picture? "Oh god. Ummm. No. I've taken lots of pictures of people who are not very funny at all. The critical thing is, I have to find someone interesting and lovely. There are too many megapixels to hide anything. If someone is an arsehole then it is incredibly hard to take a picture of them not looking like an arsehole. I can do it, but I hate doing it."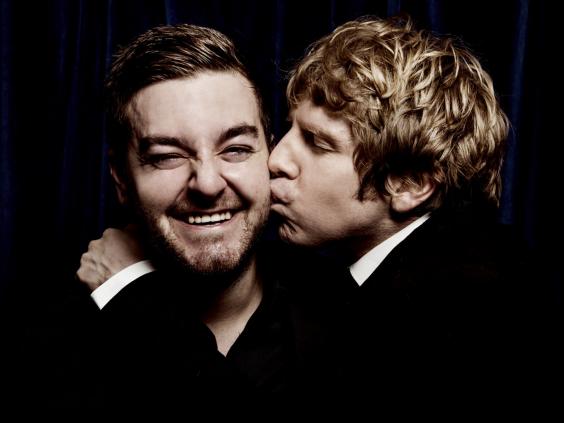 On 25th February, she will host a discussion at the gallery about comedy photography and feminism, with comedian Vikki Stone. All of her portraits are feminist, she says. Cocky males and coy females have no place in her work. "We actually have the ability to influence gender norms and social stereotypes and create more diverse and exciting images of women as people, as human beings who are weird and gross. I've seen enough nose hairs on my 35-megapixel camera to realise that all humans – whether male, female, LGBT, the whole gamut – are weird and gross. The fact that we don't have any diverse representation of women is bizarre."
The exhibition will also feature photographs of actors and actresses, among them Peter Capaldi, Michael Gambon, Patrick Stewart and Olivia Colman. She shot the Broadchurch actress backstage at the British Independent Film Awards in 2013. "It's such a chaos at an awards ceremony. You're basically trying to become best friends with someone in one minute. Olivia Colman let my sister try on her shoes – they were Vivienne Westwood heels. She's laughing at my sister in the picture."
Her portrait of Celia Imrie, also captured backstage at a ceremony, was accepted into the National Portrait Gallery's collection in 2013. "We had literally just a moment. She was lovely: calm, and so wonderfully content. There were no moments of self-consciousness." Sukan only took two frames – a test shot and a real one – but she knew she had a winner. "It's like when you do archery, you know if you've hit the target before you release the arrow. There was no guarantee, but I knew in my liver that, yes, this is good."
This Comedian, Embassy Tea Gallery, London SE1 (020-7274 7474; www.thiscomedian.com) 20 February to 8 March. Prints from shop.drawhq.com
Reuse content