If there's any sign that you've truly made it in comedy, it's getting to play New York's Madison Square Garden. So the fact that Aziz Ansari enjoyed two sell-out shows there last month is a marker of his status as America's latest comedy superstar: and now he's about to boost his profile over here with two shows at the Hammersmith Apollo.
Familiar to British TV viewers as Tom Haverford, the deluded, over-confident, would-be entrepreneur in the US sitcom Parks & Recreation, the man himself is possibly less familiar than his character on these shores. And so, by way of a mass introduction, we asked him to tell us about some of his favourite things. Here's what he gave us:
1. Michael Jackson Tribute Acts
When I played Madison Square Garden, I wondered what I could do to make it different and interesting – and I then just randomly had the idea of "What if before I came out there was a Michael Jackson impersonator?" So I started watching them on YouTube and they were amazing. Dead-on and with all the dance moves and singing. I found this guy from Las Vegas named Jalles Franca who was incredible. He did a few shows with me. I'm a big Michael Jackson fan. Who isn't? I don't do him myself, though.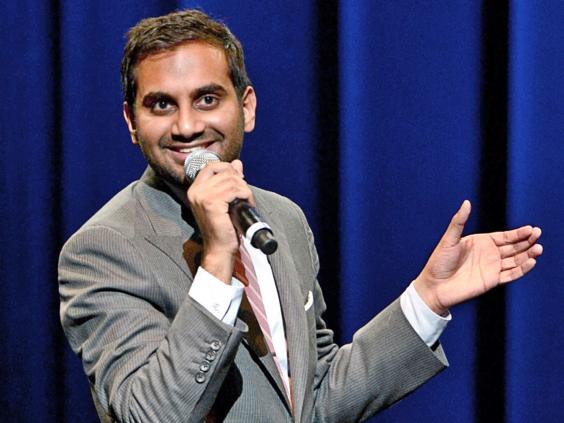 2. Hannibal Buress
[The 31-year-old fellow New York comic] has opened for me a couple of times. He's smart and intelligent and not talking about what everybody else is talking about. [In a recent set, Buress addressed historic allegations of rape made about veteran comedian Bill Cosby, bringing them back to international attention.] It's such an interesting phenomenon that those stories have been in the news forever and didn't get a lot of play until Hannibal did that bit and then it got a big resurgence in the press. One of the women who accused him is just baffled [and saying] "Why didn't the media cover it more when all these women came out?" That to me is the saddest thing.
3. Feminism
I've always been a feminist but it's a topic I've been thinking more about recently so I brought it up when I was on David Letterman's show. [He made headlines by asking the audience to clap if they were feminists.] If you are a comedian you have this power where you can talk about anything you want as long as you have a couple of jokes. If Johnny Depp wants to talk about being a feminist people would go 'Why are you talking about this?' There's a chunk about the sexual harassment of women in my new show. The morsel of that idea started when I was seeing on Twitter what people were saying to celebrities. People might say to me, "You suck" but they would say to women really vile, horrible stuff.
4. Street Food
At the moment, I'm living in LA, and there are some great places [for street food], like Ricky's Fish Tacos and Taco Zone, and a lot of really good ethnic food, such as Korean barbecues [because] there are so many immigrant populations. The San Gabriel Valley in particular has amazing Asian food that's super-authentic.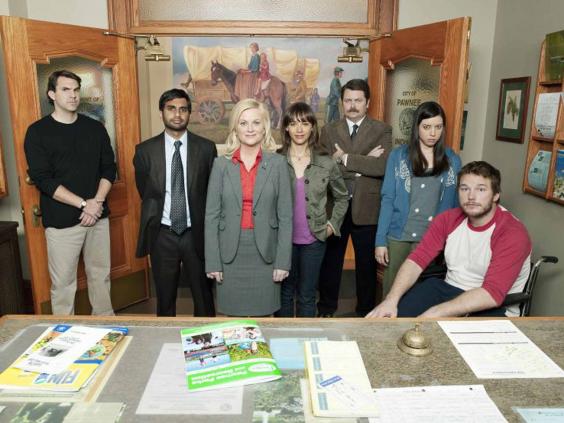 5. My Parks & Recreation family
We are just filming the final season. We've been working on it for five years so we are all really close. It's great to be able to come to work with people you are such good friends with. I just show up and say the lines and they are usually pretty funny so that's a huge weight off my shoulders. When you do your own show the pressure is all on you to make sure something is really good. In Parks there's a big group of people to take the pressure off. We improvise every now and then, but generally you stick to the script because it's so good.
6. Suits
I try to get a new suit for each tour. Last time I came to the UK, my suit was from a label called Band of Outsiders. Then there's another company I love called Brooklyn Tailors. The recent one I've been wearing is a black tuxedo, it's pretty cool. I only started with the suits when I started moving into theatres. There's something about nice old theatres; I felt I should dress up, that it was better than to walk out wearing a T-shirt.
7. Twin Peaks
I loved that show. I saw that they are bringing it back on Showtime, which sounds really cool. Oh man I haven't seen that in a long time. I must re-watch it. Whenever David Lynch shows up [in the show as FBI Regional Bureau Chief Gordon Cole] he's always pretty funny.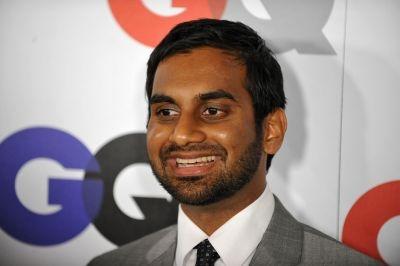 8. Drake
I like [the rapper] as much as everybody else. Doesn't everybody like Drake? Some website photoshopped my face on a Kanye West album cover: I love hip hop but lately I've been diversifying. I had a British guy working in my house the other day and he said, "All the music you listen to is British." I'd never even realised it… Human League, Cure, The Smiths, Tears for Fears: I listen to Eighties New Wave more than hip hop now.
9. Cocktails
My girlfriend is a chef [New York pastry chef Courtney McBroom] and had a pop-up restaurant in Los Angeles. My contributions were all in the beverage department. I have a friend with a restaurant in New York where they do a Frozen Scorpino. It's a frozen drink and it's really good in the summer so for my girlfriend's restaurant so I  did my version of that with vodka, prosecco, Cointreau and lemon.
Aziz Ansari plays the Eventim Apollo Sunday 30 November at 7pm and 9.45pm (0844 844 0444,  ticketmaster .co.uk)
Reuse content