When the American stand-up Sarah Silverman spoofed Joan Rivers in a tribute to the late comedian last month on the US TV show Saturday Night Live (SNL), it was only right that Rivers's favourite comedian, Lucille Ball, also be part of the sketch: Silverman-as-Rivers turned to Ball (played by SNL regular Kate McKinnon) and croaked: "You stuffed more chocolates down your throat than the Kardashians."
Younger viewers could have been forgiven for being clueless about Lucille Ball, the red-head with big teeth, a loud mouth, and an even louder frock whose motto was: "I'm not funny. What I am is brave."
This year marks the 25th anniversary of Ball's death at the age of 77. It also marks her return as a comedy icon: Ball is the inspiration for Nick Hornby's new novel Funny Girl, and for a new generation of female comedians – both here and in the US – hungry for the massive success Ball experienced in the 1950s and 1960s, arguably unmatched by any comedian since.
With her husband, Desi Arnaz, Ball created and starred in the hit television show I Love Lucy, which ran from 1951 to 1957 and was the most-watched show in the United States for four of its six series. It won four Emmy awards and its viewing figures at the time were surpassed only by Elvis Presley's appearances on The Ed Sullivan Show. (In 1953, 44 million tuned in to the episode in which Lucy gives birth to her son, Ricky – that represented nearly three-quarters of homes with a television.)
Ball's comic persona was over-the-top, slapstick, adorable: the ditzy housewife with butter fingers, two left feet and a heart of gold. She was as unthreatening as Doris Day but as goofy as Phil Silvers' Sergeant Bilko. And the show broke new ground: it featured an interracial couple (Arnaz was Cuban), and was said to be the first American show to feature a pregnant woman playing a pregnant woman (though, according to The Hollywood Reporter, the word "pregnant" could not be uttered on air). After she divorced Arnaz, Ball went on to become the first woman to run a major TV studio, Desilu, which produced popular series such as Mission: Impossible and Star Trek. She eventually sold it in 1968 for $17m.
I can't remember exactly when I first saw Lucille Ball, but I remember thinking that she was completely wonderful. She was unlike anything else on television: a woman who was glamorous and maternal but also funny, smart and silly. When I was eight or nine in the early 1980s, I Love Lucy featured on British television schedules somewhere between The Love Boat and The Beverly Hillbillies. I was addicted. (The series is one of the few in the history of TV to have been continuously broadcast since its first episode – you can still watch it on the Hallmark Channel.)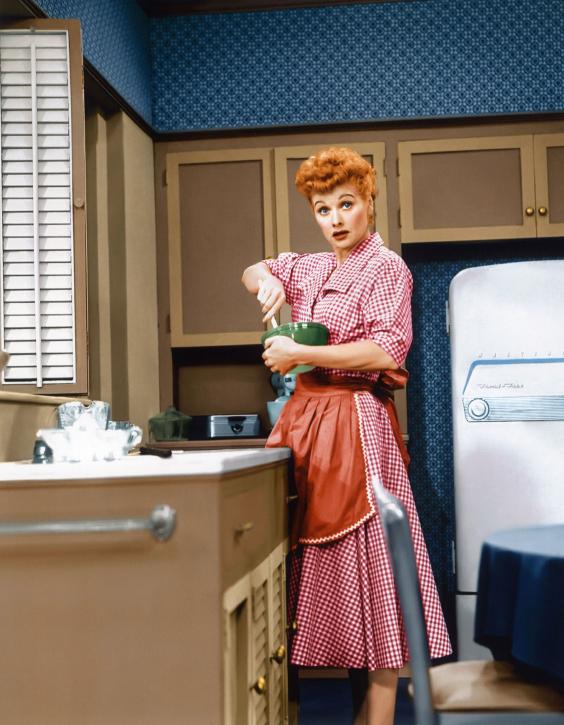 In 1986, a few years before her death, Ball did a memorable turn with Joan Rivers on The Tonight Show in a bright purple trouser suit. Not usually anyone's fan girl, Rivers gave her an easy ride, practically salivating at being in the presence of, as Rivers put it, a "living legend". Ball stole the show by turning the tables on Rivers, asking her about her sex life and trying to rip off the host's earrings: "Are these real?" Ball was "a walking masterclass in comedy", said Rivers.
Next year, the Lucy Desi Museum and Center for Comedy will open in Ball's honour in her hometown of Jamestown, New York. Debra Messing, star of the TV show Will & Grace, recently expressed her desire to portray Lucy in a biopic (and has been given the blessing of Ball's daughter, Lucie Arnaz). Other Lucy fans include Reese Witherspoon, Australian comic Sarah Kendall and, perhaps more surprisingly, leading Ancient Greece specialist Edith Hall, professor of classics at King's College, London, who recently devoted a Radio 4 Great Lives programme to Ball: "She is the greatest comedienne that ever lived… The skill of getting the timing right in k comedy is about five times the skill required in tragedy." (The programme is still on iPlayer.)
Ball's legacy is being re-evaluted just as the spotlight is on women in comedy. Bridget Christie, Sara Pascoe, Claudia O'Doherty and Josie Long have scooped recent accolades at the Edinburgh Fringe. This year, solo-tour sales of Miranda Hart, Sarah Millican and Dawn French contributed to record box-office returns for Ticketmaster; sales for female comics have trebled since 2011. So why does no show on British screens approach the success of I Love Lucy?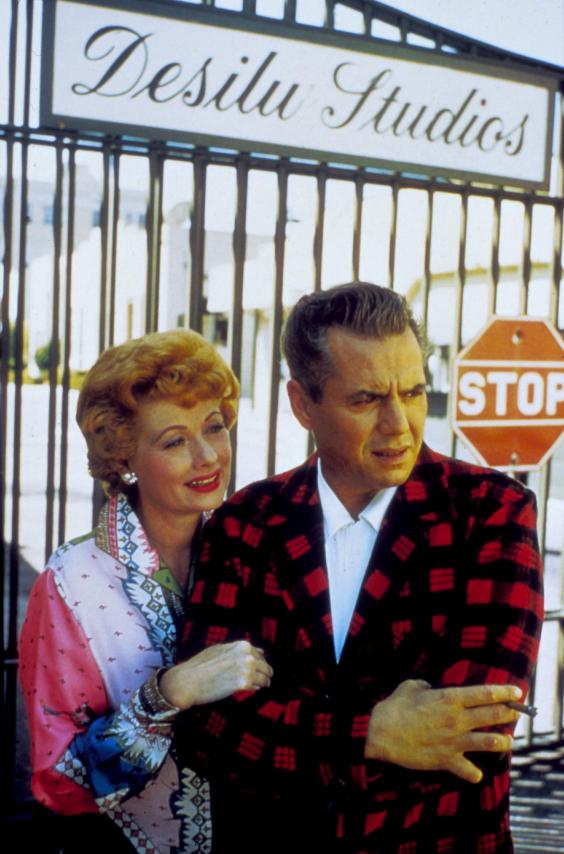 One answer is that Ball capitalised on the key female stereotype of her time – playing housewife Lucy, she was brilliantly subversive. Lucy baked bread that exploded in the oven; she accidentally bought raw meat worth $4,000; she trapped herself in a walk-in freezer; she dressed up as a rubbish Superman in ballet tights and a football helmet to appease her five-year-old. As stand-up Lucy Porter puts it: "Lucille Ball is an inspiration to me, because she was a brilliant, unselfconscious clown. Her comedy made me think it was OK to be a bit crap at housework and marriage as long as you were funny."
Ball is not only a muse to performers. Hornby's new novel Funny Girl follows the fortunes of a young woman who is crowned Miss Blackpool 1964 only to realise that she doesn't want people to look at her. "She just wants to make people laugh," according to pre-publicity, "like her heroine Lucille Ball of I Love Lucy fame."
Hornby first wrote of his love for the Stefan Kanfer biography Ball of Fire: the Tumultuous Life and Comic Art of Lucille Ball in the American magazine The Believer: "Hers was an extraordinary journey, and just in case you need a little more, there was a long, tempestuous marriage at the centre of it. (Ball rendered the first divorce from Arnaz null and void by jumping into bed with her ex-husband on the way back from the courthouse.) We didn't have a Lucille Ball in the UK; you [in the US] have way more female comedians than us. This is not a coincidence."
Shortly after that piece, he started writing Funny Girl, inspired by that question: "Why has there not been a British Lucille Ball?"
It's a very good question. In the US, the beneficiaries of Ball's comic legacy are obvious: Ellen DeGeneres, Tina Fey, Silverman, although even they don't have the cosy, mainstream appeal Ball seemed to achieve effortlessly.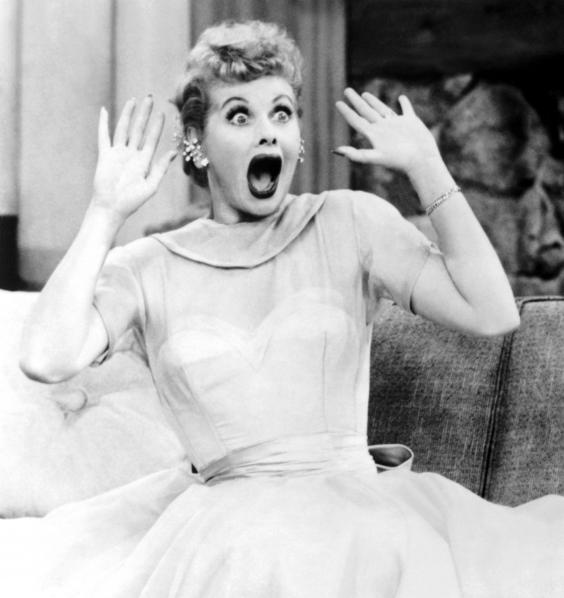 Arguably, Oprah Winfrey should be on this list, too: when she performs live – and it is a performance – there are as many jokes as there are self-help one-liners. Oprah is arguably the only woman who has achieved comparable devotion from mass audiences.
I would say that the closest British comedy has come is Caroline Aherne, with her creation Mrs Merton, or perhaps Miranda Hart. But the only name that comes up under the Google search "British Lucille Ball" is Mollie Sugden (of Are You Being Served? fame). When I talked to Hornby at the launch of Funny Girl, he suggested it has something to do with scale: the sheer volume of the US television audience (even in the 1950s) means that when people like something, it can really take off. It's hard to achieve the same effect on British television, especially in our multi-platform world.
Ball was also a real product of her time: she had to look like a model housewife to subvert the stereotype. She had also come up through the Hollywood system and was originally a Goldwyn starlet. Long before controversialists started claiming that women aren't funny, Lucille Ball was being what Christopher Hitchens claimed can't possibly exist: an attractive woman who is also hilarious (or, perhaps better, a hilarious woman who also happens to be attractive).
She cannot have been the last of her kind. As Lucille Ball herself put it: "One of the things I learned the hard way was that it doesn't pay to get discouraged." We need more Lucys to love. Let's see them.
'Funny Girl' is out on Thursday (£10, Penguin)
Reuse content