"We are told, literally from birth, that the Germans have no sense of humour," says Eddie Izzard. Not only does he not believe the old adage, he's also proving it wrong.
Izzard is in Berlin, and in the final stretch of his six-week run at the Admiralspalast, one of the city's most famous theatres. The former home of the Berlin State Opera, it was also the birthplace of the SED, the Socialist Unity Party which ruled East Germany for 40 years.
The comedian, though, is down in the cellar, valiantly performing the entirety of his show Force Majeure, six nights a week – in German.
It might be a world apart from the arenas he fills back in Britain, but the few hundred audience members are still hanging on his every word.
In some ways, they have to. Izzard started the run in January with only two years of high-school German under his belt. His present fluency is nothing short of incredible. Nevertheless his set, which he has memorised, is littered with banana skins – moments where the language fails him.
"It's all about self-confidence," he laughs, "In my show I say I'm on the fifth floor, cooking something, and I need to get the steam up to the 10th floor. I need to cook my German up." He is adamant, though, that to do comedy in another language, you need only "a few nouns, a few verbs and a few of those other little words, whatever they're called." He lists a few adverbs.
He's right. His German may still only be on the fifth floor, but it's understandable, it's charming, and it's funny. The show is part of his ongoing project of "comedy without borders". References, he says, are national. Humour transcends frontiers.
"It's like the astronauts say, when you look at the world from above, there are no borders. To someone [like me] with a pilot's licence, that's very appealing."
Izzard first performed in French in 1997, but didn't get around to translating one of his shows in its entirety until 2011, when he performed Stripped – Tout en Français in Paris. Now, the man is on a roll. He has performed Force Majeure in both French and German, and plans to do it in Spanish, Russian and Arabic. The latter, he explains, will be the most difficult, but has a personal significance. Izzard was born, in 1962, in Yemen.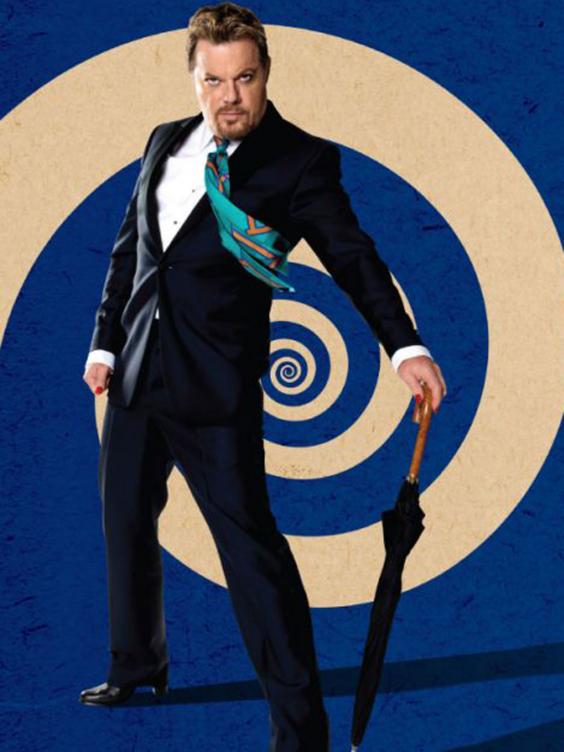 The idea of the show in every language will be the same: comedy without borders. "All great science starts with a theory," he says. "I predicted I could make them laugh in French and in German, and I proved myself right. They dug it in France and they dig it here, unless they're all lying to me. Now I predict I can make them laugh in Spanish and Russian and Arabic and then, maybe once I'm into old age, in Chinese."
The confidence is not self-congratulatory. Izzard is affable in three languages, and his self-belief is honest, not arrogant. Besides, this is not a project just for him. Part of the mission of comedy without borders involves encouraging non-English speaking comedians to do their sets in English. Last summer, he persuaded the French superstar Gad Elmaleh to do a 10-minute set at his own United Nations of Comedy gala in Montreal. At this year's Edinburgh festival, he excitedly explains, there will be sets from the German comic Michael Mittermeier, an Italian named Francesco de Carlo, and French talent Yacine Belhousse. "They're all surreal, they're all amazing," he says.
The surreal has never been too far from Izzard's own comedy, and watching him, there is a sense that his style aids translation. One of the heartiest laughs in Berlin comes from a sequence in which he mimes moles digging. To describe it in full would be to do it an injustice, but it is a perfect execution of physical, surreal, non-linguistic comedy.
The master of the tangential riff is adamant, however, that the same could work with observational comedy. Though he accepts some references are untranslatable, he also thinks that many are workable: "I talk about English kings and the Magna Carta in that set and, with a bit of explanation, it works."
Not everybody is so convinced. One audience member tells me after the show that: "I think thematically it was a bit tough for a German audience. I don't know about Charles I. He should have mentioned the war a bit more."
Insofar as he uses the English phrase "mention the war" in a German sentence, even this critical viewer proves Izzard right in his fundamental theory. Both Fawlty Towers and Monty Python are well loved enough in Germany to have entered into common parlance. Humourless this nation isn't.
This is what Izzard is trying to prove to his own countrymen, and why he encouraged comedians such as Elmaleh and Belhousse to perform in English. "The British know we have some pretty good stuff ourselves, but we can't compare it with anyone else's. The point is to get European acts over to Britain and to show people: 'Look, I'm from elsewhere, and I'm funny.'"
It's an important point, and one which is not devoid of political significance. Izzard's political engagement is well documented, with the comedian having already declared his intention to stand as Labour's candidate for Mayor of London in 2020. He describes the idea of comedy without borders as "great and strong in human political terms".
In terms of his current German show, this means dismantling the old clichés: "I'm making Germans laugh; Henning Wehn is a German making the English laugh. All bets are off, everything is different." On a broader scale, the project is about Izzard's firm belief in the EU and the European community. "We have to work Europe out, because if Europe doesn't work then the other continents will never get together and we'll never have a world where everyone has a chance." Since 2012, Izzard's perfectly manicured nails have glistened with a Union Jack on one hand, and the EU flag on the other.
Comedy, he believes, is part of making Europe work. Comedy takes place in big cities, and big cities are "melting pots". "People come from all over with all sorts of preconceptions. They are told 'don't trust people of a different skin colour or of a different sexuality', but then they arrive in the city and they see these people and think, 'ah, it's alright actually, live and let live.'"
They see, perhaps, a 52-year-old male transvestite from Britain delivering his jokes in broken German. They see the infamously grumpy inhabitants of Berlin laughing at him. They see the melting pot. "The melting pot will save the world," Izzard insists. "We just have to keep melting."
'Force Majeure', Admiral Club, Berlin (eddieizzard.com) to 28 February
Reuse content