Beyond the open door of her cavernous warehouse apartment, in a not-yet-quite-gentrified Brooklyn neighbourhood, Adrienne Truscott is standing at the kitchen island in a sequinned showgirl dress and a rubber horse's head. "Oh, sorry, I was just about to take a selfie and post it saying: 'Woke up like this'," she laughs, pulling off the equine disguise, which is a visual gag to be employed in her new comedy hour, Adrienne Truscott's A One-Trick Pony!, coming to the Edinburgh Fringe this week.
Headwear aside, her return to the festival is sure to attract attention: few shows have made quite as big a stir there as her 2013 Comedy award-winning Asking For It – A One-Lady Rape about Comedy Starring Her Pussy and Little Else! Performing entirely naked from the waist down, she offered up an excoriating satirical attack on rape culture and the male comedians who use rape jokes in their routines by subverting theirs with her own. It was also the sometime dancer, choreographer, performance artist and circus performer's first ever stand-up routine.
"I think that I am, from birth, a provocateur," she acknowledges. "But it is quite funny that I'd been secretly harbouring a desire to do stand-up, and that I thought the best way to go about it was to do an hour of rape jokes," she says, rolling her eyes. In what is perhaps a victory even sweeter than the award, several of the male comedians she name-checked in her act  have since publicly readdressed their positions on rape jokes in their routines.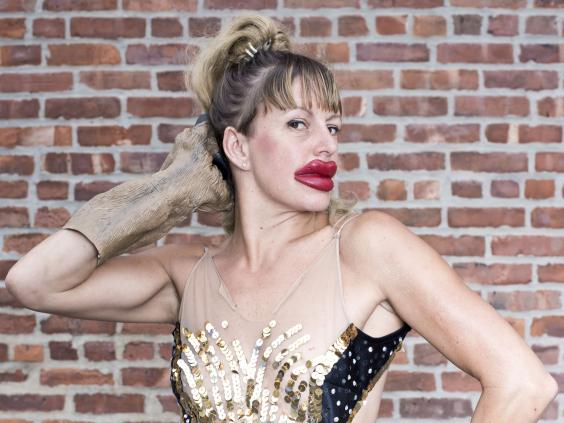 But now comes that difficult second hour and the obvious question: how do you follow up a show so challenging – or, as Truscott puts it: "Can she do it with her pants on?" It's a question she's subverting in One-Trick Pony!, along with the labelling of her as a "feminist performance artist", which is how she found herself described when performing Asking for It.
"I really do want this show to be seen as stand-up and not feminist performance art," she says. Does she class the two things differently, then? "I think they're certainly two different things when you say, 'Hey, do you want to go to a feminist performance art show?' And the entire room says, 'Nope'. In my new show, I'm commenting a bit on that context, and also taking the piss out of myself in my own confusion between the two. I want it to be absurdist and wackadoo and silly," she adds. "I don't have to work to be political, that's already in me."
The "feminist performance artist" label wasn't the only misconception she had to contend with: many watching Asking For It mistakenly assumed that she herself must have been the victim of rape. "[US stand-up] Anthony Jeselnik can do 20 minutes during which there is not a single joke that is not about the maiming, killing or raping of a woman," she notes. "And no one ever says, 'Is that an experience you've had in your life?'" And then there were the people who struggled with her pantless presentation. "I had a young man interview me who asked me if I didn't think that performing naked from the waist down was 'turning back feminism'," she groans. "And I have a joke about it, at the end of [the new] show," she grins, impishly. "I flash a tit and then say, 'Oh my god, I just turned feminism back, like, 12 minutes'."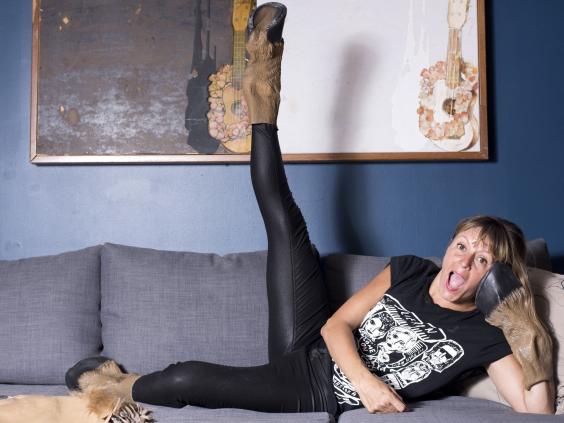 Employing nudity in her act – as she will once more in One-Trick Pony! – is nothing new for Truscott, who would regularly give naked performances with her childhood friend in their neighbour's pool. "We didn't have matching bathing suits, and I found that really upsetting," she laughs. "Then it was like a lightning bolt: if we don't wear anything, we match." It is a rationale she still uses today when baring all in burlesque duo the Wau Wau Sisters. "It's cheap, it matches, it's hilarious, and it sells tickets," she quips.
There is a serious point to the nakedness, too, however. "There is no end to the ways that you can use a female body, or, these days, any body, to counteract the categories our bodies put us in by the culture at large," she believes. "Precisely because [our] bodies are exploited so much, an empowered woman, using a naked body in a live context still has endless ways to be interesting and provocative."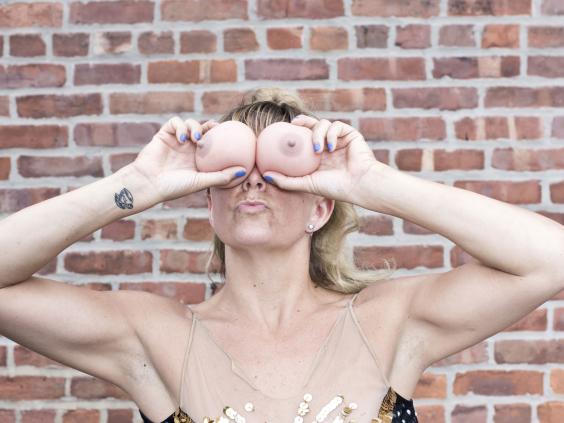 Truscott spent the early part of her childhood in Connecticut. Her parents divorced when she was seven years old, and she, her elder sister and their British-born mother moved to Devon for several years, before heading back to the US and settling in Atlantic City. Her mum, now single, worked in sales and marketing at the Playboy Hotel. When she couldn't get a babysitter, sometimes Truscott would watch a variety show while a Playboy Bunny kept an eye on her, she recalls, looking down at her glitzy, magician's assistant-style dress, and flinging her taut, tanned acrobat's leg over head. "It all makes a certain kind of sense. I'm a really smart feminist … and I'm in this outfit," she declares, with delight.
To glance around the quirky, bohemian home she shares with her musician boyfriend, along with a stuffed mountain lion, a trapeze, a selection of musical instruments, and an eclectic assembly of vintage collectibles, it's surprising to learn that Truscott arrived rather late to the performance art party. After three years as a self-professed "jock" in college in Washington DC she transferred to Wesleyan and fell in with a more creative crowd. "I felt like I'd been playing field hockey while everyone else had been learning how to be really cool. How the fuck did they all know how to play guitar?"
A long-time gymnast, she began taking dance classes, and, then, improv classes too, which she found "completely terrifying and absolutely liberating". After moving to New York City to become a dancer, at 24, she and a friend signed up for a four-month performance art course in Texas, where they worked as strippers to support themselves. "We approached it the same way we did in our performance lab; we were very clear that we weren't becoming strippers, we were experimenting with this," laughs Truscott, or Trixie, as she was known at the Crazy Lady Strip Club. "But I learned a million things from it," she admits. "That transaction [the sale of sexuality] is out there all the time, and there was certainly something powerful in learning to be in control of it and deploy it, instead of just reacting to it." Back in New York, Truscott has spent 15 years in the genre-straddling realms of circus, cabaret and experimental theatre.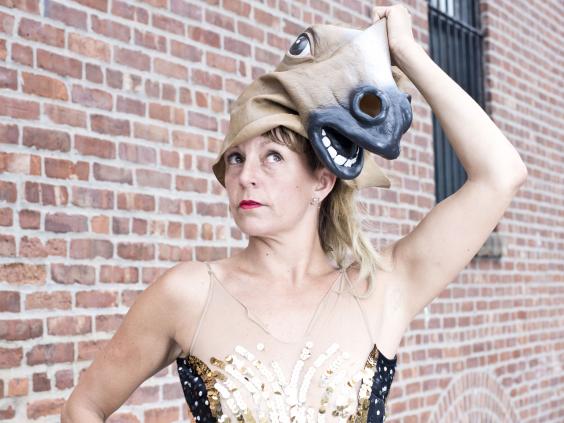 Truscott's headline-grabbing turn at Edinburgh in 2013 came in a year widely recognised as a watershed year for female comics, with fellow feminist act Bridget Christie winning the top prize. And, at last year's festival, there was a 62 per cent rise in the number of women doing one-hour shows from the year before. Is this evidence that the long male-dominated stand-up arena is opening up? And is this representative of a much-wider cultural shift?
"At most festivals, there's still some sort of 'ladies night', called Jeez Louise or Frock You," she says, with an exasperated sigh.  "But it does feel like there's something going on. There is what feels like an explosion of volume on sexism and feminism in the world. We're shocked about Malala [Yousafzai], and we're thrilled by Amy Schumer, and we're confused about Taylor Swift's feminism … and we're horrified by the absurdity of a school full of Nigerian girls being abducted."
And as for those who can't handle the volume? "We have Republican politicians still saying inane things about women's bodies and abortion and what constitutes rape. Or in Ireland, that a woman's body has to incubate a dead foetus until it kills her," she asserts. "Power is being re-shifted, and those monsters know they're breathing their last breath." She lets out a horrible, blood-curdling roar, and claws at the air with a rubber hoof. "It's like the Alien, just before it dies."
Adrienne Truscott's A One-Trick Pony ! is at the  Gilded Balloon 5-17 August
Reuse content