Facing yet more allegations of sexual abuse, and with protesters picketing the venue, Bill Cosby nonetheless received a standing ovation in Canada on Wednesday night, at the end of his first live performance since November.
On a stage backed by two large posters of himself with Nelson Mandela, the 77-year-old comedian told his audience at the Centre in the Square in Kitchener, Ontario, that he had had "a wonderful time".
On the frigid streets outside the theatre, more than a dozen demonstrators chanted and wielded placards declaring "rape is no joke." Since November, The Cosby Show star has been accused by more than 15 women – including the supermodels Janice Dickinson and Beverly Johnson – of sexual assaults dating back to the 1970s. Most of his accusers claim he drugged them before the assaults.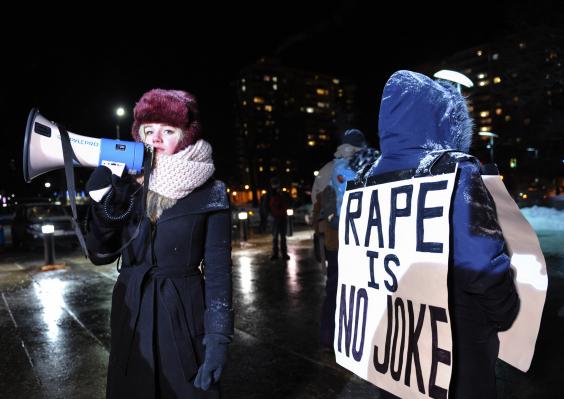 Three more alleged victims came forward on Wednesday, at a Los Angeles press conference organised by the lawyer Gloria Allred, who introduced two of the women as Linda Kirkpatrick and Lynn Neal, who both claimed they were attacked by the comedian in Las Vegas in the early 1980s. The third woman, named only as "Kacey", said she had been working as an assistant to Mr Cosby's late agent, Tom Illius, when the star drugged and sexually assaulted her in 1996.
Ms Allred said the women's stories were too old to lead to criminal charges, due to the statute of limitations on such cases. Though Mr Cosby has not responded to the new claims, he has denied previous allegations through his lawyers, describing them as "fantastical".
The Kitchener show was the first of three Canadian dates on Mr Cosby's "Far From Finished" tour. He was also due to perform in London, Ontario, tonight and tomorrow night in Hamilton. The 2,000-seat theatre was said to be around two-thirds full. A fundraising concert held simultaneously nearby to support facilities for sexual assault victims reportedly raised more than C$7,400 (£4,100).
Bill Cosby: Career in pictures
Bill Cosby: Career in pictures
1/20 Bill Cosby

Winner of his first Emmy for 'I Spy' is Bill Cosby being congratulated by his wife Camille held at Americana Hotel, 1966

2/20 Bill Cosby

Bill Cosby in 'I Spy', 1960s

3/20 Bill Cosby

Bill Cosby in July 1973 in Perth

4/20 Bill Cosby

Bill Cosby and Richard Pryor in 'California Suite', 1978

5/20 Bill Cosby

Bill Cosby and Elmo in Sesame Street, 1989

6/20 Bill Cosby

Bill Cosby poses for a picture with Florence Griffith-Joyner in June 1989

7/20 Bill Cosby

Comedian Bill Cosby back in 1992

Rex Features

8/20 Bill Cosby

A scene from a 1992 episode of 'The Cosby Show'

AP

9/20 Bill Cosby

US Monica Seles breaks into laughter as she jokes with comedian Bill Cosby during a celebrity match in the stadium at the US Open for the Arthur Ashe AIDS Challenge on 27 August 1995

10/20 Bill Cosby

Bill Cosby meets Toronto Blue Jays' All-Star Joe Carter after the Stars played the Stripes in the Celebrity All-Star game which preceded workouts for the 67th All-Star Game at Veterans Stadium on 8 July 1996 in Philadephia

11/20 Bill Cosby

Co-hosts Oprah Winfrey and Bill Cosby joke with each other during the opening of the 2000 Essence Awards 14 April 2000 at Radio City Music Hall in New York City

12/20 Bill Cosby

Bill Cosby jokes with baseball great Hank Aaron after they both received the Presidential Medal of Freedom Award from U.S. President George W. Bush during a ceremony on 9 July 2002 at the White House in Washington

13/20 Bill Cosby

Bill Cosby poses backstage after winning the 'Bob Hope Humanitarian Award' during the 55th Annual Primetime Emmy Awards at the Shrine Auditorium on 21 September 2003 in Los Angeles

14/20 Bill Cosby

'Tonight Show' host Jay Leno and comedian Bill Cosby laugh during a surprise visit by Cosby to sign a Harley-Davidson motorcycle that Leno is using to raise money for the victims of Hurricane Katrina at NBC studios on 9 September 2005 in Burbank, California

15/20 Bill Cosby

Bill Cosby speaks during a taping of 'Meet the Press' at the NBC studios on 14 October 2007 in Washington

16/20 Bill Cosby

Bill Cosby at the 12th annual Mark Twain Prize for American Humor at the John F. Kennedy Center on 26 October 2009 in Washington

17/20 Bill Cosby

Bill Cosby speaks at the National Action Network's 20th annual Keepers of the Dream Awards gala in New York on 6 April 2011

Reuters

18/20 Bill Cosby

Bill Cosby during the 100th anniversary celebration of the Beverly Hills Hotel & Bungalows supporting the Motion Picture & Television Fund and the American Comedy Fund, 2012

Getty Images

19/20 Bill Cosby

Bill Cosby speaks onstage at the Thurgood Marshall College Fund 25th Awards Gala on 11 November 2013 in Washington

20/20 Bill Cosby

Bill Cosby performs at the Treasure Island Hotel & Casino on 26 September 2014 in Las Vegas
Mr Cosby last appeared on stage in Florida on 21 November. As the allegations broke, he cancelled 10 tour dates and at least two television appearances. In a statement released after his show on Wednesday, the comedian told fans: "I would like to personally thank you for giving me the opportunity to bring laughter back into your lives tonight."
Mr Cosby became known as "America's Dad" during his run as Dr Cliff Huxtable on the smash hit sitcom that bore his name, from 1984 to 1992. Phylicia Rashad, who played his wife on The Cosby Show, spoke out in his defence this week, saying that the claims of historical sexual abuse constituted an "orchestrated" attempt to tear down Mr Cosby's reputation.
"What you're seeing is the destruction of a legacy," Ms Rashad told the entertainment site Showbiz 411. "And I think it's orchestrated. I don't know why or who's doing it, but it's the legacy. And it's a legacy that is so important to the culture." In an interview with ABC News on Wednesday, Ms Rashad said she "could never speak" to the veracity of the allegations, but described Mr Cosby as "a genius, he's generous, he's kind, he's inclusive."
Reuse content