The winner of the funniest joke at this year's Edinburgh Fringe has been revealed. But of all the hilarious one-liners that have been cracked in comedy venues across the city, not everyone is impressed with Darren Walsh's "I just deleted all the German names off my phone. It's Hans-free."
Take a look at some of the funnier jokes to grace the festival:
"Jesus fed 5,000 people with two fishes and a loaf of bread. That's not a miracle. That's tapas." - Mark Nelson (2015)
"Red sky at night, Shepherd's delight. Blue sky at night, day." - Tom Parry (2015)
"I lost my virginity very late. When it finally happened I wasn't so much deflowered as deadheaded." - Holly Walsh (2014)
"My name is Fin, which means it's very hard for me to end emails without sounding pretentious."- Fin Taylor (2014)
"Love is like a fart. If you have to force it, it's probably s**t." - Stephen K Amos (2014)
"My friend told me he was going to a fancy dress party as an Italian island. I said to him 'Don't be Sicily'. - Tim Vine (2013)
"The Pope is a lot like Doctor Who. He never dies, just keeps being replaced by white men." - Phil Wang (2013)
"I was very naive sexually. My first boyfriend asked me to do missionary and I buggered off to Africa for six months." - Hayley Ellis (2012)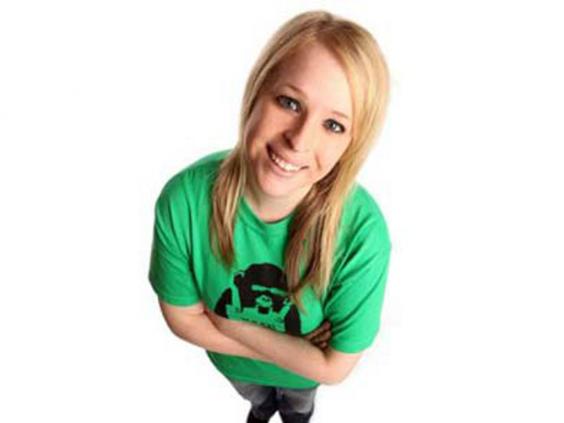 "I was in a band which we called The Prevention. Because we hoped people would say we were better than The Cure." - Alan Sharp (2011)
"Crime in multi-storey car parks. That is wrong on so many different levels." - Tim Vine (2011)
"Being an England supporter is like being the over-optimistic parents of the fat kid on sports day." - John Bishop (2010)
"Dave drowned. So at the funeral we got him a wreath in the shape of a lifebelt. Well, it's what he would have wanted." - Gary Delaney (2010)
"I was watching the London Marathon and saw one runner dressed as a chicken and another runner dressed as an egg. I thought: 'This could be interesting'." - Paddy Lennox (2009)
"I had my boobs measured and bought a new bra. Now I call them Joe Cocker and Jennifer Warnes because they're 'Up Where They Belong' - Sarah Millican (2009)
"I like Jesus but he loves me, so it's awkward." - Tom Stade (2008)
Comedians say the most controversial things
Comedians say the most controversial things
1/11 Frankie Boyle on Katie Price

'I have a theory that Jordan married a cage fighter cause she needed someone strong enough to stop Harvey from f***ing her.'

Getty Image

2/11 Dapper Laughs on sexual harassment

'Remember, it's only sexual harassment if she's more attractive then [sic] you.'

3/11 Jimmy Carr on Reeva Steenkampf death

'I blame her. If she hadn't been in that disabled toilet none of this would have happened.'

Getty Images

4/11 Frankie Boyle on Rebecca Adlington

'I worry that Rebecca Adlington will have an unfair advantage in the swimming by possessing a dolphin's face.'

5/11 Dapper Laughs tells audience members she's 'gagging for a rape'

'She's gagging for a rape. We'll have a chat afterwards.... Poor girl, do you want to come backstage after, yeah? Bring two of your mates, you'll need them.'

6/11 Jim Jefferies on why he could never be gay

'I can never be gay because I can never f*** another man...because I can never f*** something that I respect.'

Getty Images

7/11 Reginald D Hunter uses N-word several times at football gala

The Professional Footballers' Association later asked the comedian to pay back his fee

PA

8/11 Russell Brand booed at GQ awards for Nazi joke

"And the Nazis did have flaws, but, you know, they did look f**king fantastic, let's face it, while they were killing people on the basis of their religion and sexuality."

Getty Images

9/11 Frankie Boyle on Barack Obama

'When Barack Obama was giving his speech after being elected as president, he had to do it behind three inch thick bullet-proof glass. I thought that was a bit harsh – just because he's black doesn't mean he's going to shoot anyone'

Rex Features

10/11 Anthony Jeselnik on Boston marathon bombing

'There are some lines that just shouldn't be crossed today. Especially the finish line.'

Getty Images

11/11 Frankie Boyle on Camilla Parker Bowles

'Does anyone think that Camilla is what Princess Diana would look like if she survived the crash'.
"When I was a kid I asked my mum what a couple was and she said: 'Oh, two or three'. She wonder why her marriage didn't work." - Josie Long (2008)
"I've got no problems buying tampons: I'm a modern man. But apparently they're not a 'proper present'." - Jimmy Carr (2006)
"I'm still making love at 71, which is handy for me because I live at number 63." - Bernie Clifton (2006)
"Men who blow themselves up are promised 72 virgins in paradise. That's a high price to pay for a shag. In real life you'd be hard pushed to find one virgin. It begs the question: what on earth do they all look like? That's a lot of hairy women." - Shazia Mirza (2006)
"I saw a poster for Mission Impossible III the other day. I thought to myself: 'It's not really impossible if he's already done it twice'." - Mark Watson (2006)
"I got an odd-job man in. He was useless. Gave him a list of eight things to do and he only did numbers one, three, five and seven." - Stephen Grant (2006)
"My parents are from Glasgow which means they're incredibly hard, but I was never smacked as a child. Well, maybe one or two grams to get me to sleep at night." - Susan Murray (2004)
"Sleeping with prostitutes is like making your cat dance with you on its hind legs. You know it's wrong, but you try to convince yourself that they're enjoying it as well." - Scott Capurro (2004)
"Who are the most decent people in the hospital? The ultrasound people." - David O'Doherty (2004)
Reuse content