You don't often hear a description of Noel Fielding's comedy without a throwaway use of the word "trippy"; and seeing as his characters include Sergeant Raymond Boombox, Lysergic Casserole and The Spirit of Jazz/Howlin' Jimmy Jefferson that's not totally off the mark.
But Fielding says that to suggest you can only enjoy his television and live shows along with a mega dose of drugs and alcohol is a total "cop out".
He explains, "The problem is we live in very boring, conservative times. There's not a massive division between what we're seeing on telly and what we're doing in our own lives.
"I think the Sixties were very liberating and free, and the Seventies had a lot of drugs and free love; music changed and fashion changed. Now if you do anything 'weird' the only thing people can equate that to is drugs or alcohol.
"I find it depressing that people think you have to be on drugs to watch [my stuff], that's a cop out, use your brain, use your imagination."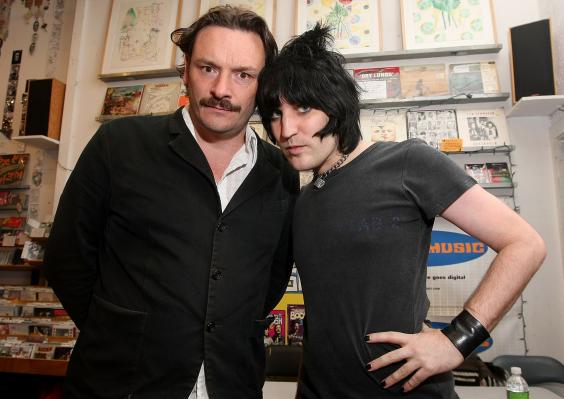 That's not to say that Fielding – who found fame in 2004 with his BBC3 sitcom The Mighty Boosh made with close friend Julian Barratt – hasn't done his fair share of partying. He and Barratt (though, particularly Fielding) found themselves living a rock and roll lifestyle as the show picked up more and more of a cult following, and was moved to prime time BBC2.
"We partied like we were Aerosmith on the last Boosh live tour [which ended in 2009]," he admits. "You get well known and you get famous or you're a celebrity, though I hate those words, and you sort of run around for a bit and it's like it's your birthday every day. You get invited to all these parties, all the drinks are free, there's loads of freebies and it's very exciting…for about five minutes."
Despite being a fixture at Camden's famous The Hawley Arms during its heyday in the middle of the last decade (it was like the Met Bar for rock stars with big hair, with Amy Winehouse serving behind the bar as well as drinking there most days), Fielding says he's well over being notorious, and has even left Camden for the more respectable Highgate.
"I don't drink that much anymore, I play tennis and work all the time. I'm a bit of a workaholic. I'm 41 now, if I get a hangover I can't work and I find that too annoying. So I have to really pick and choose the days that I go out cos I know I'm not going to be able to work the next day like I used to. Noel Coward said he's a workaholic and he feels sorry for people who aren't and I'm like that."
He's putting his new addiction to good use; putting together a show which he says is a shambolic  ("I wouldn't want it to be too slick") combination of stand up, animation, music and plasticine models, he's even "in a cloud" for some of it.
"I'm proud of the show," he admits. "We've worked really hard on it."
Now his student fanbase have grown up with him, Fielding is enjoying having an older crowd. "It's not so much student girls or art students, it's a mixture of that and some older people, people my age. It's more varied. Though the Boosh was pretty varied, it wasn't just students, that was a bit of a myth. We had a lot of fans who were kids because the first series was on BBC2 at 6pm so we picked up a load of kids who loved the show. But people closer to my age come now which I'm really enjoying as it's got some quite dark stuff in it."
Though he's asked on an "hourly basis" whether he and Barratt will reform to make more of the Mighty Boosh, it's something he loves talking about. 
He says: "We did everything we wanted to do with the series, but we have talked about doing a film. I'd love to do it and I think Julian would as well. It's just finding the time. We talk about it a lot, I don't want it to say it won't happen. The Boosh was very special to both of us."
Fielding was speaking in between rehearsals for his first tour in six years, An Evening with Noel Fielding.