In March 1970, 145 dedicated enthusiasts gathered in the basement of the US Grant hotel in San Diego to celebrate their shared passion for comic book culture at the city's first ever Comic-Con. Last weekend, however, more than 170,000 such fans – plus a sizeable number of Hollywood big-hitters – flocked to the Californian city for what has now become the biggest gathering of its kind in the world.
And with superheroes, science fiction and fantasy now the bread and butter of the mainstream, it is one of the most important fixtures in the entertainment industry calendar – cue a four-day festival of high-profile film and television premieres, teaser trailers, industry announcements, exhibits, installations, and panel discussions with A-list actors and directors.
As a Comic-Con virgin, I wasn't sure quite what to expect, aside from the famously flamboyant fancy dress. So, I packed my Princess Leia hairpiece and headed west to see what all the fuss was about. Here's what I learnt:
Costumes can deflect attention as well as attract it
So seriously do Comic-Con peacocks take their fancy dress, they call it "cosplay" and consider it a performance art. But the near-compulsory dress-up code also allowed some visiting celebrities a rare afternoon of anonymity. Daniel Radcliffe, in town to promote the quirky horror film Horns (and presumably no longer in possession of his invisibility cloak), donned a Spider-Man outfit to walk the floor of the heaving convention centre. Maisie Williams, Game of Thrones' young swordstress Arya Stark, just popped on Spidey's full-face mask, swapping it later for a Guy Fawkes number, while the director of Lord of The Rings and The Hobbit, Peter Jackson, stalked the halls disguised as a black-and-white jester.
The marketing spend is eye-wateringly epic
Warner Bros television built a vast city skyline in a waterfront park to promote the forthcoming series Gotham, beside an enormous model of Homer Simpson's head, courtesy of Fox, to celebrate 25 years of The Simpsons. Samsung sponsored Lionsgate's hi-tech installation for The Hunger Games: Mockingjay Part 1, featuring holograms of Peeta and Johanna and a room filled with pod-like chairs, where the trailer was shown on individual tablets. However, only the strongest could survive the three-hour-plus queue, in 30-degree heat, to see the one-minute clip of the new film.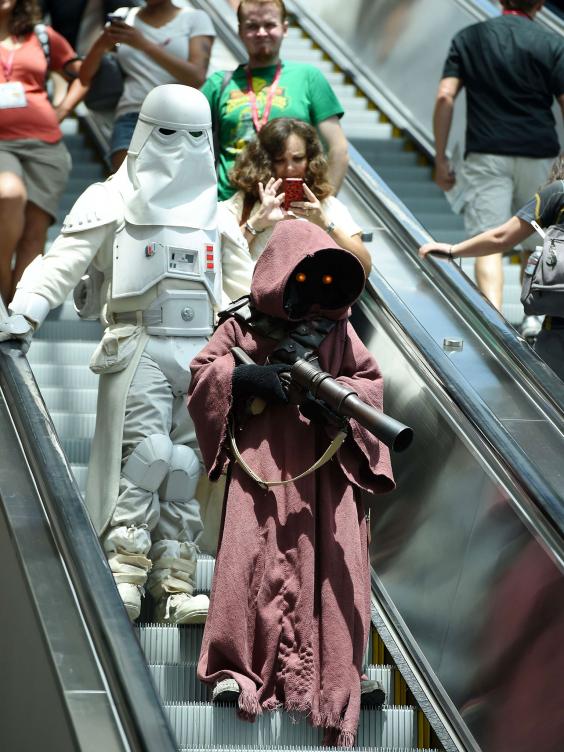 HBO, meanwhile, brought its Game of Thrones "Survive the Realm" interactive exhibit, including the Iron Throne and a pop-up tattoo parlour, where fans could get free, permanently-inked proof of their ardour for Oberyn or love for Jaime Lannister. What better way to remember a weekend than with a dire wolf on one's forearm, or a three-eyed crow on the shoulder?
Demons are the new zombies
Comic book writer Robert Kirkman summoned a zombie apocalypse with The Walking Dead, only for it be turned into the biggest cable TV drama of all time – its cast members Andrew Lincoln and Norman Reedus received a rapturous rock-star welcome in the 7,500-capacity Hall H last Friday – so the announcement of a small-screen adaptation of his latest work Outcast was very big news indeed. Written by Kirkman himself this time, the show will centre around Kyle Barnes, a young man who has been plagued by demonic possession since he was a child. "I think Kyle Barnes is every bit as compelling as Rick Grimes and demonic possession is way scarier than zombies – this is going to be fun," said Kirkman.
'Limited series' is the new buzz term in broadcasting
Didn't it used to seem as if our favourite US shows - ER, Friends, House, Lost, Desperate Housewives – went on for EVER every season? That's because they did; the US network television model is based on a 22-24 episode series.
But who's got the commitment for that any more? With the growth of cable – and the current popularity in the US of British imports, like Luther and Broadchurch, which consider six or eight episodes quite sufficient for a decent drama, thank you very much – it's all about the "limited series": shows like True Detective and Fargo that tell complete stories each season, in 8-12 high-quality, cinematic, one-hour episodes, before starting again with a whole new narrative and cast.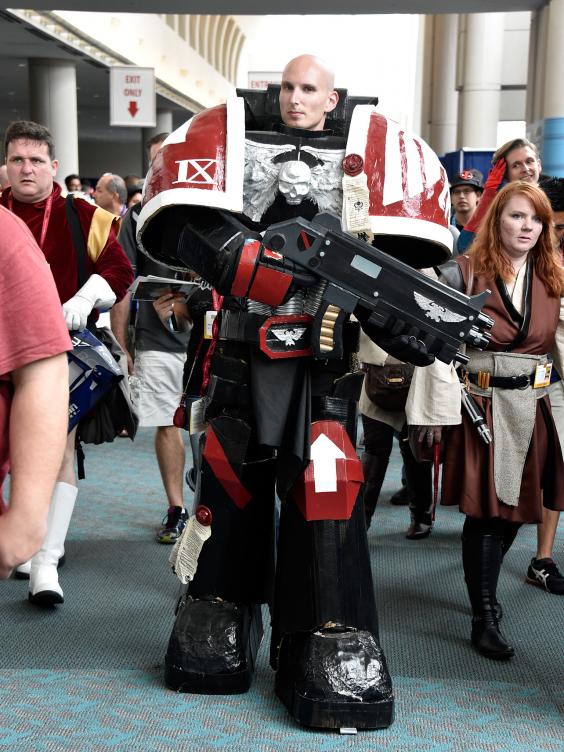 The latest coming your way? M Night Shyamalan's Wayward Pines, starring Matt Dillon, Juliette Lewis and Melissa Leo. The first episode of the trippy, Twin Peaks-style drama, in which Dillon plays a secret service agent trapped in a sinister Idaho town, premiered at Comic-Con, and will arrive on UK screens early next year. 
There's an audience – and a panel – for every predilection
Just going to show that, as Kate Bush once sang, every old sock meets its old shoe, no topic is too niche, no obsession too out-there, that fans won't find kindred spirits at Comic Con. From panels on Klingon Lifestyles and Cosplay makeup 101, to Teenage Mutant Ninja Turtles action figures, the convention welcomes with open arms what the rest of the world might think weird. Little did I know, until last weekend, that there was a whole subculture concerned with limited edition My Little Pony collectables – and they're here too.
Superheroes' latest triumph: conquering the small screen
While the cast of The Avengers: Age of Ultron and Batman v Superman: Dawn of Justice all turned out to promote their forthcoming big-ticket films, neither will be released until 2015 and 2016, respectively. In the meantime, the Batman prequel series Gotham, starring Benjamin McKenzie (fighty Ryan from The OC) as a young Detective Gordon, David Mazouz as the orphan Bruce Wayne and Sean Pertwee as his hard-nosed butler Alfred, which premiered at Comic-Con, is expected to be one of the television hits of the autumn. Likewise The Flash, a spin-off of Sky 1's Arrow, starring Glee's Grant Gustin as Barry Allen, who called his super-powered alter ego "a brilliant dork".
Mad Max: Fury Road will be worth the wait
After a whopping 25 years in development, and now finally slated for release next May, the explosive sizzle reel for the long-awaited fourth installment in George Miller's franchise was one of the cinematic highlights of the weekend for many. Starring Tom Hardy as Max and Charlize Theron as Imperator Furiosa, along with Nicholas Hoult, Zoë Kravitz and Rosie Huntington-Whiteley, the film is set in a dystopian, post-apocalyptic future, where Hardy's Max is captured, tortured and fitted with a metal face mask, not dissimilar to the one he sported in The Dark Knight Rises. It doesn't affect his communication unduly, however – the film has so little dialogue that Miller didn't even write a script, instead mapping the film out visually on 3,500 storyboards.
Roles for women are getting better… on television, at least
One of the weekend's highlights was the fabulously feisty Women Who Kick Ass panel, which included American Horror Story's Sarah Paulson, Orphan Black's Tatiana Maslany and Game of Thrones' Maisie Williams and Natalie Dormer. Dormer believes the best roles for women are now on television, not in film."Television doesn't feel the need to polarize women so much," she said. "Male writers – and I say this with all love and respect – often want to make a woman either the angel or the whore, make her the witch, or put her on the pedestal. When people ask me about Margaery, I say they're not mutually exclusive." However, at another event, Anthony Starr, from HBO drama Banshee, pointed out that most women in action roles are still created from a male gaze, with a certain, overtly sexualized look. The conclusion: when women with non-model looks kick ass in film and on television, then we'll have real equality.
Reuse content