A man, his wife and his mistress meet up in an abandoned hotel to plan a suicide. It's a two-star joint with one room and one floor. And a caretaker who is trying to clean up the place for a sale and a big dance night out.
The caretaker doesn't sing, but the others do, gloriously, and strangely, in this extraordinary new Irish opera by composer Donnacha Dennehy and playwright Enda Walsh.
Walsh broke through on the Edinburgh Fringe in 1997, the same year as Dennehy founded his Crash Ensemble, and the twelve of them, conducted by Andre de Ridder, are in the Lyceum pit to release the score in a tumult of wheezy surges (there's an accordion), melodic serial sequences and crashing thumps and carnivalesque effusions. It's a thrilling sound.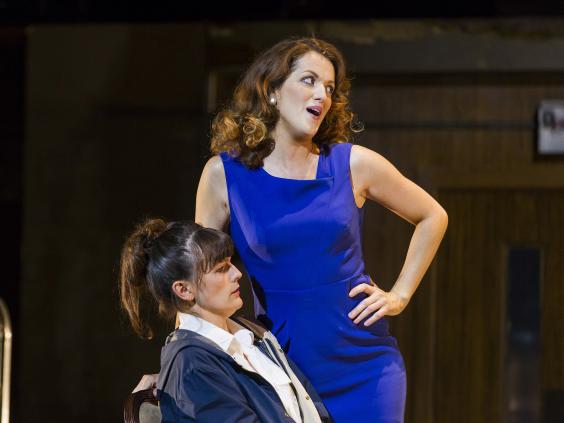 And it's just as well that the two sopranos -- Katherine Manley as the wife and Claudia Boyle as the mistress, or woman, as she's called -- sing thrillingly well above it, in great curlicues of vocal anguish. Manley is fraught and feeling unloved; Boyle -- her Mabel the best thing by far in Mike Leigh's Pirates of Penzance recently at the ENO -- slinky, mysterious, voluptuous.
Robin Adams as the husband, a gas-fitter for new houses on the edge of the city (hence his access to the required equipment), is in search of a home of dreams, while Mikel Murfi as the caretaker, enigmatic and hilarious, makes a sudden lurch into the passion action before the climactic party, which goes off (like the balloons) with a big bang.
Reuse content