When the producers behind Channel 4's documentary Educating Yorkshire left Thornhill Community Academy at the end of last winter, after seven intensive weeks' filming, headmaster Jonny Mitchell was adamant: that was the last time the pupils and staff would find themselves under constant visual surveillance.
"We'd been reassured there wouldn't be a follow-up," he says. But that was before the show became one of the year's biggest hits for the broadcaster, captivating nearly five million viewers with each of its eight episodes. We cried; we gasped; we cringed; we laughed, as Channel 4 turned humble teachers, and slightly-less-humble students, into stars.
And so, nine months on, the cameras returned to record this week's Christmas special, which will catch up with some of the series' biggest characters. These included 13-year-old latte-drinking Ryan, dubbed "a legend" on Twitter by One Direction's Louis Tomlinson; Bailey, with her inked-on eyebrows and orange make-up, designed to cover scars from a dog attack; brave, stammering Musharaf "Mushy" Asghar, who made a nation simultaneously tear up when he belted out a thank-you speech to his year group in the final episode; and Matthew Burton, the inspiring English teacher, who helped Mushy get his C in English thanks to the headphones-and-music trick from The King's Speech.
As for the character of the school as a whole, viewers can expect fewer fireworks this time. Mr Mitchell says that "the tide has turned" at Thornhill. Since the original series was filmed, he's spending less time "firefighting" and "playing Colombo": down from three-quarters of his day during the spring term to less than one-quarter now. "If the cameras were going to come back [for another full series] – which they're not – they probably wouldn't get eight episodes because they wouldn't have the human interest. They [wouldn't] have the kids messing about. The context of the academy has changed, for the better."
Put simply, there are fewer exclusions, the pupils look smarter, and they're "doing what they should be doing", ie learning, he says. "Whether it's down to the cameras, or my stunning leadership, which I'd like to think but that would be megalomaniacal, I'll never know. But the buzz that first half-term [when the series aired] was incredible. The kids were feeling a foot taller, their chests were puffed out: we're really proud, we're really proud."
And there's more: parents are clamouring to send their children to the Dewsbury school for the first time in, well, a very long time. Thornhill can take 900 pupils, but just 760 or so are enrolled, 42 per cent of whom qualify for free school meals. Three times the usual number of families pitched up to a recent open evening, although Mr Mitchell concedes he'll only really know what difference the show – or he and his staff – have made at the start of the next academic year in September 2014.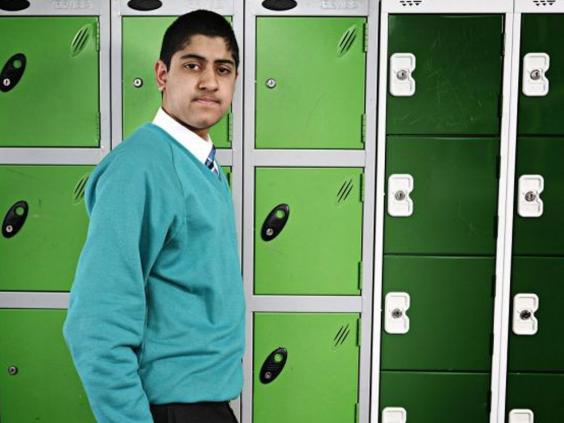 That alone ought to be justification for the school's baring of its soul. But praise has been far from universal. Not every pupil can do a Mushy: plus, as Mr Mitchell puts it, "no one wants to see a well-oiled machine; we were aware that it had to be entertaining." For "entertaining" read, in parts, "uncomfortable", not least when rage-prone Jac-Henry found himself excluded at the end of episode two despite being the repeated victim of bullying.
"I knew the public would be uncomfortable with that episode. I knew they'd think I'd got it wrong," Mr Mitchell says. He's unrepentant, insisting he doesn't have regrets about anything that aired, but does concede that he might have thought twice about Jac-Henry's portrayal "with the benefit of hindsight". As he puts it: "There was an awful lot about Jac-Henry that would have been a) illegal and b) immoral of me to mention. The public were not benefiting from the information we have." But that didn't stop viewers – split 50:50 over that particular episode, compared with the usual 95 per cent emailing him praise – from making snap assessments. He counters: "I venture to suggest that we know a little bit more about our kids than can be shown in a five-second clip."
The other main character in episode two was Georgia, who wound up being banned from the leavers' prom because she couldn't control her temper. Won't she wind up regretting her involvement? After all, as Mr Mitchell puts it during the episode in question, she is "only a child". He concurs, but only up to a point: "It's human nature to regret certain things and I'm sure Georgia will have regrets. But on a personal level, I don't think it's done Georgia any harm at all. She'll get on with the life she has planned."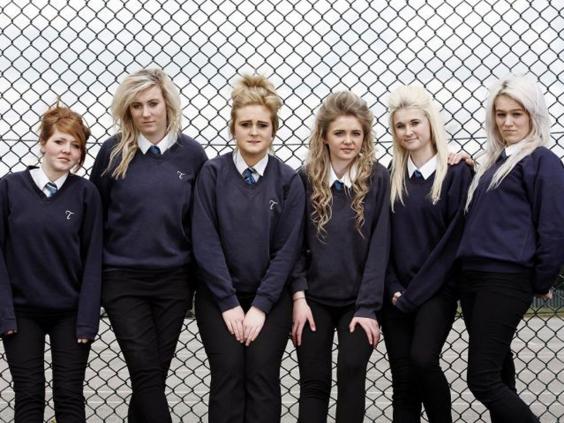 The production company, Twofour, is still in contact with the kids who featured, and they all saw the footage after it was edited, and – crucially – before it aired. "People usually expect worse," says Grace Reynolds, one of the show's producers. "The shocks are usually more about, 'I can't believe I look like that'." Because the series needed to show staff-student relationships, those that got the most air time essentially picked themselves, she adds. And anyone who didn't want to appear at all had their face fuzzed out: just 14 out of 900 people as it turned out.
The upsides for those in the limelight have been multiple and varied. Bailey has had professional help from make-up artists to cover her scars more subtly; and Ryan has had work experience with the local police force and fire brigade, not to mention a guest appearance on ITV's The Alan Titchmarsh Show. And as for Mr Mitchell: what hasn't he been offered? He's been asked to appear on one of the TV breakfast show couches pretty much every time a story so much as mentions education but he says no to the "vast majority". The most bizarre request came from the company behind the Alan Carr show. "They wanted myself and Mr Burton to make a VT [video] with Alan Carr dressed up as Miley Cyrus twerking in my office while we reprimanded him. It's hilarious but I can't, hand on heart, associate myself with that in my position," he says, the smile evident even down the phone from Dewsbury.
Then there are his "precarious" trips to the pub where he's likely to be "rugby tackled to the ground, generally when people are rather inebriated". To say Educating Yorkshire has turned Thornhill's staff into local celebrities is something of an understatement. What's more important, though, is the image the show has broadcast of Mr Mitchell's profession. "It's put straight some of the myths about teaching [with] a positive message about how hard teachers work so people are not under the assumption that teachers just whinge and moan."
As for the prospect of any more catch-ups, not a chance: "They're well down the road to Educating somewhere that isn't Yorkshire or Essex, so I don't think they'll have the time to come back. Plus it would be to us like a difficult second album, or a bad sequel to Jaws. I don't think we'd get anything out of it. We will not do another one; not on my watch."
All the more reason to stay in on Thursday night, then.
'Educating Yorkshire at Christmas' is on Channel 4 on Thursday at 9pm
Reuse content