Graham Norton was back in Terry Wogan's former seat in classic cutting form as the UK's Eurovision commentator and, as expected, he did not disappoint.
You can take a look back at some of the TV personality's funniest lines of all-time here before checking out some of our favourites from his most recent Saturday night in the booth. 
"There she is…Conchita incoming!" - Graham welcomes last year's Eurovision winner (the trans singer with long hair and a beard in case you've forgotten) as she flies in to kickstart proceedings in style
"Big day for Ireland...big night for Australia" - Graham compares Ireland's historic gay marriage 'yes' vote to Australia making their Eurovision debut
"The song is called 'N'oubliez Pas', which means 'Don't forget'. Sadly, I think we will" – Graham slates France's Eurovision chances, probably fairly, as no country performing second has ever won
Most controversial Eurovision moments
Most controversial Eurovision moments
1/8 Conchita Wurst, Austria (2014)

Russia's anti-gay president Vladmir Putin branded Eurovision a 'Europe-wide gay parade' and shortly afterwards, Austrian drag singer Tom Neuworth more than got his own back. Neuworth's bearded lady alter-ego Conchita Wurst triumphed with the Bond-style "Rise Like a Phoenix", shooting down homophobes who had sent her abuse in the run-up to the contest.

Getty Images

2/8 Donatan and Cleo, Poland (2014)

When Poland returned to Eurovision after a two-year absence, few suspected that girls dressed as milkmaids could be quite so raunchy. Controversially, the UK public voted this their favourite, while the national jury placed it last. Soprano Laura Wright called it "soft porn" and "two boobs too far".

Eurovision

3/8 Ping Pong, Israel (2000)

Israel and Syria were officially at war during this contest and just to make matters worse, Ping Pong decided to wave Syrian flags during rehearsals in a bid for peace. Unsurprisingly, Israeli politicians demanded they be banned for not representing national values and when they weren't, they left them to cover all their own expenses. The flags made a comeback in the final but they only received seven points.

YouTube

4/8 Stephane and 3G, Georgia (2009)

"We Don't Wanna Put In" was understandably read as a massive dig at Putin, just one year after Georgia's war with Russia. The European Broadcast Union deemed it "too political" for Eurovision and Georgia was asked to either change the lyrics or submit a different song. They refused and withdrew from the competition.

YouTube

5/8 Paul Oscar, Iceland (1997)

This gay pop singer sparked outrage when he performed "My Final Dance" backed by four latex-clad women provocatively frolicking on a white leather sofa. To this day it remains one of the most eyebrow-raising and overtly sexual Eurovision moments ever.

YouTube

6/8 Dana International, Israel (1998)

Conchita's been there, done that since, but Dana International was the first transgender person to represent their country at Eurovision back in the late Nineties. She caused uproar in Israel, with ultra-Orthodox Jews protesting in the streets and some even sending death threats. Naturally, she won with a feather-laden diva-like performance to show the haters who's the boss.

YouTube/BBC

7/8 Teapacks, Israel (2007)

Yet another Israeli controversy came with Teapacks' song "Push the Button", which included lyrics about "crazy rulers" and a "world full of terror". Some speculated that the track reflected Israeli anxiety about a nuclear war with Iran, but it was given the go ahead by Eurovision bosses.

YouTube

8/8 Jean-Claude Pascal, Luxembourg (1961)

Luxembourg's entry "Maybe It Isn't America (Because America Isn't the Be-All)" was sung in French and widely seen as anti-American, just as Ronald Reagan took up his presidency. It didn't do too well, finishing in 11th.

YouTube
"Electro Velvet, get it? Velvet...then there's electro on them!" - Graham analyses the UK entry's act name, probably accurately
"Defying Madonna-gate...that's a cape" – Graham applauds Spain on their bravery for risking flowing garments that may result in one falling backwards down the stairs
"Still there?! It's over! It really is over" – Graham hurries everyone back from their loo breaks after Hungary's rather dreary performance
"I fear some Georgian crows were harmed in the making of this outfit. Did they die in vain?" - Graham voices his concern for animal welfare after checking out Nina Sublatti's outfit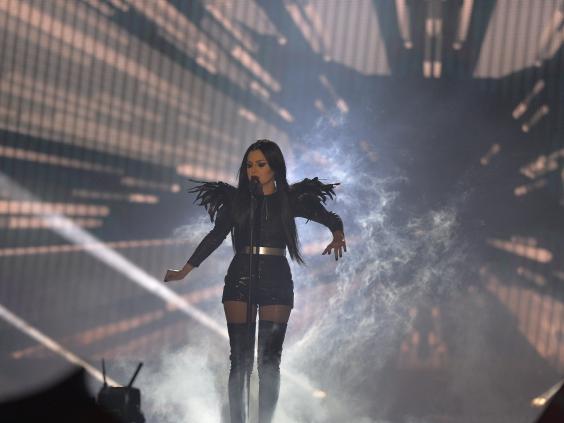 "Now there's a shock, no Eiffel Tower. She could be anywhere!" - Graham mocks France's lack of trademark landmark in the background as they deliver their results
"It's like a bit of corrugated shed has blown off the roof and hit her in the neck!" - Graham is far from complementary about Germany's results reader's admittedly bizarre dress
"Nigella! Where is she? Sitting in front of the London Eye I'll be bound...yes." - Graham knows how the UK do this thing.
Reuse content