While the UK's Eurovision entry this year is not one of the favourites, at least - owing to Britain's economic clout in Europe - it doesn't have to compete for a place in the final like other nations have to.
Britain, France, Germany, Italy and Spain are the "Big Five", the main sponsoring nations who always make the final of the contest. They will be joined in the final by Austria, the reigning champions, and Australia, the competition's wild card, invited to take part to commemorate the 60th anniversary of Eurovision.
The rest of the hopeful nations have to take part in semi-finals, with one taking place on Tuesday and the second on Thursday. These events will whittle down 33 countries to 20.
The decision of who gets to go through is decided by TV viewers at home and professional juries from all the countries competing in each of the semi-finals. On Tuesday's semi-final, the votes from the viewers and juries of Spain, Austria, France and Australia will also go towards the semi-final decision.
With two of this year's favourites already in the final (Italy and Australia) are there any acts to watch out for on Tuesday who might go on to snatch a surprise win?
Estonia: Elina Born & Stig Rästa, "Goodbye To Yesterday"
Estonia has steadily been rising up the betting odds, currently standing at 11/1 favourites to find glory in Vienna.  Male and female duets have only won the competition two times before, but Elina Born and Stig Rästa are gaining some late momentum with their song, "Goodbye To Yesterday".
Stig Rästa may be unknown to most Brits, but he is responsible for managing and writing music for Estonia's Pop Idol finalists. Rästa discovered Elina Born on YouTube, and the Eurovision bloggers are raving about her powerful performance in the semi-final rehearsals.
Russia: Polina Gagarina, "A Million Voices"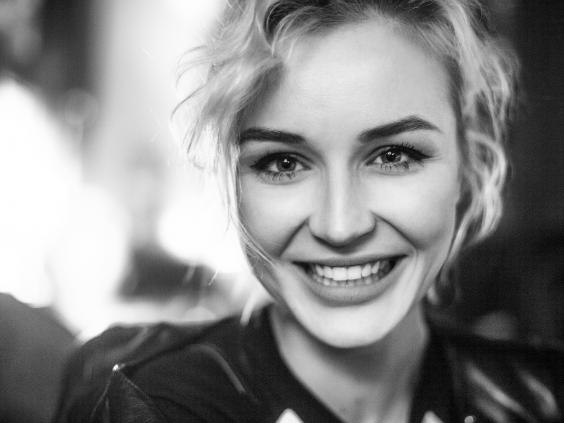 Russia, winners in 2008, look set to have another good year, with the country choosing an established singer in Polina Gagarina, who is currently working on her third album. Eurovision commentators write that Gagarina's song ticks all the right boxes and has performed the tune incredibly well in the rehearsals.
With the bookies placing her chances of winning at 9/1, she has a chance: Daniel Gould, a Eurovision expert on sofabet.com, writes of her, "Polina has no problem belting it out when it matters."
Finland: Pertti Kurikan Nimipäivät, "Aina Mun Pitää"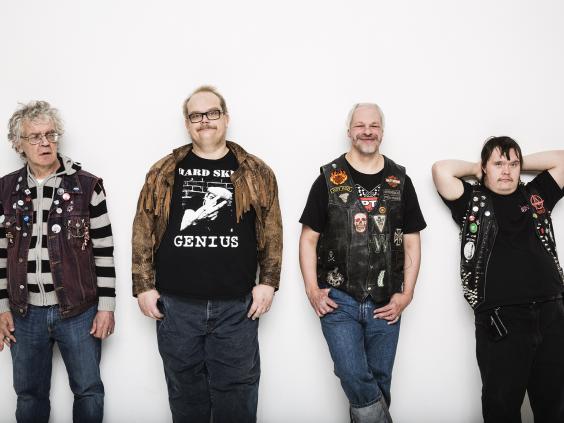 The odds of this Finnish punk rock band have lengthened in recent days, but esctoday.com reports that their rehearsals have been well received by press and fans alike in Vienna's Wiener Stadthalle.
The band was formed in a charity workshop for adults with developmental disabilities, and will hope their rock act will triumph like compatriots Lordi, who won in 2006.
Georgia: Nina Sublatti, "Warrior"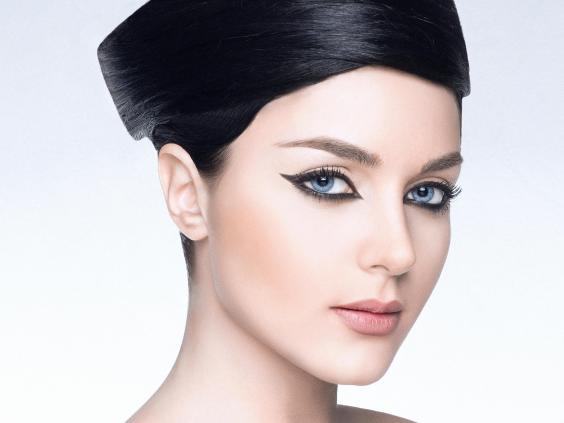 Georgia's Nina Sublatti has some striking staging in her rendition of "Warrior," although she has fallen ill in recent days and this has affected her performances. Still, the country has a good record in proceeding through from the semi-finals.
It will be interesting to see whether Sublatti can recover in time for tonight to ensure she delivers a strong showing to make it through to Saturday. She currently stands at 100/1 to win the contest outright.
Romania: Voltaj, "De La Capat/ All Over Again"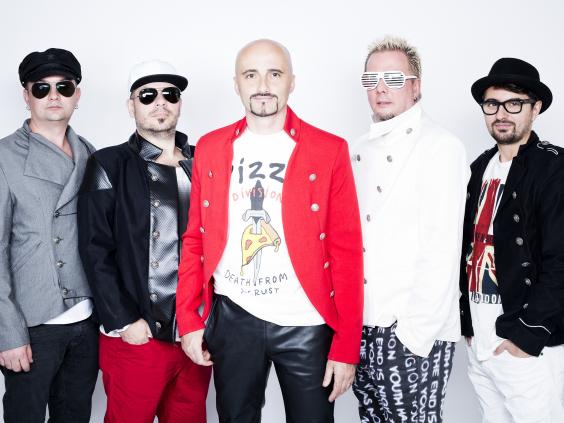 Another dark horse in the contest, although a popular band in Romania, having been on the circuit for the last two decades. Having toured around the likes of Moldova, Austria, Italy, Spain and Ireland, they may pick up some decent points from fans in those countries.
Entertainmentodds.com gave the band a great review during the rehearsals, describing it as a "very evocative set...and flawless vocal as usual."
Eurovision 2015 contestants
Eurovision 2015 contestants
1/38 Serbia's Eurovision 2015 entry: Bojana Stamenov

Serbia's larger-than-life entry Bojana Stamenov has a big voice and a sense of humour to match (assuming she's not taking herself seriously in her promotional photos). The former Serbia's Got Talent finalist says: "I know how to knit and cook…But, watch out, my voice will blow up your mind."

Slobodan Sarić

2/38 Poland: Monika Kuszynska

Poland's contestant, who has been a wheelchair user since 2006 after being partially paralysed in a car crash, hopes to "build the bride of tolerance" this year with her song "In the Name of Love".

Stanisław Leszczyński

3/38 Austria: The Makemakes

The Makemakes were chosen out of an initial 16 candidates who participated in the Austrian national selection this year. Their name is derived from the dwarf planet Makemake

Copyright: Milenko Badzic

4/38 Italy: Il Volo

Pop opera trio Il Volo have performed all over the world, released massively-selling albums and joined songstress Barbra Streisand on tour

Credits: Daniele Barraco

5/38 United Kingdom: Alex Larke and Bianca Nicholas of Electro Velvet

Electro Velvet, a musical duo with an electro-swing sound, will be performing "Still in Love With You", which has already had over 1.6 million views on YouTube.

BBC

6/38 Russia: Polina Gagarina

Polina is a well known actress and model as well as a singer. She has released two albums and lent her voice to the Russian dub of Oz the Great and Powerful in 2014.

Copyright: Respective broadcasters

7/38 The Netherlands: Trijntje Oosterhuis

Well known in her home country, Trijntje Oosterhuis has previously served as a judge on The Voice of Norway. She has also shared the stage with the likes of Lionel Richie and Herbie Hancoc.k

Copyright: Carin Verbruggen

8/38 Armenia: Genealogy

Genealogy consists of six singers who were internally selected by the Public Television of Armenia to sing Face The Shadow in Vienna, a "powerful anthem about peace, unity, and love"

Ruben Martirosyan, Public Television of Armenia

9/38 Switzerland: Mélanie René

Twenty four year old singer Melanie is originally from Mauritius. She wrote her entry song "Time to Shine" while studying contemporary music in the UK.

Copyright: SRF/Oscar Alessio

10/38 Slovenia: Maraaya

Married couple Marjetka and Raay have come together to form indie pop band 'Maraaya'. Raay is better known as a producer, while Marjetka likes to perform wearing her headphones on stage to "evoke the same emotions in the studio".

Copyright: Tanja Zrinski

11/38 San Marino: Anita Simoncini & Michele Perniola

Yes, San Marino - the tiny Italian microstate with a population of 32,000 people - will be competing at Eurovision this year. They will be fielding two 16 year olds who previously competed at the Junior Eurovision Song Contest.

Copyright: Carlo Terenzi

12/38 Romania: Voltaj

Voltaj are one of the most popular bands in Romania, and are using the Eurovision stage to raise awareness of children left alone by parents who leave the country to work abroad.

Copyright: Respective broadcasters

13/38 Montenegro: Nenad Knežević Knez

'Knez' is one of Montenegro's most popular artists, having released 10 albums 23 years.

Copyright: Bojan Stnic

14/38 Portugal: Leonor Andrade

At the age of 21, Leonor Andrade has been performing since the age of four. Like almost every Eurovision 2015 contestant, she has also taken part in The Voice of Portugal.

Copyright: Edgar Vale Fonseca

15/38 Norway: Kjetil Morland & Debrah Scarlett

Morland was born in Norway but has lived in the UK for most of his life and is part of the British band Absent Elk. Debrah is best known in her country for taking part in The Voice Norway in 2013.

Copyright: NRK/Julia Naglestad

16/38 Moldova: Eduard Romanyuta

Ukranian-born Eduard Romanyuta has been performing on stage since the age of four. After Ukraine withdrew from the competition he decided to compete for Moldova

Copyright: Respective broadcasters

17/38 Malta: Amber

Amber is 23 and has competed to represent her country at Eurovision five times before. She was a backing singer for Malta's 2012 entry Kurt Calleja

Copyright: Aaron Briffa & cngfotography

18/38 Lithuania: Monika Linkytė and Vaidas Baumila

Monika Linkytė has previously attempted to represent her country in the Song Contest in 2010, 2011, 2012, 2013, 2014 and in the Junior Eurovision Song Contest in 2007

Copyright: LRT

19/38 Latvia: Aminata

Born in Riga in 1993 to a Latvian mother of Latvian and Russian descent, and a father from Burkino Faso, Aminata thinks of herself foremost as Latvian

Copyright: Martins Cirulis

20/38 Israel: Nadav Gudej

Nadav Guedj, 16, is a French-Israeli singer who will be performing "Golden Boy" in Vienna

Copyright: Ronen Akerman

21/38 Ireland: Molly Sterling

Self-taught 17-year-old musician Molly Sterling is at her happiest when she's singing and playing her piano in her County Tipperary home

Copyright: Richie Mooney

22/38 Iceland: Maria Olafs

Maria Olafs is an actress, singer and songwriter who will be representing Iceland with her song "Unbroken"

Copyright: Jonatan Gretarsson

23/38 Hungary: Boggie

Boggie is a jazz musician best known for her music video Nouveau Parfum, which has been watched over 6 million times on YouTube

Credits: Enikő Vár

24/38 Germany: Ann Sophie

Born in London but raised in Hamburg, 24-year-old Ann Sophie will be representing Germany with "Black Smoke"

Photographer Rolf Klatt | copyright eurovision.de

25/38 France: Lisa Angell

On stage, the French participant will perform N'oubliez Pas - a song of "hope and peace, of courage and solidarity"

Copyright: Nathalie Guyon / France TV

26/38 Finland: Pertti Kurikan Nimipäivät

"The members of our band are four middle-aged, mentally handicapped men. The music is, of course, Finnish punk," – Sami Helle, Pertti Kurikan Nimipäivät

Copyright: Anton Sucksdorff

27/38 Georgia: Nina Sublatti

Former model Nina will be performing her self-written song "Warrior", a song in which she shows her "power and strength, both vocally and personally"

Copyright: Levan Leko Chkonia

28/38 FYR Macedonia: Daniel Kajmakoski

Daniel is a Macedonian-born pop & rock singer, composer, songwriter, and guitar and piano player living in Vienna, where he moved with his family at the age of six. He was named after Daniel Popovic, who represented Yugoslavia it the 1983 Eurovision Song Contest

Copyright: Andreja Damjanovic

29/38 Estonia: Elina Born & Stig Rästa

Three years ago Estonia's hottest songwriter Stig stumbled across a young girl's video on YouTube, where she was singing Christina Aguilera's song Cruz. It was Elina - and the rest could be sweet Eurovision history

Copyright: Stina Kase, Stig Rästa & Elina Born

30/38 Denmark: Anti Social Media

Anti Social Media is a pop/rock band inspired by the warm sounds of the Sixties. Their mission is to revive the simple and happy spirits of bands such as The Beatles

Copyright: Ditte Chemnitz, Anti Social Media

31/38 Cyprus: John Karayiannis

John Karayiannis is 20 and comes from Limassol in Cyprus. In September he will be moving to London to continue his music studies and record his first album

Dre Photo work

32/38 Czech-Republic: Marta Jandová and Václav Noid Bárta

Marta Jandová is a well-known singer in the Czech-Republic and Germany, while Václav Noid Bárta is a popular composer, actor, arranger and singer

Copyright: Monika Navrátilová, Václav Noid Bárta

33/38 Belgium: Loic Nottet

Seventeen year old Loic was a finalist during the third series of The Voice Belgique and has since signed to Sony Music. His favourite artists is Sia

Photography & Art Work by Josh Brandão

34/38 Albania: Elhaida Dani

Elhaida Dani is a real star not only in her home country, but also in Italy where she won The Voice of Italy in 2013

Class Photography

35/38 Belarus: Uzari&Maimuna

Pop music composer and classically trainer lead violinist Uzari and Maimuna share a joint love of Lord Of The Rings

Credits: BTRC

36/38 Eurovision 2015 contestants

Greece's entry was born in Cyprus but has lived in Greece for most of her life. In 2014 she won the Voice of Greece TV show

Copyright: Sophia Dranidou

37/38 Azerbaijan: Elnur Huseynov

Elnur has previously sung in the Eurovision Song Contest in 2008, representing Azerbaijan along with singer Samir

Copyright: Magnus Ragnvid

38/38 Australia: Guy Sebastian

Former Australian Idol winner Guy Sebastian will be representing Australia, which has been invited to take part for the Song Contest's 60th anniversary

Respective broadcasters
Reuse content