Has there ever been a truly accurate depiction of a chef on film? Asking around the restaurant business, it seems Ratatouille is about the closest … and in that the star is, well, a rat. It turns out that the 2007 animation has all the rivalry, energy, creativity and crushing exhaustion that real kitchen staff recognise in themselves.
It's a pretty bold move for a film to call itself Chef, then, as is the case with Iron Man director Jon Favreau's new indie comedy, in which he also stars as a haute-cuisine cook rediscovering his culinary mojo. To find out whether Favreau has done his homework properly, I took Daniel Doherty, executive chef of London's Duck & Waffle, to a screening.
At the first scene, I can feel Dan rolling his eyes, even in the cinema's darkness. The character, Carl Casper, is tattooed and with a temper on him. He doesn't want to compromise on his ideals and  spends all his money and time on creating culinary masterpieces that will never go on the menu. So far, so clichéd.
He falls out with the restaurant owner (an ace cameo from Dustin Hoffman) and goes off in a huff, after first comprehensively hitting the "self-destruct" button on Twitter, which he has only just discovered. (This in itself is inaccurate, since all chefs in my experience are active tweeters.) And so begins a voyage of self-discovery, which sees him acquire a clapped-out old food truck and love of making Cuban sandwiches (a supersized ham and cheese toastie, in essence).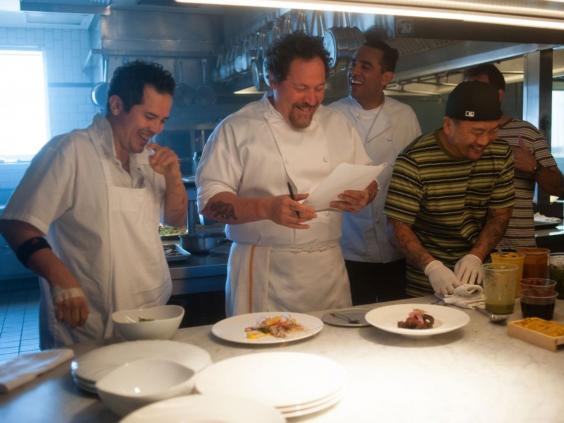 It's enormous fun – you'll leave the cinema craving a big ole' greasy hunk of artery-blocking sandwich. Daniel is most interested in a behind-the-scenes clip shown during the end credits, in which Favreau is seen being trained in how to cook a burger by street-food celebrity Roy Choi. The dedication and attention to detail is clear.
It also got me thinking: which other films really get the taste buds tingling? And what would make the perfect meal in a fantasy cinema-themed restaurant  – bearing in mind that some of the greatest dishes on screen happen in films that are about something else entirely? Bon appetit!
Amuse bouche
Fancy nibbles are skewered perfectly by Tom Hanks's body-swap boy in Big (1988). His character, Josh, tastes caviar and – repulsed – wipes his tongue. He also eats that nouvelle cuisine favourite baby corn as if it were a full-sized cob. Take that, foodie snobs ….
Starters
Boned quails stuffed with foie gras and truffle and baked in a pastry case: in the Danish art-house beauty Babette's Feast (1987), this is part of the extraordinary spread that the French haute cuisine chef-heroine makes for her puritanical employers as a farewell when she wins the lottery. Never has the transformative effect of fine food on the temperament been shown so well. (We'll gloss over the turtle soup.)
Fish course
Lobster has built-in comedy value – never more so than in 1977's Annie Hall, of course, when Diane Keaton and Woody Allen attempt to cook the beasts at a Long Island beach house. The same dish turns up in a rather less appetising form in Julie & Julia, the 2009 movie about a food blogger's attempt to cook every recipe in the legendary US cookery writer Julia Child's first book. Her flaky failure to dispatch the live lobster makes one wish for less Julie, more Julia.
Main courses
I'd have to plump for the pasta dish cooked up by the ne'er-do-wells of Goodfellas (1990). Being in prison is no barrier to the Italians, when they assemble dinner  – with garlic cut by razor and a ragu made with veal, beef and pork – as if in a professional kitchen. Tempting enough to make one wish for a long stretch.
Still on pasta, perhaps the most romantic scene featuring food is (again) animated, this time featuring dogs. In Lady and the Tramp (1955), Butch takes his posh girlfriend on a restaurant date, they are served spaghetti and meatballs and, whaddya know, both pick up the same strand, resulting in a heart-melting kiss. Who hasn't wanted to replicate that? He later nudges the last meatball to her with his nose, which is probably best avoided as a seduction technique.
Desserts
The concentration-camp movie Life is Beautiful (1997) might be mawkish, but when hero Roberto Benigni smuggles his son into the Nazi rulers' children's tea party and watches his starving boy's eyes widen at the goodies on offer, you'll get a lump in your throat.
Pudding will stick in your throat if you're a philandering husband watching Heartburn. Nora Ephron's 1986 film adaptation of her thinly veiled memoir looks at Washington's political movers and shakers and their home lives (she was married to Carl Bernstein, who had an affair). Meryl Streep's cheated-upon heroine realises once and for all her marriage is over at a dinner party and instead of serving her husband the key lime pie she's baked, she makes him wear it. Genius (but a waste of a good dessert).
Tasting menu
If you prefer a cinematic feast that will take hours and involve many different visual courses, any of the following movies will make your mouth water ....
Jiro Dreams of Sushi: a 2011 documentary in which the octogenarian sushi chef Jiro Ono, holder of three Michelin stars for his Tokyo restaurant in an underground station, reveals his utter dedication to the craft and majesty of true Japanese cuisine.
Big Night: the 1996 tale of an ill-fated restaurant run by two Italian brothers seeking their fortunes in New York. Older brother Primo is a classicist; younger brother Secundo, played by Stanley Tucci (who also directed), wants to succeed at any cost. The food is astonishing, the guests outrageous and the closing scene, featuring an omelette, is deliciously simple.
Ratatouille: yes the chef's a rat, but rarely are the dynamics of a professional kitchen so accurately drawn (note constant addition of salt to bubbling pans and disabling fear induced by a restaurant critic).
Eat Drink Man Woman: an early Ang Lee from 1994 that marries the romantic aspirations of three young sisters and their overbearing father, who happens to be a great chef. Everything from fast food to formal banquets is on screen – and if you've always wanted to see a man inflate a duck, look no further.
Dinner Rush: this 2000 film is a curious fusion involving organised crime and a disorganised kitchen, but it works beautifully. Petulant head chef eviscerates his staff, restaurant critic – a blinding cameo by Sandra Bernhard – paintstrips the front of house, and the old-school restaurant owner bemoans the modernisation of classic dishes: "pumpkin risotto ... with chestnuts?"
'Chef' is released on 25 June
Reuse content