Mark Wahlberg has a hard time keeping a straight face when asked what he has in common with his latest screen creation - a dim-witted, criminal body-builder in the dark comedy Pain & Gain.
Former con? Check.
Body-builder? Check.
Dim-witted. Nope.
Nobody gets to run a multi-million entertainment empire, producing films and TV series, and to star in blockbuster movies and steer a slew of philanthropic endeavours, without the prerequisite smarts. So if Michael Bay's Pain & Gain - based on the bizarre true story of a group of unbelievably stupid, steroid-enhanced personal trainers in 90s Miami who tortured and killed their clients out of greed - seems like a bleak choice for this devout Catholic and married father-of-four, then the fact is, he just couldn't help himself.
"I just loved the material. I had this fascination with the world of bodybuilding from a pretty young age," says Wahlberg whose sculpted physique helped to sell a boatload of Calvin Kleins two decades ago,  and who recently launched his own line of sports nutrition supplements called "Marked". "I read the script before I read the articles and I said 'There is no way this can be true'. But, sure enough, most of these things actually happened," he says. Indeed Christopher Markus and Stephen McFeely's screenplay is based upon articles by the journalist Pete Collins.
Discussing the physical pain he endured making this film, Wahlberg turns suddenly serious: "Pain is going to prison at 17 years old," he says referring to the 45 days he spent incarcerated at Boston's Deer Island House of Correction on assault charges. "So any time I play a role where I have real-life experience that I can bring to the table, I think it's a benefit. It makes the role more authentic. Over my lifetime, I've known a lot of unsavoury characters. I still know a lot of crazy people."
The young Wahlberg found salvation at the gym: "I was 16 years old and probably about 5'2" and 115 pounds, looking at going into adult prison, and I was like 'Whoa, not a good place for a little scrawny kid', so I started exercising and then I just started feeling better. It became a lifestyle for me to eat right and exercise. I was like, 'Man, I've got to put on some weight here or something. Sew my butt-cheeks up, this is not going to be good'," he grins. "But I was okay, thank God."
Wahlberg, 42,  now has one of the toughest images in Hollywood, not only because of his rough childhood, but also thanks to hard man roles in The Departed, Shooter, The Fighter and, more recently, 2 Guns. The youngest of nine children growing up in a blue-collar Boston suburb, he became a regular fixture at the local police department, and was addicted to various hard drugs by the age of 13. At the same time, he joined his elder brother Donnie's fledgling boyband, New Kids On The Block but quit before the band became an overnight sensation. Upon release from prison he would re-invent himself as rapper Marky Mark.
Later dropping his stage moniker in favour of an acting career, he made his big screen debut in 1994 opposite Danny DeVito in Renaissance Man and his star rapidly ascended, with a string of critically acclaimed movies including The Basketball Diaries, Boogie Nights, Perfect Storm and Four Brothers. A quick study, he made powerful friends, and executive produced the TV series Entourage, based upon his own life, and award-winning drama Boardwalk Empire as well as a variety of films including We Own The Night, Contraband and The Fighter.
"Hollywood is a tough racket but I am just appreciative to even be in the business," he says.
Four years ago, he finally wed his long-time love and mother to his four children, Rhea Durham, a former model, in a church ceremony.
Today he tries to be a strong role model to his young family, down to removing his tattoos: "They all had meaning to me but I did that for both personal and professional reasons. When I was going to do The Fighter, I went to the dermatologist and asked how to get the tattoos removed and how long it would take. She told me five to seven visits. I've been doing it for four and a half years now and they're still not completely gone. It was always a pain in the behind, putting make-up on and covering them up, but I also did it for my kids. If they want tattoos, they're gonna get them. It is what it is. At 18 years old, nobody can tell you anything; you think you know everything. It isn't until you're in your 30s or 40s and have kids of your own, when you're like, 'Oh my God, everything my mother or father ever said was right on, but I just didn't listen. I was such an idiot'."
No push-over when it comes to raising his own family, Wahlberg is a regular presence on the playground and a lunchtime monitor at his kids' private Beverly Hills Catholic school. "I'm strict when it comes to certain things but I also want to have a lot of fun with my kids and I want to be able to communicate with them and feel like they can confide in me, especially when they get older and face tough choices in their lives. It's a fine line," says Wahlberg.
"My sons really wanted to meet [Pain & Gain co-star] Dwayne Johnson and so I asked him if he would say hello to them while they were on the set. So he comes over to the trailer and they're hiding when he comes in, and my youngest son has this obsession with punching people, and he punched Dwayne in the nuts," he says, barely suppressing a smile.
In his mission to set his family a good example, the high school drop-out is currently completing his own high school diploma: "I always wanted to do it, I just never had the time and it wasn't really available to do online till now. So, when I'm sitting in my trailer for hours and hours a day, I might as well be productive and studying. I don't want my kids saying 'Dad, you didn't finish school, why do I have to?'  It's also important when I'm looking at my third grader's homework and I don't think I understand it."
In portraying Pain & Gain's real-life thug Daniel Lugo, who was sentenced to death in 1998 for the murder of two people, he says: "I would have loved to have had the opportunity to meet with Lugo. But I had plenty of real-life experience to draw on with guys like that in Boston, and I met a lot of guys like this around the bodybuilding world when I first went to LA. Unfortunately I have quite a few friends who are in prison for the rest of their lives."
As much as he is celebrated for his tough image, today Wahlberg claims that he's unafraid to show his soft side: "Once I turned 40 I stopped giving a shit. I cry, I do whatever. I don't care."
'Pain & Gain' is on nationwide release
Out of this world (well, almost...)
By Charlotte Cripps
This artwork has got to be more interesting than tracking a parcel. A fragment of the moon will be taken by air freight courier around the Earth in a box (pictured) for one year, as part of Katie Paterson's new artwork Second Moon. "I bought the rock from a lunar meteorite dealer in Arizona – it came with a certificate of authenticity," says Paterson. It will be collected tomorrow by couriers from the Great North Museum in Newcastle upon Tyne and transported anti-clockwise across the globe to London, Shanghai, Sydney and San Francisco, orbiting the Earth 30 times. A free i Phone App will allow the public to track its journey in relation to the user's location, the Moon's location and the orbits of the other planets in the solar system. "We are using the express courier service so the little piece of the moon stays airborne as much as possible," she adds. "It will mirror the orbit of the real moon for a whole year."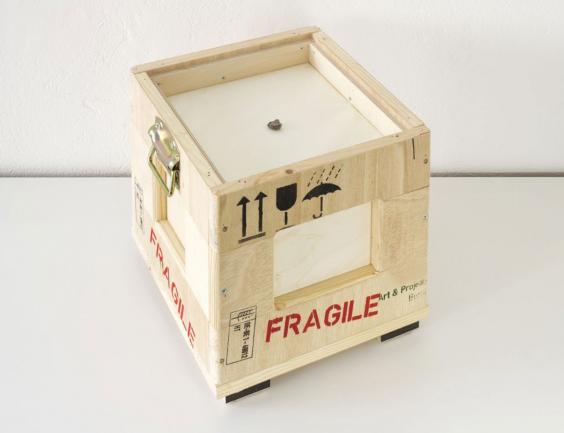 Since graduating from the Slade School of Fine Art in 2007, the Scottish artist, who is based in Berlin, has done a number of works that focus on the Moon and the cosmos. A custom-made Light bulb to Simulate Moonlight, 2009, that has a lifetime of 66 years, was exhibited in the group Light Show at the Hayward Gallery, London earlier this year. All the Dead Stars – a laser etched map that showed all 27,000 stars that have died in the universe – was exhibited in the Altermodern group show at Tate Britain in 2009. She has even gone as far as to transmit Beethoven's Moonlight Sonata to the moon and back in Earth-Moon-Earth, 2008. Every time a star dies, she writes a letter of condolence as part of her series The Dying Star Letter. She also set off a confetti cannon at the Venice Biennale in 2012, with her work 100 Billion Suns, which contained all the colours of the Gamma-ray burst. Meanwhile, in Ancient Darkness TV, 2009, she broadcast an image of the furthest away darkness in the universe at midnight for one minute, as part of a US performance festival. "Viewers would switch on only to see a black screen. But it was actually a time in the universe where light was just beginning to exist," she explains.
Why is she obsessed with the cosmos, space and time? "I have always been instinctively drawn to this subject," she says. "I am interested in our relationship to the Earth and to the wider solar system and our place within it."
She has always used a lot of ordinary technologies in her artworks, including record players, radios and mobile phones. "Likewise Second Moon is going on a very ordinary journey around the Earth. It will take people's imaginations to make that leap into visualising the Second Moon in relation to the wider universe," says Paterson.
After its epic journey, what does she hope to achieve by sending a human-made moon on a big trip? "Hopefully the box will be stamped with all the different locations it's been to. I will be pleased it made its journey without getting lost along the way."
The App can be downloaded from tomorrow: www.secondmoon. org.uk
A chorus of approval for a disco redo
By Elisa Bray
He's worked with everyone from Daft Punk to Madonna – so Nile Rodgers is, perhaps, an unlikely fan of the Brythoniaid Male Voice Choir. The choir, who formed in 1964 in Blaenau Ffestiniog, have covered his band Chic's hit "Good Times" for Festival Number 6, which takes place in the Welsh coastal village of Portmeirion next weekend.
Although the 70-strong choir are more accustomed to singing classical choral arrangements, they happily squeezed into the studio to record their interpretation of the disco classic, before filming a video in Portmeirion itself, prompting Rodgers' to tweet their version.
The choir's rendition of New Order's "Blue Monday" was a success at last year's inaugural festival, and next weekend will see them return to perform "Good Times" live at the Piazza, alongside covers yet to be revealed. Other performances over the weekend include rising young bands Daughter and London Grammar, the Manic Street Preachers, My Bloody Valentine – and Chic themselves.
(festivalnumber6.com) Fri to 15 Sept
One to watch: Luke Kempner, impressionist, 26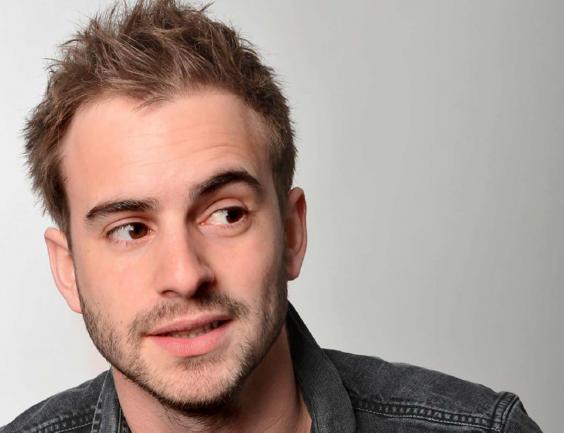 "It takes me two days to nail a voice," says Kempner whose show The Only Way is Downton, in which he voices everyone from Lady Mary to Andy Murray, has just enjoyed a five-star, sell-out run in Edinburgh. The musicals actor started out impersonating his fellow cast members in Les Mis. Last year he put a Downton skit on YouTube and went viral. Next up, a run at St James Theatre , a tour and perhaps TV? "I'm not ruling it out." Alistair McGowan, watch out.