This Friday will mark the arrival of an unlikely new cinematic hero... unlikely and four-legged. For Pudsey, the perky canine winner of Britain's Got Talent in 2012, alongside his owner Ashleigh Butler, is set to burst on to the big-screen in his own vehicle, Pudsey: the Movie.
It's the kind of accolade of which other Simon Cowell-corralled reality TV graduates can only dream, but you wouldn't bet against the pooch making good on his shot at film stardom. A border collie-bichon frise-Chinese crested cross frizz-ball, with a killer fringe and the power to seduce even TV's reigning sourpuss, Pudsey's dogrisma gave him an instant connection with audiences at home – and could well be as big a draw in the multiplexes, too.
Pudsey's moment comes as pooch thespians are becoming a formidable filmic breed. Thirteen years ago, I helped their cause by founding the Palm Dog Awards at the Cannes Film Festival, to recognise true canine cinematic clout. The first winner was Otis, for his role as the incessantly barking pet of Jennifer Jason Leigh's neurotic actress in the ensemble drama The Anniversary Party.
Life imitated art, as it turned out that the actress had cast her very own pooch. Another landmark victory was for director Kelly Reichardt's dog, Lucy, in her owner's bleak 2008 indie film Wendy and Lucy, which saw her share equal billing, as well as life on the road, with Michelle Williams.
Meanwhile, back in mainstream Hollywood, doggy-centric films started impressing the bean counters, from weepie Marley & Me to frivolous franchise Beverly Hills Chihuahua. Then came another game-changing pooch: 2011 Palm Dog winner Uggie, star of The Artist. The Jack Russell terrier gave his fellow actors a run for their money on the chat-show circuit, while also sparking a Bafta debate about canine eligibility.
The response was a snooty "No". But such was his star power that he rightfully claimed his place on the Golden Globes' red carpet, resplendent in his Palm Dog collar, and went on to wow at the Oscars, albeit backstage. This little hound had heat.
Now that Uggie has retired, could Pudsey become the new top dog? While the world awaits his grand debut, let's take a walkies past some of the stand-out four-legged stars of years gone by….
Greatest action hero
Think of doggie derring-doing, and two screen legends spring to mind. First up, Rin Tin Tin was a German Shepherd rescued as a puppy from a French First World War battlefield.
He went on to star in 27 adventure films before his death in 1932. Many of his films were lost, but you can still see what he was made of in the likes of 1927's Hills of Kentucky, in which he comes to the rescue of a disabled lad trapped on a cliff-face, emerging from the river below with the boy's crutch between his teeth before fighting off a dog-pack.
Then there's that old wanderer Lassie, a fictional collie played by numerous four-legged thespians over the years, beginning with Pal, who appeared with Roddy McDowall and Elizabeth Taylor in 1943's Lassie Come Home.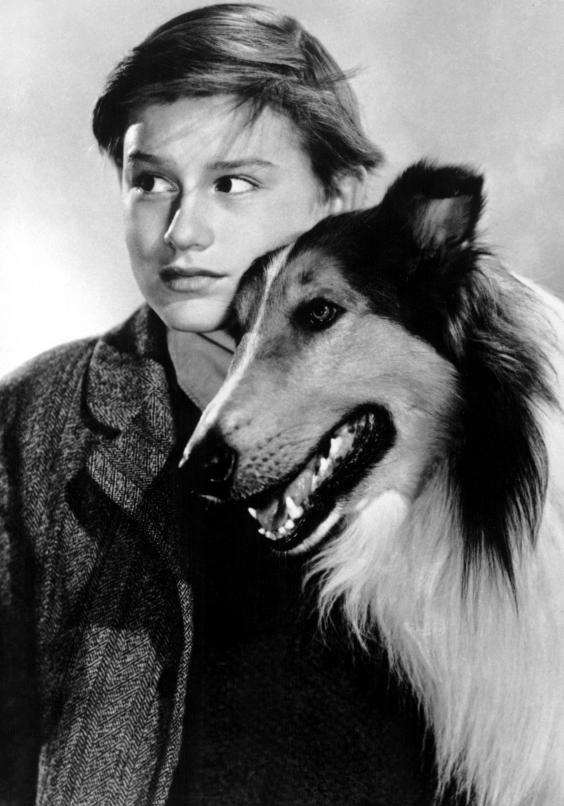 But thinking of more modern action stars, hardest of the lot are the cast of 2007 Thai comedy-drama Mid-Road Gang, which tells the story of an uptown dog that falls in with a pack of strays in a Bangkok slum after being dumped by his owner's jealous girlfriend.
 Together they set off to find the mythical Shangri-La, Dogtopia. But along the way there are scary encounters with rival packs of strays and Keystone Cop-style chases with random security guards, making for a truly high-octane canine caper.
Most comic canine
Doggy actors don't get more expressive than Albert, the boxer who played Boss, the pet of Dominic Cooper's lothario rocker in 2010 British farce Tamara Drewe: his quizzical, long-suffering expression as his owner enjoys a romp with the eponymous leading lady is celluloid gold, and caused uproarious laughter at the Cannes world premiere.
Possessed of equally funny chops was Smurf, the perky Parson Russell terrier who played Banjo in the well-received British comic-horror Sightseers (2012): his intrusion into a love scene made for wildly funny, and inappropriate menagerie à trois. But my favourite rib-tickler is Frank, the pug from the Men in Black series, not least for the scene in which he gives the NYPD a growling rendition of "I Will Survive" in 2002's sequel. A howler!
Best Death Scene
Having a dog snuff it in your film can be a controversial decision, a fact made light of in Hollywood satire What Just Happened (2008), whose plot centres on an ill-fated production in which the gunning down of Sean Penn's canine proves disastrous  with test audiences.
Perhaps that might explain the poor reception afforded the recent biopic of Yves Saint Laurent, which included a scene showing the shocking bow-out of the fashion designer's faithful bulldog Moujik, who keels over after overdosing on a recreational drug cocktail left scattered on the floor while his owner is making out with his hunky lover.
More sentimentally, one of the most emotional doggy demises is that of the Labrador hero of Marley & Me (2008), put to sleep on the vet's table with his devoted owner John by his side.
Though perhaps even more tear-jerking is the fate of big yellow dog Old Yeller in the 1957 film of the same name, the tale of a young Texan boy, Travis, who meets – and adopts – the eponymous Labrador retriever/mastiff cross. When Old Yeller saves Travis's family from wolf attack, he is infected with rabies and is shot by Travis in the most heart-rending example of "it's for the best" committed to screen.
Biggest Doggy Diva
Quite the princess is Mops the pug in Sofia Coppola's Marie Antoinette (2006). The lap-dog companion to the ill-fated queen of France is taken from her just as she is symbolically stripped of her Austrian heritage while crossing the border into France: a loss that she later makes up for by installing myriad cupcake canines in Versailles.
Other fabulous prima donnas include blind poodle Baby Boy, who played Liberace's preening pet in Steven Soderbergh's biopic Behind the Candelabra (2013), Queen Victoria's precious King Charles spaniel, Dash, in The Young Victoria (2009), and the brace of corgis at Helen Mirren's side in The Queen (2006), who serve to humanise Our Majesty even as they remain determined not to be upstaged.
Best In Show
It has to be Uggie, who smashed through the glass ceiling of the cinema kennel and was a true one of a kind. Jean Dujardin suffered with good grace the attention lavished on his four-legged co-star: though it was Dujardin who won the Best Actor Oscar, Uggie arguably enjoyed higher global recognition.
Could this, in fact, be the inspiration for the next great canine drama: the tale of an embittered leading man engaged in a fierce rivalry with a bright-eyed canine ingenue. All About Uggie, perhaps?
Pudsey: the Movie is out on Friday
Reuse content