It was one of the most shocking incidents in dance history. In January 2013, Sergei Filin, the director of the world-renowned Bolshoi Ballet and a former principal dancer there, had acid thrown in his face.
"At about 11pm, I was returning home. By the gate to my house, I was attacked. My face was seriously burnt. The skin was damaged as were my eyes," Filin later recalled of an incident that came close to blinding him.
Who could have committed such an assault and why? "It was such an unusual crime and acid, even by the standards of the Russian underworld, is such an unusual weapon," British director Nick Read says of the attack. He was already preparing his feature documentary Bolshoi Babylon when he learned that Pavel V Dmitrichenko (a dancer at the Bolshoi) had been arrested for the crime.
Culture news in pictures
Culture news in pictures
1/30 30 September 2016

An employee hangs works of art with "Grand Teatro" by Marino Marini (R) and bronze sculpture "Sfera N.3" by Arnaldo Pomodoro seen ahead of a Contemporary Art auction on 7 October, at Sotheby's in London

REUTERS

2/30 29 September 2016

Street art by Portuguese artist Odeith is seen in Dresden, during an exhibition "Magic City - art of the streets"

AFP/Getty Images

3/30 28 September 2016

Dancers attend a photocall for the new "THE ONE Grand Show" at Friedrichstadt-Palast in Berlin, Germany

REUTERS

4/30 28 September 2016

With an array of thrift store china, humorous souvenirs and handmade tile adorning its walls and floors, the Mosaic Tile House in Venice stands as a monument to two decades of artistic collaboration between Cheri Pann and husband Gonzalo Duran

REUTERS

5/30 27 September 2016

A gallery assistant poses amongst work by Anthea Hamilton from her nominated show "Lichen! Libido!(London!) Chastity!" at a preview of the Turner Prize in London

REUTERS

6/30 27 September 2016

A technician wearing virtual reality glasses checks his installation in three British public telephone booths, set up outside the Mauritshuis museum in The Hague, Netherlands. The installation allows visitors a 3-D look into the museum which has twenty-two paintings belonging to the British Royal Collection, on loan for an exhibit from 29 September 2016 till 8 January 2017

AP

7/30 26 September 2016

An Indian artist dressed as Hindu god Shiva performs on a chariot as he participates in a religious procession 'Ravan ki Barat' held to mark the forthcoming Dussehra festival in Allahabad

AFP/Getty Images

8/30 26 September 2016

Jean-Michel Basquiat's 'Air Power', 1984, is displayed at the Bowie/Collector media preview at Sotheby's in New York

AFP/Getty

9/30 25 September 2016

A woman looks at an untitled painting by Albert Oehlen during the opening of an exhibition of works by German artists Georg Baselitz and Albert Oehlen in Reutlingen, Germany. The exhibition runs at the Kunstverein (art society) Reutlingen until 15 January 2017

EPA

10/30 24 September 2016

Fan BingBing (C) attends the closing ceremony of the 64th San Sebastian Film Festival at Kursaal in San Sebastian, Spain

Getty Images

11/30 23 September 2016

A view of the artwork 'You Are Metamorphosing' (1964) as part of the exhibition 'Retrospektive' of Japanese artist Tetsumi Kudo at Fridericianum in Kassel, Germany. The exhibition runs from 25 September 2016 to 1 January 2017

EPA

12/30 22 September 2016

Jo Applin from the Courtauld Institute of Art looks at Green Tilework in Live Flesh by Adriana Vareja, which features in a new exhibition, Flesh, at York Art Gallery. The new exhibition features works by Degas, Chardin, Francis Bacon and Sarah Lucas, showing how flesh has been portrayed by artists over the last 600 years

PA

13/30 21 September 2016

Performers Sean Atkins and Sally Miller standing in for the characters played by Asa Butterfield and Ella Purnell during a photocall for Tim Burton's "Miss Peregrines Home For Peculiar Children" at Potters Field Park in London

Getty Images

14/30 20 September 2016

A detail from the blanket 'Alpine Cattle Drive' from 1926 by artist Ernst Ludwig Kirchner is displayed at the 'Hamburger Bahnhof - Museum for Contemporary Arts' in Berlin. The exhibition named 'Ernst Ludwig Kirchner - Hieroglyphen' showing the complete collection of Berlin's Nationalgallerie works of the German artist Ernst Ludwig Kirchner and will run from 23 September 2016 until 26 February 2017

AP

15/30 20 September 2016

A man looks at portrait photos by US photographer Bruce Gilden in the exhibition 'Masters of Photography' at the photokina in Cologne, Germany. The trade fair on photography, photokina, schowcases some 1,000 exhibitors from 40 countries and runs from 20 to 25 September. The event also features various photo exhibitions

EPA

16/30 20 September 2016

A woman looks at 'Blue Poles', 1952 by Jackson Pollock during a photocall at the Royal Academy of Arts, London

PA

17/30 19 September 2016

Art installation The Refusal of Time, a collaboration with Philip Miller, Catherine Meyburgh and Peter Galison, which features as part of the William Kentridge exhibition Thick Time, showing from 21 September to 15 January at the Whitechapel Gallery in London

PA

18/30 18 September 2016

Artists creating one off designs at the Mm6 Maison Margiela presentation during London Fashion Week Spring/Summer collections 2017 in London

Getty Images

19/30 18 September 2016

Bethenny Frankel attends the special screening of Disney's "Beauty and the Beast" to celebrate the 25th Anniversary Edition release on Blu-Ray and DVD in New York City

Getty Images for Walt Disney Stu

20/30 17 September 2016

Visitors attend the 2016 Oktoberfest beer festival at Theresienwiese in Munich, Germany

Getty Images

21/30 16 September 2016

Visitors looks at British artist Damien Hirst work of art 'The Incomplete Truth', during the 13th Yalta Annual Meeting entitled 'The World, Europe and Ukraine: storms of changes', organised by the Yalta European Strategy (YES) in partnership with the Victor Pinchuk Foundation at the Mystetsky Arsenal Art Center in Kiev

AP

22/30 16 September 2016

Tracey Emin's "My Bed" is exhibited at the Tate Liverpool as part of the exhibition Tracey Emin And William Blake In Focus, which highlights surprising links between the two artists

Getty Images

23/30 15 September 2016

Musician Dave Grohl (L) joins musician Tom Morello of Prophets of Rage onstage at the Forum in Inglewood, California

Getty Images

24/30 14 September 2016

Model feebee poses as part of art installation "Narcissism : Dazzle room" made by artist Shigeki Matsuyama at rooms33 fashion and design exhibition in Tokyo. Matsuyama's installation features a strong contrast of black and white, which he learned from dazzle camouflage used mainly in World War I

AP

25/30 13 September 2016

Visitors look at artworks by Chinese painter Cui Ruzhuo during the exhibition 'Glossiness of Uncarved Jade' held at the exhibition hall 'Manezh' in St. Petersburg, Russia. More than 200 paintings by the Chinese artist are presented until 25 September

EPA

26/30 12 September 2016

A visitor looks at Raphael's painting 'Extase de Sainte Cecile', 1515, from the Uffizi Gallery in Florence during the opening of a Raphael exhibition at the Pushkin State Museum of Fine Arts in Moscow, Russia. The first Russian exhibition of the works of the Italian Renaissance artist Raffaello Sanzio da Urbino includes eight paintings and three drawings which come from Italy. Th exhibit opens to the public from 13 September to 11 December

EPA

27/30 11 September 2016

Steve Cropper and Eddie Floyd perform during Otis Redding 75th Birthday Celebration - Rehearsals at the Macon City Auditorium in Macon, Georgia

Getty Images for Otis Redding 75

28/30 10 September 2016

Sakari Oramo conducting the BBC Symphony Orchestra, the BBC Symphony Chorus and the BBC Singers at the Last Night of the Proms 2016 at the Royal Albert Hall in London

PA

29/30 9 September 2016

A visitor walks past a piece entitled "Fruitcake" by Joana Vasconcelo, during the Beyond Limits selling exhibition at Chatsworth House near Bakewell

REUTERS

30/30 8 September 2016

A sculpture of a crescent standing on the 2,140 meters high mountain 'Freiheit' (German for 'freedom'), in the Alpstein region of the Appenzell alps, eastern Switzerland. The sculpture is lighted during the nights by means of solar panels. The 38-year-old Swiss artist and atheist Christian Meier set the crescent on the peak to start a debate on the meaning of religious symbols - as summit crosses - on mountains. 'Because so many peaks have crosses on them, it struck me as a great idea to put up an equally absurd contrast'. 'Naturally I wanted to provoke in a fun way. But it goes beyond that. The actions of an artist should be food for thought, both visually and in content'

EPA
The very title suggests that the film will be a study in scandal – but that is only partly the case. Bolshoi Babylon offers an intimate and very revealing behind-the-scenes portrait of what is still the most famous ballet troupe in the world at a time when the Bolshoi was under huge pressure.
One of Read's interviewees points out that there aren't many "brands that represent Russia. One is the Bolshoi Theatre. Another is the Kalashnikov… but that's now out of date. New guns have appeared. But the Bolshoi endures. It still represents Russia for sure."
The Bolshoi is seen by some as a microcosm of the Russian state itself. The building is located in the heart of Moscow, just a few hundred metres away from the Kremlin itself. Politicians take an intense interest in how it is perceived.
That was why there was such anguish and recrimination within the Bolshoi about the very public attack on one of its most celebrated representatives.
Read freely admits he was no ballet expert when he began work on the documentary. ("I don't know a pas de deux from a petit four.") Nonetheless, together with his Moscow-based producer Mark Franchetti, he managed to win the trust of Vladimir Urin, who was made general director of the Bolshoi Ballet in the wake of the Filin attack. Urin's job was to clean the stables. He was a government-appointed bureaucrat but one who turned out to be surprisingly open to the British director. "He [Urin] said as long as you are fair, you can come in."
Relations between Urin and Filin were on glacial side of frosty. They had worked together several years before at the Stanislavsky and Nemirovich-Danchenko Theatre but Urin had felt badly let down when Filin quit his post to go back to the Bolshoi.
"When he (Filin) was offered the job at the Bolshoi, I think he left without really giving any sort of notice. He left in a real rush and then proceeded to poach some of the dancers from the Stanislavsky Theatre. Urin took it as a personal slight and felt it was a personal betrayal."
In the film, Filiun himself acknowledges he was a "traitor" to Urin.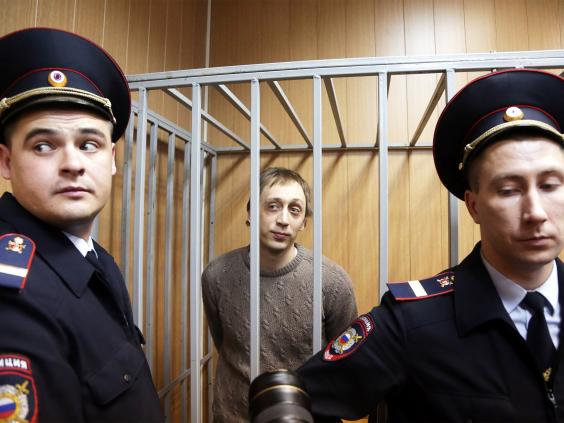 In spite of their "past history," Urin was persuaded (against his own family's wishes) to take on the management of the Bolshoi. At that point, Filin was still absent, being treated for his injuries in Germany. When Filin returned halfway through the season, it was apparent that there were still tensions between him and Urin. The documentary features footage of a heated meeting in which Urin makes it clear that he expects transparency and an end to the "feuding and backstabbing" that had seemingly taken place prior to the attack on Filin.
"As the film makes clear, Filin was seen as a very evasive and divisive character who liked to crowd a clique of loyalists around him to whom he would award the best parts. Many of the dancers were very aggrieved as they felt they were not being promoted or considered on merit," Read observes.
Even when Filin returned to the Bolshoi after the attack, he aggrieved some members of the troupe by having a personal bodyguard with him at almost all times. This was taken to imply that he still felt under threat in the building, from his own colleagues.
In the documentary, we hear Filin's attacker, Dmitrichenko, speaking from behind bars, telling the news media that Filin "surrounded himself with people who wouldn't contradict him.
"In terms of the allegations, we had to tread very lightly," Read says. He points out that the film-makers found no evidence of sexual impropriety or of corruption in the form of bribery, as had been alleged by Dmitrichenko in court.
There may have been rumours about venality and favouritism but they were very hard to corroborate. Besides, the film is intended as a portrait of the ballet company, not as a character study of Filin or as some veiled satire about corruption within Russia as a whole.
Much of the fascination here lies in Read's vérité-style footage of the lives of the dancers. They are at the absolute peak of their profession but still have everyday issues to deal with. We learn what it is like being both a ballerina and a single mum without proper childcare and how the dancers are always fretting about injury, ageing and their status within the company.
"Some of the questions we were trying to answer was what made the Bolshoi unique. The simple answer to that is the people in it. Everyone, from the usher to the director, has a reverence for the stage. We wanted to dig deeper into their lives and to understand what really drove them," Read says. "When dancers are selected for the Bolshoi, they're typically handpicked… believing they're the best of the best when they enter the corps de ballet. Then, within a year or two, they learn that it (the Bolshoi) is what the dancers themselves call the graveyard of talent. The reason they call it that is that it is very hard to break out."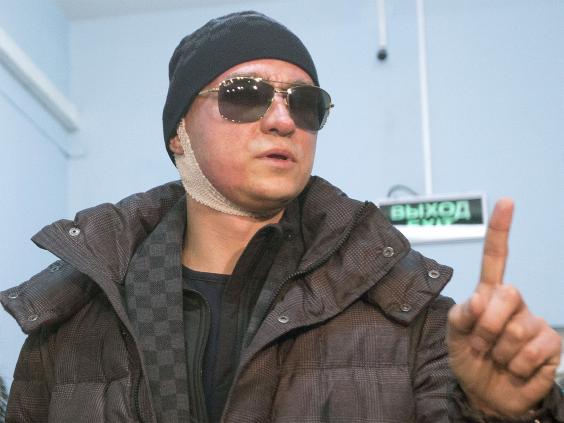 Read was no devotee of ballet when he started his film but describes himself now as "definitely a convert". As he filmed between 25 and 30 performances back stage, he was astounded by the "extraordinary physicality" and dedication of the dancers. "I was very interested in capturing them on camera just before they went on stage and in trying to capture that nervous energy."
Ironically, the Filin scandal heightened rather than diminished the international appeal of the Bolshoi. Here was the life of a dance company seemingly just as dramatic as that depicted in Darren Aronofsky's Black Swan.
Some compare the Bolshoi to a vast old liner that just keeps chugging along, whatever squalls it encounters. One of the constant tensions the troupe faces is between its glorious history and its desire to innovate. There is so much drama within the company that no one pays that much attention to what is going on in the outside world. Read points out that he was filming during the height of the Ukrainian crisis but that events in Maidan Square or the Crimea were barely even noticed. "There is only one television in the building, servicing 3,000 people who work there and it is never tuned to the news."
Urin and many of the dancers at the Bolshoi have seen Read's documentary and have praised it for being even-handed and honest.
As for Sergei Filin (whose contract at the Bolshoi will shortly end), Read is yet to discover the acid-scarred maestro's response to the film.
"Everybody in the film, Urin and all the key dancers, have seen the film but the one person who refuses to acknowledge our emails – we've got no idea whether he's seen it let alone what he thinks – is Filin."
'Bolshoi Babylon' is released on 8 January. The Bolshoi Ballet season at the Royal Opera House, London, runs from 25 July to 13 August
Reuse content