It was one of the most shocking incidents in dance history. In January 2013, Sergei Filin, the director of the world-renowned Bolshoi Ballet and a former principal dancer there, had acid thrown in his face.
"At about 11pm, I was returning home. By the gate to my house, I was attacked. My face was seriously burnt. The skin was damaged as were my eyes," Filin later recalled of an incident that came close to blinding him.
Who could have committed such an assault and why? "It was such an unusual crime and acid, even by the standards of the Russian underworld, is such an unusual weapon," British director Nick Read says of the attack. He was already preparing his feature documentary Bolshoi Babylon when he learned that Pavel V Dmitrichenko (a dancer at the Bolshoi) had been arrested for the crime.
Culture news in pictures
Culture news in pictures
1/30 27 May 2016

An image of an indigenous Australian man is projected onto the sails of the Sydney Opera House during the opening night of the annual Vivid Sydney light festival in Sydney

Reuters

2/30 26 May 2016

A woman walks on steps lined with plastic cups, an art project of four college students, in Wuhan, China

Reuters

3/30 25 May 2016

A view of the Pyramid of the Louvre museum covered with a gigantic black and white trompe l'oeil photo of the Louvre building by French artist JR in Paris. The exhibition 'Contemporary art JR at the Louvre' runs from 25 May to 27 June

EPA

4/30 24 May 2016

Artist paints a reproduction of one of the vincent Van gogh's painting for the 'Loving Vincent' film in Wroclaw, Poland. 'Loving Vincent', the world's first fully painted animation feature film, will be about the life and death of the Dutch famous painter Vincent van Gogh

EPA

5/30 23 May 2016

John Oliver, Jimmy Fallon and Jennifer Lawrence during a taping of "The Tonight Show Starring Jimmy Fallon" in New York City

Getty Images

6/30 22 May 2016

French Moroccan director Houda Benyamina (C) poses with the Camera d'Or next to actresses Jisca Kalvanda (L), Oulaya Amamra (2ndL) and Deborah Lukumuena (R) at the Palme D'Or Winner Photocall during the 69th annual Cannes Film Festival

Getty Images

7/30 21 May 2016

Swedish artist Andreas Englund signs one of his murals at the Urban Nation museum for urban contemporary art, in Berlin

Getty Images

8/30 20 May 2016

(L-R) Autor Tom Brokaw, Legion of Honor's Grand Chancellor General Jean-Louis Georgelin, Actor Tom Hanks, Ambassador of USA in France, Jane D. Hartley and Doctor Gordon "Nick" Mueller attend Tom Hanks, Tom Brokaw & Gordon "Nick" Mueller receive the Legion d'Honneur Medal at Palais de la Legion d'Honneur in Paris

Getty Images

9/30 19 May 2016

Visitors study work by Tod Papageorge in the gallery areas at the "Photo London 2016" event at Somerset House in central London. Featuring work from some of the world's most respected photographers, the event is aiming to put London on the map as the global city of photography

Getty Images

10/30 18 May 2016

A view of the building that will house planned Urban Nation - Museum for Urban Contemporary Art in Berlin. The street art museum is scheduled to open in 2017

EPA

11/30 17 May 2016

Kate Morais looks at the 'Colossal statues of a king and a queen' (283-246 BC) - which are reflected in a display cabinet glass - which stand over five meters tall during a preview of the 'Sunken Cities: Egypt's Lost Worlds' exhibition at the British Museum in London. This is the museum's first large scale exhibition of underwater archaeological finds and tells the story of two lost Egyptian cities and their recent discoveries beneath the Mediterranean, excavated off the coast of Egypt near Alexandria between 1996 and 2012

Getty Images

12/30 16 May 2016

Kurt Cobain's Univox electric guitar played and destroyed by Cobain at Nirvana's 13 July 1989 concert at Maxwell's in Hoboken, New Jersey is displayed during Julien's Auction Music Icons Press Exhibition at Hard Rock Cafe, Times Square in New York City

Getty Images

13/30 15 May 2016

Cast of the "From The Land Of The Moon (Mal De Pierres)" attend the premiere during the 69th annual Cannes Film Festival at the Palais des Festivals

Getty Images

14/30 14 May 2016

Jamala representing Ukraine with the song "1944" celebrates with the trophy after winning the final of the Eurovision Song Contest 2016 Grand Final in Stockholm

Getty Images

15/30 13 May 2016

A mural on a restaurant wall depicting US Presidential hopeful Donald Trump and Russian President Vladimir Putin greeting each other with a kiss in the Lithuanian capital Vilnius. Kestutis Girnius, associate professor of the Institute of International Relations and Political Science in Vilnius university, said: "This graffiti expresses the fear of some Lithuanians that Donald Trump is likely to kowtow to Vladimir Putin and be indifferent to Lithuanias security concerns. Trump has notoriously stated that Putin is a strong leader, and that NATO is obsolete and expensive"

Getty Images

16/30 12 May 2016

People visit the artwork titled Seven Magic Mountains by artist Ugo Rondinone, near Jean, Nevada. The artwork was recently completed in the desert south of Las Vegas

AP

17/30 11 May 2016

Justin Timberlake attends the "Trolls" Photocall during The 69th Annual Cannes Film Festival

Getty Images

18/30 10 May 2016

Curator Ben Russell poses with a 2.4 meter robot called Cygan, built in 1957, on display at the Science Museum before announcing a new robot exhibition for 2017

Getty Images

19/30 9 May 2016

A Palestinian artist paints a graffiti on a wall of the United Nations school of Beit Hanun, in the northern Gaza Strip

Getty Images

20/30 8 May 2016

Jon Snow collects the award for best news coverage on behalf of Channel 4 during the House of Fraser BAFTA TV Awards 2016 at the Royal Festival Hall in London

PA

21/30 7 May 2016

Illustration View of the 'Empires' exhibition of Huang Yong Ping as part of Monumenta 2016 to Grand Palais from 8 May till 18 June 2016

Getty Images

22/30 6 May 2016

People, including Russian servicemen, attend a concert of Mariinsky Theatre in the amphitheatre of the Syrian city of Palmyra, Syria

Reuters

23/30 5 May 2016

A child looks at an artwork titled 'Bi-lateral Relations' by Uruguay artists Fernando Foglino and Valentina Cardellino during the Latin America and Caribbean Art Festival Visual Art Exhibition 2016 at the World Art Museum of the China Millennium Monument in Beijing. The exhibition runs until 26 May, and is part of joint activities to mark the China-Latin America and Caribbean Cultural Exchange Year

EPA

24/30 4 May 2016

(L-R) David Furnish, Lady Gaga and Macy's CEO Terry J. Lundgren attend Love Bravery by Lady Gaga and Elton John Launch at Macy's Herald Square in New York City

Getty Images

25/30 3 May 2016

The Hofburg palace is illuminated by a projection of Viennese artist Viktoria Coeln for the project Dystopia Eutopia in Vienna, Austria

AP

26/30 2 May 2016

A visitor looks at paintings by Yemeni female artists displayed at a gallery during an exhibition entitled Women Creativity for Peace in the capital Sanaa

Getty Images

27/30 1 May 2016

A man looks at an art piece during the Oshtoora festival in an open desert north Fayoum, Egypt. Oshtoora festival, or "A temporary sate," is held only once a year in a different locations within Egypt. The festival is based on expression of music, arts, and cultures in an open natural environment

AP

28/30 30 April 2016

Actress Lupita Nyong'o attends "Eclipsed" To Launch A Dedications Series In Honor Of Abducted Chibok Girls Of Northern Nigeria at Golden Theatre in New York

Getty Images

29/30 29 April 2016

Kabuki actor Shido Nakamura (in red) performs in a final dress rehearsal for the kabuki theatre show 'Hanakurabe Senbonzakura' in Tokyo, Japan. The latest digital technology kabuki theatre piece 'Hanakurabe Senbonzakura' is part of the Niconico Chokaigi festival in Tokyo. The festival was organized by video website Niconico, combining Kabuki, a traditional Japanese theatre art and cutting edge animation technology, co-starring kabuki superstar Shidou Nakamura and the popular virtual idol Hatsune Miku

Getty Images

30/30 28 April 2016

Members of the Australian ballet perform in the scene from "Scent of the Love" during the dress rehearsal for the national premiere of Symphony in C that comprises of five short ballet works at the Opera House in Sydney

Getty Images
The very title suggests that the film will be a study in scandal – but that is only partly the case. Bolshoi Babylon offers an intimate and very revealing behind-the-scenes portrait of what is still the most famous ballet troupe in the world at a time when the Bolshoi was under huge pressure.
One of Read's interviewees points out that there aren't many "brands that represent Russia. One is the Bolshoi Theatre. Another is the Kalashnikov… but that's now out of date. New guns have appeared. But the Bolshoi endures. It still represents Russia for sure."
The Bolshoi is seen by some as a microcosm of the Russian state itself. The building is located in the heart of Moscow, just a few hundred metres away from the Kremlin itself. Politicians take an intense interest in how it is perceived.
That was why there was such anguish and recrimination within the Bolshoi about the very public attack on one of its most celebrated representatives.
Read freely admits he was no ballet expert when he began work on the documentary. ("I don't know a pas de deux from a petit four.") Nonetheless, together with his Moscow-based producer Mark Franchetti, he managed to win the trust of Vladimir Urin, who was made general director of the Bolshoi Ballet in the wake of the Filin attack. Urin's job was to clean the stables. He was a government-appointed bureaucrat but one who turned out to be surprisingly open to the British director. "He [Urin] said as long as you are fair, you can come in."
Relations between Urin and Filin were on glacial side of frosty. They had worked together several years before at the Stanislavsky and Nemirovich-Danchenko Theatre but Urin had felt badly let down when Filin quit his post to go back to the Bolshoi.
"When he (Filin) was offered the job at the Bolshoi, I think he left without really giving any sort of notice. He left in a real rush and then proceeded to poach some of the dancers from the Stanislavsky Theatre. Urin took it as a personal slight and felt it was a personal betrayal."
In the film, Filiun himself acknowledges he was a "traitor" to Urin.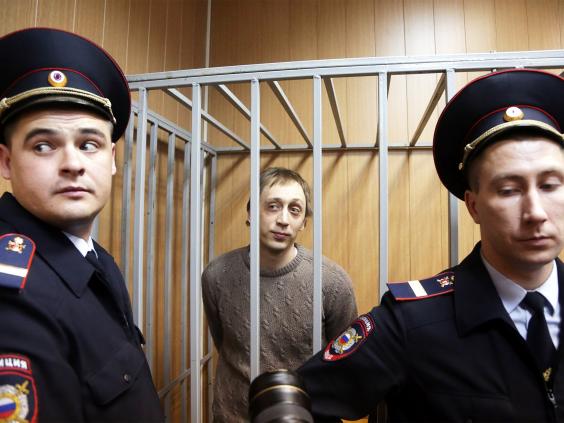 In spite of their "past history," Urin was persuaded (against his own family's wishes) to take on the management of the Bolshoi. At that point, Filin was still absent, being treated for his injuries in Germany. When Filin returned halfway through the season, it was apparent that there were still tensions between him and Urin. The documentary features footage of a heated meeting in which Urin makes it clear that he expects transparency and an end to the "feuding and backstabbing" that had seemingly taken place prior to the attack on Filin.
"As the film makes clear, Filin was seen as a very evasive and divisive character who liked to crowd a clique of loyalists around him to whom he would award the best parts. Many of the dancers were very aggrieved as they felt they were not being promoted or considered on merit," Read observes.
Even when Filin returned to the Bolshoi after the attack, he aggrieved some members of the troupe by having a personal bodyguard with him at almost all times. This was taken to imply that he still felt under threat in the building, from his own colleagues.
In the documentary, we hear Filin's attacker, Dmitrichenko, speaking from behind bars, telling the news media that Filin "surrounded himself with people who wouldn't contradict him.
"In terms of the allegations, we had to tread very lightly," Read says. He points out that the film-makers found no evidence of sexual impropriety or of corruption in the form of bribery, as had been alleged by Dmitrichenko in court.
There may have been rumours about venality and favouritism but they were very hard to corroborate. Besides, the film is intended as a portrait of the ballet company, not as a character study of Filin or as some veiled satire about corruption within Russia as a whole.
Much of the fascination here lies in Read's vérité-style footage of the lives of the dancers. They are at the absolute peak of their profession but still have everyday issues to deal with. We learn what it is like being both a ballerina and a single mum without proper childcare and how the dancers are always fretting about injury, ageing and their status within the company.
"Some of the questions we were trying to answer was what made the Bolshoi unique. The simple answer to that is the people in it. Everyone, from the usher to the director, has a reverence for the stage. We wanted to dig deeper into their lives and to understand what really drove them," Read says. "When dancers are selected for the Bolshoi, they're typically handpicked… believing they're the best of the best when they enter the corps de ballet. Then, within a year or two, they learn that it (the Bolshoi) is what the dancers themselves call the graveyard of talent. The reason they call it that is that it is very hard to break out."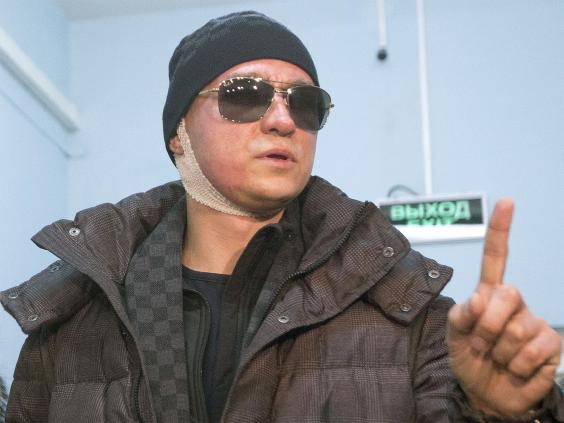 Read was no devotee of ballet when he started his film but describes himself now as "definitely a convert". As he filmed between 25 and 30 performances back stage, he was astounded by the "extraordinary physicality" and dedication of the dancers. "I was very interested in capturing them on camera just before they went on stage and in trying to capture that nervous energy."
Ironically, the Filin scandal heightened rather than diminished the international appeal of the Bolshoi. Here was the life of a dance company seemingly just as dramatic as that depicted in Darren Aronofsky's Black Swan.
Some compare the Bolshoi to a vast old liner that just keeps chugging along, whatever squalls it encounters. One of the constant tensions the troupe faces is between its glorious history and its desire to innovate. There is so much drama within the company that no one pays that much attention to what is going on in the outside world. Read points out that he was filming during the height of the Ukrainian crisis but that events in Maidan Square or the Crimea were barely even noticed. "There is only one television in the building, servicing 3,000 people who work there and it is never tuned to the news."
Urin and many of the dancers at the Bolshoi have seen Read's documentary and have praised it for being even-handed and honest.
As for Sergei Filin (whose contract at the Bolshoi will shortly end), Read is yet to discover the acid-scarred maestro's response to the film.
"Everybody in the film, Urin and all the key dancers, have seen the film but the one person who refuses to acknowledge our emails – we've got no idea whether he's seen it let alone what he thinks – is Filin."
'Bolshoi Babylon' is released on 8 January. The Bolshoi Ballet season at the Royal Opera House, London, runs from 25 July to 13 August