The Four Seasons Hotel in Beverly Hills is all elegant understatement. Around this oh-so-tasteful, upscale hotel are scattered artfully arranged pots of giant orchids and trendy works of modern art that whisper, in the most sophisticated fashion, of course: "I may be impossible to fathom, but I still cost a fortune." The place is discreetly glamorous.
Clive Owen fits right in here. His trademark, on and off screen, is downplaying. He is not someone to shout about his A-list credentials from the summit of the Hollywood Hills. The British actor is now very big in Beverly Hills – to prove the point, a giant poster of him dressed as a doctor from 1900, resplendent in vintage scrubs and luxuriant moustache, adorns the side of a skyscraper on Sunset Boulevard. And yet Owen wears his stardom as effortlessly as he wore his tuxedo in Croupier, the 1998 movie that first launched him in the US.
Like many of the most magnetic film actors, the Brit exerts great power on screen without appearing to do very much at all. With Owen, the eyes have it. According to him, "I don't 'do' emotion. Emotions are overrated. I'm more interested in creating a presence.
"I've heard people say I have a dull and monotonous voice, but the truth is that I put all my effort into communicating to the audience via my eyes. An actor can say so much with their eyes. I would have loved to have been an actor in the days of silent movies. Sounding interesting doesn't interest me. Looking interesting is another matter entirely."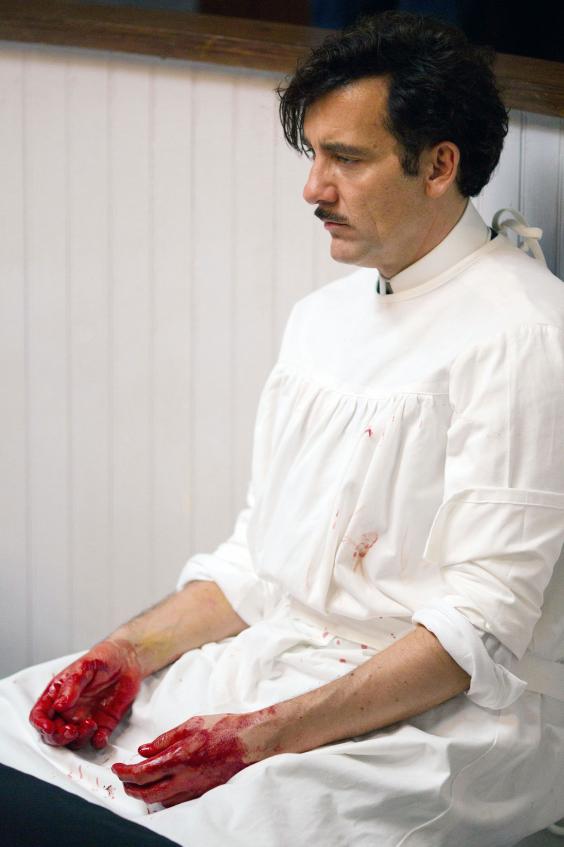 The Coventry-born performer, who has been married for the past 19 years to Sarah-Jane Fenton, the actress he met when they were in a Rada production of Romeo and Juliet together three decades ago, has a CV that most actors would sell their psychotherapist for. He has had leading roles in such memorable movies as Closer (for which he won both Bafta and Golden Globe Awards and an Oscar nomination), Gosford Park, The Bourne Identity, Elizabeth: the Golden Age, Children of Men, King Arthur, Sin City, The  International, Inside Man and Derailed. Two years ago, he received Emmy, Golden Globe, Screen Actors Guild and Satellite Award nominations for his performance as the grizzled American author in HBO's biopic, Hemingway and Gellhorn.
And yet Owen has never got carried away by his own success; he retains a detached outlook on the business. For instance, just to wind up a journalist, the actor famous for taciturn, tough-guy roles once said in an interview that he never eats biscuits because, "He-men don't need biscuits."
Owen, who has two teenage daughters with Fenton, Hannah and Eve, is similarly not stirred when explaining why he never took on the part of James Bond, even though after his swoon-inducing tuxedo work in Croupier, he was the bookies' favourite to replace Pierce Brosnan. "Bond was the best thing that never happened to me."
The actor, who today is wearing a chic blue jacket teamed with a crisp white shirt and smart dark trousers, adds that, "People keep on saying I missed my chance with not being James Bond, but my films still appear with the tedious inevitability of an unloved season."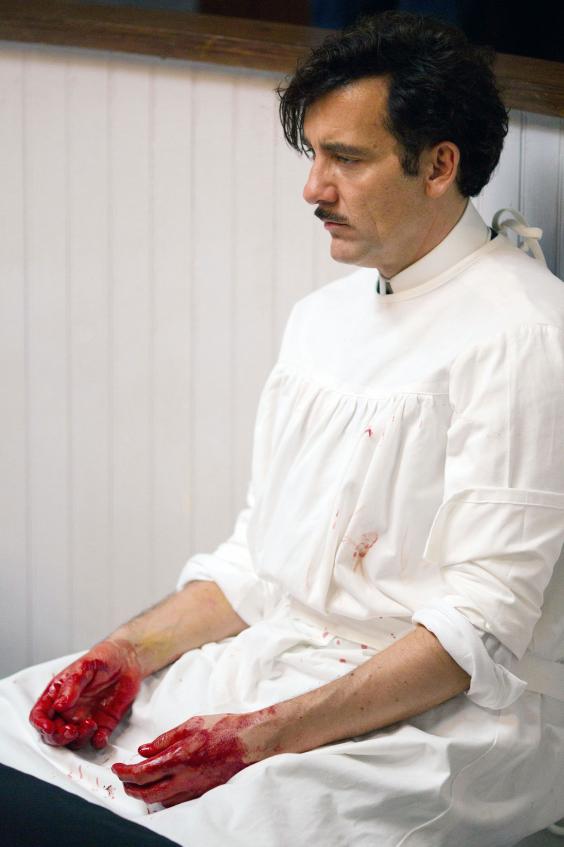 We are at the Four Seasons to talk about Owen's scalpel-sharp new drama, The Knick, the advert for which decorates the aforementioned Sunset Boulevard skyscraper. Directed by Steven Soderberghthis 10-part series begins this Thursday on Sky Atlantic. It puts the stethoscope on the Knickerbocker, a hospital in 1900 New York, which is breaking new medical ground in an era of astoundingly high mortality rates and no antibiotics.
Owen plays Dr John Thackery, the newly appointed leader of the surgery staff. He is an inspired yet arrogant maverick whose excellence at his job masks a troubled personality and a cocaine and opium addiction. Sometimes he seems more in need of medical attention than his patients.
A bona fide movie star, Owen admits that TV had not been part of his plans when he was first approached about The Knick. The actor, who turned 50 earlier this month, takes up the story. "Steven called me up, and he told me he was thinking about a 10-part television series. I've known Steven for a number of years, and I'm a huge fan of his. But to be honest with you, before I started reading the script, I wasn't sure I wanted to commit to 10 hours of television playing the same part.
"I was shooting something else, sitting in a trailer. I started to read the script of The Knick to get a taste of what it might be like, and 40 minutes later there was no way I was not going to do it, because it was such a beautifully written script and such an amazingly original part."
For Owen, all that ultimately counts is the  quality of the work, not the format in which it is shown. The explosion of great TV at the moments only serves to underline the point. He observes that, "The reality is that when as an actor you come across a piece of material that sets you alight and reminds you of why you do what you do, that's the be-all and end-all. The fact that it's 20 hours of television is not important. All it means to me is that I'm lucky enough to be involved in something that I'm very passionate about."
What is intriguing about the character of Thackery is that he is not black and white; he is very far from an unalloyed hero. He has, for instance, a decidedly testy working relationship with the gifted black surgeon he feels has been foisted on him by the hospital board.
That ambiguity is one of the factors that drew Owen to the part. "The challenging and exciting thing about Thackery is that he's not the sort of leading character who's going to take people by the hand and lead them gently through a medical drama set in 1900. He's a very complex, difficult character.
"He's redeemed by the fact that he's brilliant and he's passionate. He's about trying to forward the whole world of medicine and trying to save people's lives, and ultimately providing a huge service to people generally. But he's a very tricky, complicated, functioning addict at the same time. It's not about being likeable. It's not about making things easy. It's challenging, and, as an actor, I love the challenge of taking that on."
You may find yourself watching some parts of The Knick through splayed fingers. The tone is set from the opening moments of the first episode, when Thackery's team engage in a grim, extended battle to remove a traumatised baby from the womb of a severely haemorrhaging mother. We are not spared a single gory detail of the procedure.
Lesser mortals might have passed out filming such a sequence, but Owen reveals that, "I'm good at blood, so I don't faint during those scenes." Some viewers may not be so fortunate. The actor carries on that the producers of this meticulously researched series did not want to fudge anything in depicting this blood-soaked era. "It's not contrived – that was the world back then. That is how things were done. Nothing is gratuitous or done purely for effect.
"Our drama could actually have been more gruesome. Steven has been quite tasteful. If you'd been there at the time, it was a blood fest. I'm not sure I'd want to have been wheeled into an operating theatre on a gurney back in 1900. I don't think I'd have lasted very long!"   
The Knick is brilliant, ballsy – and bloody. It grabs you by the lapels in the very first minute and doesn't let go till the very last.
Owen concludes that it is visceral in every sense. "From the very first operation, it's, 'Welcome to 1900. Wow!'"
The Knick starts on 16 October at 9pm on Sky Atlantic HD
Reuse content