Diane Keaton enters the room in a grey-and-white pinstriped trouser suit, polka-dot shoes and matching hanky. The actress whose androgynous fashions in Annie Hall practically started a high-street revolution has still got it, it seems, when it comes to her dress sense. Where does she take her inspiration from? "People off the street," she answers. "There's so much style on the street... you just need to walk and you'll see great style. I do think that England has great street style."
Her bob of hair may now be silvery-grey – she turns 70 next January – but Keaton is still unmistakably... well, Keaton. Full of gee-whizz bonhomie and wonderment at the world. A titan in the Seventies and Eighties, her work bestrode the era like few other actresses. The seven films with Allen (eight, if you include the cameo in Radio Days), are the ones we fondly remember. But she was just as capable dramatically, playing Michael Corleone's wife, Kate, in The Godfather and communist sympathiser Louise Bryant in Warren Beatty's epic 1981 saga Reds, which led to her second of four Oscar nominations (she won, first time out, for Annie Hall).
Having dated Beatty, Allen, Al Pacino and Jack Nicholson ("he's the Devil," she says affectionately), Keaton is full to the brim of stories. She remembers the wedding scene in The Godfather. "They served real alcohol, so people actually got drunk! I remember going, 'Wow, this is something!'" Just 23 then, she didn't partake. "I was too overwhelmed all the time. Marlon Brando would be walking round in the background, and you'd be watching him dance with Talia Shire. You were in awe! Everybody was in awe of Marlon Brando."
Even outside of her screen work, Keaton has always surprised. She was involved in producing Gus Van Sant's Palme d'Or-winning Columbine-shooting drama, Elephant, while her directing career has been equally eclectic, going from an episode of Twin Peaks to her touching 1995 feature debut, Unstrung Heroes. No wonder Allen remains impressed: "Keaton could sing and dance," he told me recently. "She could be funny and incredibly effective dramatically. She was brilliant. Anything Keaton turned her talent to, whatever it was, she was great at. There was nothing she couldn't do."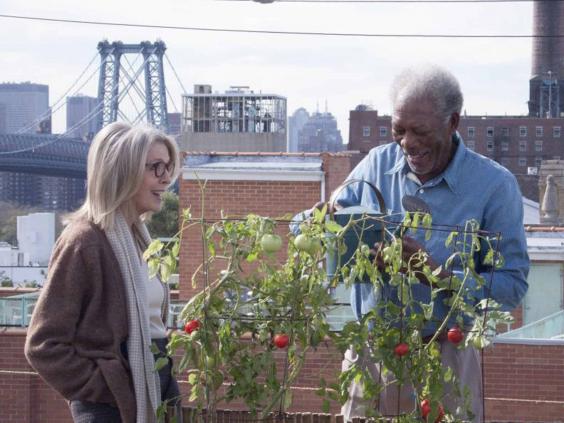 They're still friends and still see each other in New York whenever she's there. Keaton is amazed that the 79-year-old Allen is still working. "It's not possible!" she cries. "I used to say to him that he was the cockroach you couldn't kill! This guy is stronger than you think. Most people look at him and think, 'Oh, he's Woody Allen, he's shy.' He's a rock! He's really astonishing. He's one of the most astonishing people in showbusiness, ever. He's had more power over his movies than anyone for a longer amount of time than anyone. He's a miracle."
While Keaton's workload may not be as rigorous as Allen's, she hasn't stopped acting. "I've had a couple of gaps," she shrugs. "I had some low points after a couple of bombs." True, the past two decades haven't been quite as fruitful as her past glories, with films like Beatty's bomb Town & Country, the Robert De Niro-stinker The Big Wedding and this year's Michael Douglas straight-to-video effort And So It Goes. But even then, from huge hit The First Wives Club to Oscar nods for Marvin's Room and her Jack Nicholson reunion Something's Gotta Give, there have been highs.
She recently completed Love the Coopers, a family Christmas tale co-starring Ed Helms, Amanda Seyfried and Marisa Tomei. "I've been enjoying these years," she says, casually. "Now that there are more independent movies, and people don't make such huge amounts of money, you have more opportunities." While she's also voicing a character in Pixar's upcoming Finding Nemo sequel, Finding Dory, you can't help but wish someone would give Keaton another meaty dramatic role. "I'd like to work with somebody like David Fincher once in my life," she sighs.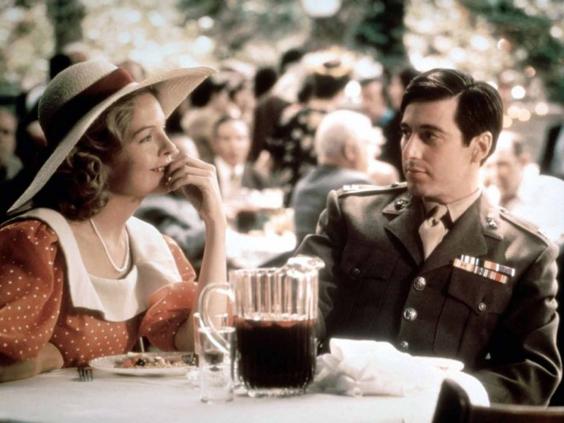 Her latest film is rather more in Keaton's recent wheelhouse than working with the maverick Gone Girl director Fincher. A gentle observational drama set in New York, Ruth & Alex (called 5 Flights Up in the US) sees she and Morgan Freeman play the titular septuagenarian couple. The plot will doubtless be familiar to anyone who has lived in a big metropolis for years; after four decades, they decide to sell up their Brooklyn apartment. The hipsters are moving in and Freeman's Alex is no longer capable of managing the five flights of stairs to their front door.
"It's all about whether we're going to adjust to a different point in our life, and buy an apartment that has an elevator," explains Keaton. "It's a five-floor walk-up and he's having a hard-time getting up the stairs! So that's all the movie's about really. What do you wanna do with your life when you're together and how are you going to adjust and do you still want to walk up those five flights? I keep saying, 'We need to get an elevator, we have to get an elevator!' He's like, 'I don't know about that.'"
True, this adaptation of the novel by Jill Ciment by veteran Richard Loncraine is hardly likely to bring in the 18-25 demographic. Keaton plays a retired schoolteacher and Freeman a "middle-level artist", as she puts it, with Cynthia Nixon co-starring as the niece instructed to sell the pad. But in the wake of The Best Exotic Marigold Hotel and others, Keaton is convinced there's a market for films aimed at her generation. "It's just really sweet, a really sweet movie," she purrs. "It's about the little things that happen as you go along in life."
When it comes to property, Keaton comes across as rather more dynamic than Ruth. For years, she's shrewdly bought, restored and sold LA real estate, to the point where she jokes it's become an "illness". "I can't stop dreaming of, 'Oh, the next one. I'll restore this one and then I'll move on, and do this, and then I'll sell that.'" Raised in California, the oldest of four, she evidently took heed from her civil engineer father, Jack, who also showed an interest in property speculation. But it was her mother, Dorothy, who inspired her towards acting.
She watched her mother win the "Mrs. Los Angeles" pageant, raising her interest in all things theatrical, but it was more than that. "My mother, she loved the arts and she was a collage artist," she says. "We all did collages – cutting pictures out of magazines. We weren't educated but we always loved visuals, and I still do." Keaton's has published several books, typical of her offbeat sensibilities, on everything from clown paintings to photographs (that she took) of hotel lobbies. She's currently "seriously" addicted to photo/image sharing website Pinterest. "I'm constantly pinning," she grins.
It's not her only concession to keeping up with the times. Keaton is more than au fait with the up-and-coming Hollywood starlets of today. Such as? "Obviously Jennifer Lawrence. I mean, duh!" she chuckles. "I like that Emma Stone. Adorable. She's great. I love her. I love Melissa McCarthy. I love her. I love Amy Poehler but she's not in the movies enough. She was in Blades of Glory, though, and I love her. I love Kristen Wiig. I love those comedy players. They're totally great." That's a lot of love. But then Keaton's always been a generous soul.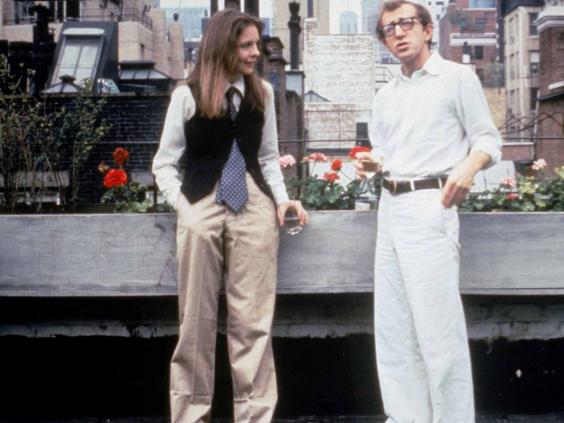 If she has a regret, it's over her directing career. After Unstrung Heroes, she returned to feature directing in 2000 with Meg Ryan, with Hanging Up, but the film flopped. "I didn't pull it off," she sighs. "I would like to try again, though. I would like to try, but I think I'd have to find the right smaller movie for me." Have there been other chances? "Well, when you have a failure, which Hanging Up was, people aren't going, 'Gee, can you please direct my movie?'" she says, dryly.
While she's still friends with some Hollywood pals like Nicholson, Keaton also has a lot of "regular people friends", as she puts it. "A lot of friends who aren't actors or actresses. I think the thing about being an actor, with other actors, you don't really always become close friends." She famously never married, declaring herself not the marrying kind, and she remains single. Does she think you can find love at any age? "I do. Not necessarily for me. But I do believe that you can be in love at any age."
Keaton did adopt children – daughter Dexter (now 20) and son Duke (15) – late in life. She was 50 when Dexter arrived on the scene. "[It] changed my life and made it so much more meaningful," she says. "It's given me a purpose other than myself, which is really nice." It's doubtless what keeps Keaton's spirit playful. "I listen to a lot of pop music with my kids," she claims – everything from Beyoncé and Rihanna to Kanye West. "I just like the way they make music now." Somehow, this isn't hard to believe.
'Ruth & Alex' opens on 24 July
Reuse content