The relationship between fashion and motion pictures is uneasy at the best of times. They're diametric opposites. Fashion is obsessed with the immediate, the now and the next. Cinema is about fixing a moment in time, capturing it for posterity. And that takes time.
"It's too slow," says the photographer Nick Knight, bluntly, citing cinema's production timescale as entirely out of kilter with the way fashion works. And he has a point. Witness Mademoiselle C, a documentary released this week charting the production of the first issue of CR Fashion Book, the biannual magazine of former Paris Vogue editor Carine Roitfeld. It's in depth, but it's also out of date. Issue three of CR Fashion Book hits the shelves this month, and for fashion fans – to whom Mademoiselle C will mainly appeal – the clothing feels practically historic.
That can sometimes work in a film's favour. Funny Face (1957) is a veritable smorgasbord of mid-century couture, with the photographer Richard Avedon and US Vogue editor-in-chief Diana Vreeland fictionally immortalised. The clothes are also stunning – as are the cinematography and graphic effects: Avedon himself consulted on the film and designed the title sequence. On release, however, the film bombed with critics and audiences.
I feel the same about Robert Altman's much-maligned 1994 fashion feature Prêt-à-Porter. At the time, Richard E  Grant's flappy, foppish, kiss-curled male version of Vivienne Westwood seemed like a stock character from Restoration comedy. It's still hammy, but it has a ring of truth to it – everyone has seen at least one documentary on a designer behaving in much the same way as Grant, and spouting similar drivel. "I think that my ideal woman has a bust, waist and hips," opines Grant in a backstage interview to Kim Basinger's fashion news anchor. "And, of course, legs. She doesn't have to have legs ... but, oh, it's wonderful if she does!" People sneered, but I've heard designers say much worse.
Perhaps that's the issue with these fashion features. You can't hope to take a stab at mass appeal: it will invariably be fashion trainspotters, well-informed amateurs, that form the vast majority of your audience. Part of the thrill of Prêt-à-Porter is the snippets of the actual autumn/winter 1994 Paris collections you get to see – Björk modelling for Jean Paul Gaultier, a few exits from Christian Lacroix, and pretty much the entire Vivienne Westwood collection, masquerading as that of her fictional counterpart Cort Romney.
The designers Xuly Bët and Cerruti 1881 provided the collections for the film's other designers, Cy Bianco and Simone Lowenthal, and just about every Parisian designer had a cameo (except Karl Lagerfeld, presumably saving it for his own 2007 documentary Lagerfeld Confidential). If you scour the credits of Eyes of Laura Mars (1978), the camp Faye Dunaway horror vehicle set around a controversial female fashion photographer, you  learn that it features photographs by Helmut Newton.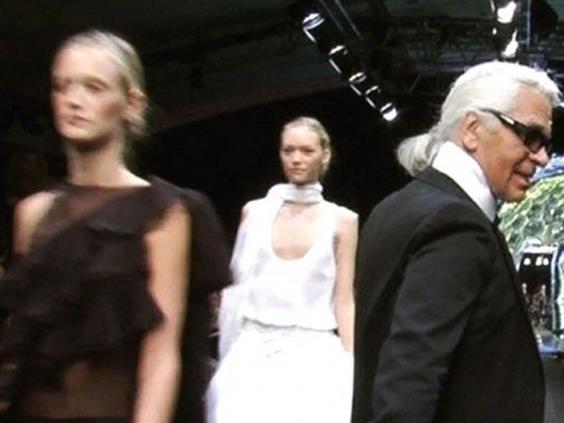 Despite my affection for it, the universally panned Prêt-à-Porter is probably the biggest crash-and-burn of the fashion feature films. The issue being, possibly, that Altman was on the outside, looking in. Like his audience, he probably had a few preconceptions about fashion – that it's vain, preening, self-obsessed. Some inside the industry think that too.
William Klein's 1966 art-house classic, Qui êtes vous, Polly Maggoo?, was his cynical, satirical, insider swipe at the fashion world. But it has stood the test of time because there was some truth behind it, packed as it was with real-life Sixties models such as saucer-eyed Peggy Moffitt, and shot with Klein's editorial eye. The fashions may have been fictitious – the metallic dresses were sound sculptures created by French artists the Baschet Brothers – but they raise a wry smile if you've seen the work of Pierre Cardin or Paco Rabanne.
Truth. That's what people are hoping for in fashion features – a real-life look behind doors firmly closed to all but the invited few. That's why today the fashion feature is, more likely than not, a documentary, following on the back of the unexpected, runaway success of The September Issue (2009), charting the behind-the-scenes goings-on at American Vogue.
"That movie broke ground because it was an insight into an industry in a way that was true to what the industry is" says the designer Thakoon – who himself featured prominently in The September Issue. Central to the appeal of said documentary was the relationship between editor Anna Wintour and creative director Grace Coddington – often strained, sometimes snippy, a power push-pull between two alpha females. It's that tension that makes both magazine and film great.
It's fair to say that Mademoiselle C is Roitfeld's remake. She obviously learnt salutary lessons from it: she doesn't share the limelight with anyone in this documentary. She even manages to upstage Andre J, a bearded drag queen whose sole purpose in one of the opening scenes is to look outré and declare: "You are a goddess to the people who follow fashion!" Hence, we see Carine styling, Carine editing the magazine with artfully furrowed brow, Carine walking through a barrage of flashbulbs to a waiting limousine.
There isn't much of Carine at her desk – she famously doesn't own a computer. She also confesses she doesn't know what to write when people ask her to state her "profession" at US customs. But Roitfeld and the documentary's director, Fabien Constant, seem to have airbrushed out the nastier moments – the truth – that gave The September Issue such bite. There's a little flattering vulnerability, but none of Wintour's signature hardness. Roitfeld must be tough too, to edit her own magazine. But she evidently doesn't want to show it.
The sheer proliferation of fashion-led documentaries  is what makes the extreme caricatures of films such as Zoolander (2001) seem outmoded – there's no honesty to those lampoons. Prêt-à-Porter, messy though it is, works because it's real, on some level. In truth, in Mademoiselle C, the fashion industry's reality is more faithfully caricatured than an outsider could ever imagine. Witness Roitfeld hurling goose feathers at the model Lara Stone, angel wings pinned on her back, or photographing a mocked-up deathbed scene with model Saskia de Brauw.
"Carine, I'm dying!" she shouts out – which is, and isn't, true. It's a scene straight out of Altman, as is Anna Wintour in The September Issue nixing a cover typeface with the acid declaration "It looks like it's for blind people."
You couldn't have scripted that.
'Madamoiselle C' is released on Friday