How to disarm your interviewer: when I enter Helen Hunt's hotel suite, there she is, dressed in a black pullover, skinny jeans and brown leather boots, knitting.
With a spare needle wedged in her blonde hair, the 49-year-old actress is killing the proverbial two birds: talking to me about her new film, The Sessions, and making a doll for Makena, her nine-year-old daughter from her long-term relationship with producer/writer Matthew Carnahan. Unexpected, but then Hunt's interview etiquette is a little rusty. "I haven't done a lot of this lately."
Indeed, it feels like Hunt's been absent from our screens for too long. Back in 2000, she was Hollywood's leading lady of choice – starring opposite Richard Gere (Dr T and the Women), Tom Hanks (Cast Away), Kevin Spacey (Pay It Forward) and Mel Gibson (What Women Want). But as the years passed, the roles got scarcer; to counter this, she wrote, directed and starred in 2007's midlife crisis film Then She Found Me, directed episodes of TV's Californication and took to the stage in a production of Thornton Wilder's Our Town.
Does this prove that age-old cliché about the paucity of parts for middle-aged actresses in Hollywood? "If it's true, I'm a little bit of denial," she says, "because I just have dealt with the possibility of that by being busy and writing things for myself and directing." When we speak, Hunt should be shooting her second film – "a love story between a mother and a son" that she's penned – but the funding didn't fall into place. "I am a person who has to do what I can do and let go of the rest. So I can't do anything about what comes my way but I can put something out there in the world."
Still, what did come her way was The Sessions. Hunt is among those competing for Best Supporting Actress at the Oscars. Already nominated in the same category by the Screen Actors Guild and the Independent Spirit Awards,  on Sunday night she will be up against Anne Hathaway and others in the Golden Globes. Is she prepared for the awards season onslaught? "I don't have any control over it," she says, the violent clacking of her needles hinting at her anxiety. "Look, I'm knitting as fast as I can!"
Hunt has been here before: in 1998, she walked away with an Oscar and Golden Globe for the James L Brooks comedy As Good as it Gets. But that was well within in her comfort zone, following her Emmy-winning seven-year stint on "newlywed" sitcom Mad About You. The Sessions is different. She plays Cheryl Cohen Greene, a real-life "sex surrogate" contacted by Mark O'Brien (John Hawkes), a polio-ravaged quadriplegic largely confined to an iron lung. A sharp-minded poet, the 38-year-old O'Brien is desperate to lose his virginity – which is where Greene comes in.
A certified sex educator and clinical sexologist, helping men with sexual issues, Greene's sessions include physical intimacy/ intercourse – though it's far removed from prostitution, notes Hunt. "A prostitute wants your return business and she doesn't. That says it all." She remembers her first telephone call with the real Greene, who is now in her late Sixties. "I called her and said, 'It's Helen Hunt, could we speak?' She said, 'Great, I'm just getting out of the shower, then I have a client, and I'll call you in two hours.' I hung up and went, 'Wait a minute, what? She's still doing this?' That told me something."
She calls Greene – also a grandmother and a cancer survivor – "a rock star" for her work, despite the obvious prejudices she's faced. "She says she's gone to seminars and people are yelling out 'Whore!'" What about Hunt – did she have reservations about a role that requires considerable nudity? "I certainly was not super-human and without any nerves about feeling exposed or judged for being a naked person. But whatever fears I had were smaller than my desire to be in it." It's not the first time she's bared her body on screen – notably in 1992's The Waterdance, which also dealt with disability. But, again, this is different. "My vagina has never been in a movie [before]," Hunt says, bluntly, "if we're going to go there."
Oddly enough, it was The Waterdance that would prove a watershed moment for the Los Angeles-born Hunt, who had spent her childhood in the rehearsal room, watching her acting-coach father Gordon Hunt direct theatre. Raised in New York from the age of three, her desire to act came quite by accident. "I have an aunt my age – my grandmother and mother were pregnant around the same time. And so I spent the summers with her. She went to ballet class, I went with her. She went to acting class, I went with her."
Gaining an agent, Hunt went from childhood roles (in a 1975 version of The Swiss Family Robinson) to 1980s shows like Knots Landing and St Elsewhere to Mad About You in the early Nineties. But despite "a million TV movies" on her CV, it wasn't until The Waterdance that she was able to make the break to feature films. Back then, there was a stigma about being a TV actress; now it's different, she says, with US television the current Holy Grail. "Everybody's all in a twitter about Homeland over here," she laughs. "It's great; it's just that there are six other great shows that aren't here [in the UK] yet."
She reels off a list of outstanding US shows to watch, including House of Lies, the drama set in a management-consultant firm created by her partner Carnahan (with whom she got together shortly after her year-long marriage to actor Hank Azaria collapsed in 2000).
Would she go back to television now? "In a minute," she says. Just not a life-sapping series like Mad About You, which took up 10 months every year. "Then you're not picking up your daughter from school". And that, as those clicking needles suggest, is where her real priorities lie.
'The Sessions' opens on 18 January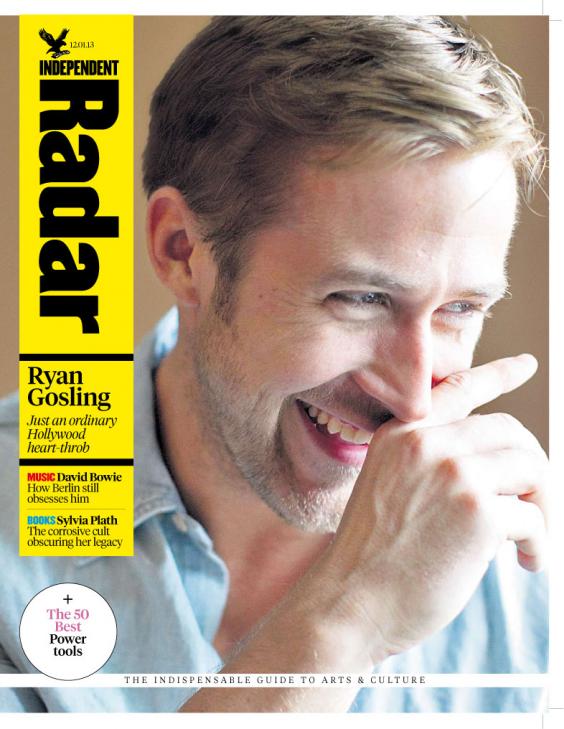 The article appears in tomorrow's print edition of Radar Magazine
Reuse content