It's already turning out to be some year for Terry Gilliam. His soon-to-be-released new film, The Zero Theorem, sees Christoph Waltz try to uncover the meaning of life; in June he takes his second stab at directing a Berlioz work for the English National Opera; there's the small matter of The Monty Python reunion; and then, to round off the year, his long-gestating The Man Who Killed Don Quixote, after the novel by Miguel de Cervantes, is due to go into production.
It's arguably been two decades since the bearded 73-year-old has been so culturally relevant – and Gilliam is reveling in the limelight.
It seems that the cultural landscape is currently attune with how the Python always looks at himself: "I usually try not to describe myself," he protests. "I don't want to know too much about myself, I just have to live with me, and that is enough. OK, if I'm honest, I think of myself as a 27-year-old guy and really cool. I walk down the street feeling young and nice and then I catch a reflection of this old fart walking down the street and I think 'Who the fuck is that?' – so there you go."
This acerbic wit runs through everything the animator-turned-director says. Gilliam has always cast himself as a bit of a rebel. Born in Minnesota, he spent his teenage years in Los Angeles, becoming fascinated with drawing and the counter-culture of the 1960s. He started a magazine called Fang and then worked in advertising. "The problem with being born an optimist is seeing all these negative things around you," he recalls. "Being born in America and growing up in the 60s, we genuinely believed that we would change the world and make it a better place; you do a certain amount, and we changed a lot, but then there are all these other things that go wrong. To me, it's always the things that need fixing that concern me, not the things that go wrong."
And it was this sentiment that led to the Monty Python reunion. Gilliam got involved with the troupe after growing disillusioned with America. He moved to England, and began animating sequences for the children's series Do Not Adjust Your Set. The show also featured Eric Idle, Terry Jones and Michael Palin. With the addition of John Cleese and Graham Chapman, they formed Monty Python, whose first television sketch show aired in 1969.
Originally, Gilliam was positioned as an outsider, listed as an animator on the end credits; but soon after, given the key role his animation played in lending the stream-of-consciousness comedy a visual identity(used on all subsequent LPs and films), he was officially endorsed as a fully-fledged member of the group – and even began acting in some sketches. The show ran for three series with the full line-up, and then for one half-season after the departure of Cleese, ending in 1974. Strangely enough, the end of the BBC series marked the rise of the troupe. They took off in America and three original Python movies followed – the first of which saw Gilliam make his move into feature-film directing. In 1975, he co-directed Monty Python and the Holy Grail alongside Jones.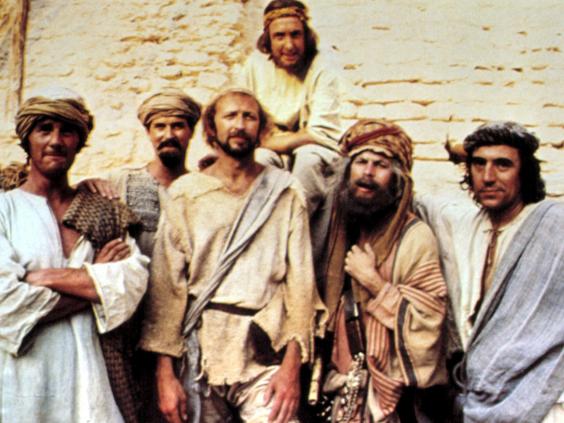 The movies and occasional charity stage appearances did little to mask the fact that the troupe struggled to get along. Chapman died in 1989 – and that seemed to put an end to the idea of formal reunions. On the DVD of The Meaning of Life, released in 1999 to commemorate 30 years of the collective, Cleese stated, "It's impossible to get even a majority of us together in a room, and I'm not joking."
The problem, he said, was down to business. And it was business that brought them back together. "We had to get together because we were involved in a court case in London and we lost," says Gilliam about the High Court decision which deemed that the Holy Grail producer Mark Forstater was entitled to greater proceeds of the Spamalot musical than he had been receiving. "We had to get together to decide what to do. We decided to change our management. We suddenly realised that we had a big debt – and the idea came up that we could make some quick money by going back on stage; and that's what happened."
Gilliam's wife of 40 years and mother of their three children, Maggie Weston, questioned the decision. She's also probably as sick as a parrot of hearing about all the infighting. "She thought it was a bad idea. Who wants to see a bunch of 70-year-old men being funny?" The first show sold out in 43 seconds and nine more were soon added.
But it seems that the Pythons will quit while they are ahead, and there will be no more tours or a movie. "The reason we haven't done a movie is that it takes months and months of being together; the show will only be three weeks together."
Python royalties have meant that Gilliam can be selective about what he elects to make as a film-maker – and he only takes jobs where he has the final cut. But he understands money problems: "I don't have money problems myself because I've always lived with whatever I've had. I've never been in debt in my life, ever, even when I was a student. That's the thing – once I'm in debt, someone controls me. The Python thing is other people's money problems, not mine. The problem I have with the money thing is film budgets: films cost millions of dollars. My stuff, because of the visuals and the ideas, is more expensive than a simple film of two people in love in a flat. They cost money and that is my problem."
Having said that, The Zero Theorem is the lowest budget that Gilliam has worked with since Time Bandits in 1981. It came together quickly, after several other projects Gilliam had been working on collapsed. That's nothing new to the director, who is the star of Lost in La Mancha, a video diary of how his plans to make The Man Who Killed Don Quixote with Johnny Depp collapsed during the shoot. Gilliam also had to cope with the death of Heath Ledger, who was on a hiatus from filming The Imaginarium of Doctor Parnassus when he died.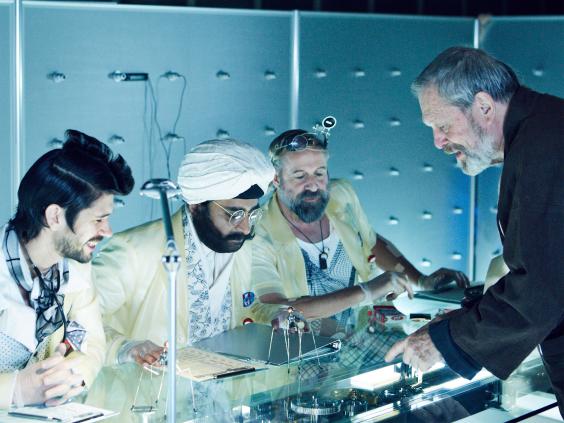 "The script for The Zero Theorem first came to me five years ago and I was intrigued because it was full of loads of interesting ideas that seemed to come from every film that I've made. Then I ended up not doing it and it floated away," says the director. "Then in June last year, when everything collapsed on Quixote again, my director said, 'Why not The Zero Theorem?' At first I didn't do much. I said I'm not directing this film; I'm decorating it. The world that was written was dark and oppressive; I wanted to make it colourful and bright with people zipping around on skateboards." Within four months, Gilliam was in Bucharest filming.
The key was the casting of Christoph Waltz in the lead role. "I met him briefly a couple of years before at the Baftas, and we said we had to work together. I said, 'Listen Christoph – you are never off-screen, you're the movie. We'll make the film work around you.' And that's what we did. It was great."
It all sounds remarkably smooth – but Gilliam scoffs at the idea: "It was a nightmare. We had 36 days – after that, Christoph was gone. That was the end of it. We had a short preparation time, and didn't have the money I needed. Towards the end we shot for eight days straight and people were falling asleep on set. It was horrible."
Gilliam is looking forward to tackling Berlioz again. Having made an auspicious debut at the ENO with The Damnation of Faust in 2011 he is now tackling Benvenuto Cellini. "I love Berlioz's music. He is crazy. I really identify with him, because I understand the music; it is telling me how he sees the world. He is very good, he is very political, he has a lot of good ideas – maybe he has too many ideas. Now I sound like I'm a critic writing about my work..."
Opera also seems to enrage him as much as it fascinates him: "It makes me screaming mad. The problems with opera are very complex and big and you can't make a living doing opera. You spend a year working on it and then it has just 10 performances. Financially, it makes no sense."
As for getting Quixote off the ground later this year, the only thing he will reveal is that "Johnny Depp is not in it any more, he's too old. I have some people in mind, but I'm not going to tell you."
'The Zero Theorem' is released tomorrow; 'Benvenuto Cellini', London Coliseum (020 7845 9300) 5 to 27 June; Monty Python Live (Mostly): One Down, Five to Go, O2 Arena, London SE10 (0844 856 0202) 1 to 5 & 15 to 20 July
Reuse content