With memories still raw of phone-hacking and the Leveson inquiry, the British cinema-going public might feel less than enthusiastic about a new film which lionises newspaper journalists.
Widely tipped for success at next month's Oscars, Spotlight posits the idea that the Catholic Church's global cover-up of institutionalised paedophilia is not simply a monumental criminal scandal; the story was also a triumph for dogged and inky-fingered press reporters.
The film centres on the Spotlight investigative team at The Boston Globe, which in 2002 tore down a decades-old veil to reveal that the city's church officials were protecting more than 70 child-abusing priests. In one year, the reporters wrote 600 stories, detailing the suffering of thousands of victims, and the scandal took on worldwide proportions.
With the regulation of the British press still an unsettled business, Spotlight is a forthright and opportune depiction of the public value of the best investigative journalism. It captures the multiple obstacles in a dirt-digging reporter's path; the liars, the bureaucrats, and the scared witnesses, who conspire to keep matters secret.
It highlights the internal moral wrangling over what makes news. It is as intricately researched as the finest investigation and thus realistic, resisting the temptation to overstate the theatricality of a newsroom.
Most of all, it is superbly acted with Mark Ruffalo, Michael Keaton, and Rachel McAdams in starring roles as Spotlight reporters Michael Rezendes, Walter "Robby" Robinson and Sacha Pfeiffer. The effect is that we find ourselves willing these journalistic sleuths on with an empathy normally associated with cop dramas and others championing public servants. 
In the United States, Spotlight is the latest entry to the long and noble tradition, a genre almost, of newsroom movies. It began affectionately in the early days of Hollywood talkies when producers saw journalists as the perfect patter-heavy anchors for screwball comedy. There was 1931's The Front Page, produced by Howard Hughes; 1934's It Happened One Night, with Clark Gable as the reporter hero; and 1940's His Girl Friday, starring Cary Grant as a hard-nosed editor to Rosalind Russell's female star reporter.
The films you'd expect to have won Best Picture that haven't
The films you'd expect to have won Best Picture that haven't
1/15 Citizen Kane (1941)

Long revered as one of the greatest films ever made, Orson Welles' debut - a film à clef focused on tycoon Charles Foster Kane - was just another nominee back in the day, losing out to How Green Was My Valley.

2/15 Vertigo (1958)

Not only did Alfred Hitchcock never win an Oscar (save for his memorial award in 1968), neither did any of his films - one of which is Vertigo, a classic that won Sight & Sound's once-a-decade greatest films of all time poll in 2012.

3/15 The Graduate (1967)

One of the films that kickstarted the New Hollywood Cinema, The Graduate may have won director Mike Nichols an Oscar, but ultimately lost out to Norman Jewison's In the Heat of the night.

4/15 2001: A Space Odyssey (1968)

The crème de la crème of Hollywood filmmakers would have you believe that Stanley Kubrick's sci-fi classic remains one of the most influential pieces of cinema there is. The Academy didn't agree, however, nominating Kubrick for Best Director and awarding the visual effects in favour of even considering 2001 for Best Picture.

5/15 Taxi Driver (1976)

Despite not winning the main award, the Academy showed they had good intentions by nominating Taxi Driver in four categories - that both All the President's Men and Network also lost out to eventual winner Rocky shows that, ultimately, it never really stood a chance.

6/15 Apocalypse Now (1979)

Francis Ford Coppola's ambitious Vietnam War epic received a grand total of eight nominations, but only went home with two prizes (for cinematography and sound) losing out to drama Kramer vs. Kramer.

7/15 Raging Bull (1980)

Of all the Oscar blows dealt to Martin Scorsese over the decades, none landed harder than Raging Bull's losing out to Robert Redford's weepie Ordinary People, an oversight many consider one of the Academy's most infamous.

8/15 Blade Runner

Another sci-fi classic overlooked by Oscar was the hugely influential Blade Runner which didn't even get nominated in the Best Picture category. That Ridley Scott's latest sci-fi The Martian received seven nominations could signal how the Academy are finally taking responsibility for their past errors.

9/15 Goodfellas (1990)

Having awarded both The Godfather parts I and II Best Picture in 1972 and 1974 respectively, you'd think Scorsese's gangster classic stood half a chance; but no - Kevin Costner's directorial debut Dances With Wolves was the most appealing choice for voters.

2012 Getty Images

10/15 Pulp Fiction (1994)

New talent on the block Quentin Tarantino's second feature won him the coveted Palme d'Or at Cannes - a success he failed to match back on home turf; while he won an Original Screenplay Oscar, Pulp Fiction got beat by Forrest Gump.

11/15 The Shawshank Redemption (1994)

...and it wasn't the only one. Frank Darabont's adaptation of Stephen King's prison-set novella The Shawshank Redemption also fell victim to Robert Zemeckis' Oscar-friendly Forrest Gump. We don't see that film sitting atop the IMDB top 250 though, do we?

12/15 Fargo (1996)

You may think it was remiss of the Academy to shun Fargo but it did come pretty close to winning, its chances bolstered somewhat by seven nominations and two wins (Actress for Frances McDormand and Original Screenplay for the Coen Brothers). It lost out to The English Patient.

13/15 Saving Private Ryan (1998)

Having won Best Director five years previous for Schindler's List, everybody expected Steven Spielberg's next war epic to scoop all the top awards. Cue Shakespeare In Love upsetting the establishment.

14/15 The Social Network (2010)

David Fincher's generational Facebook drama got shunned in favour of British patriotism in an Oscar two-horse race for the ages that ultimately saw The King's Speech crowned winner.

15/15 Boyhood (2014)

For last year's Oscar race, you were either team Birdman or team Boyhood (not forgetting outside bet Whiplash, of course). Each represented a different facet of movie-making that posited them as favourites; that Richard Linklater's labour of love - shot intermittently over 12 years - failed to win may still come as a surprise.
The high-water mark of the American film industry's infatuation with the press and its manners and language was Orson Welles' Citizen Kane, made in 1941 and inspired by the life of newspaper magnate William Randolph Hearst.
Following Kane's unflattering portrait of the industry, however, the land of the First Amendment seemed ever less enamoured with the prints, at least in terms of their portrayal in celluloid. Kirk Douglas was a cynical and exploitative press reporter in Billy Wilder's Ace in the Hole (1951). Burt Lancaster starred as JJ Hunsecker, an unethical columnist with a dubious relationship with the PR world, in 1957's Sweet Smell of Success.
But Watergate turned that around. All the President's Men (1974), the story of how Washington Post investigators Bob Woodward and Carl Bernstein brought down Richard Nixon, helped make the acting reputations of Robert Redford and Dustin Hoffman and recruited a new generation of idealistic young journalists, convinced they could hold the powerful to account.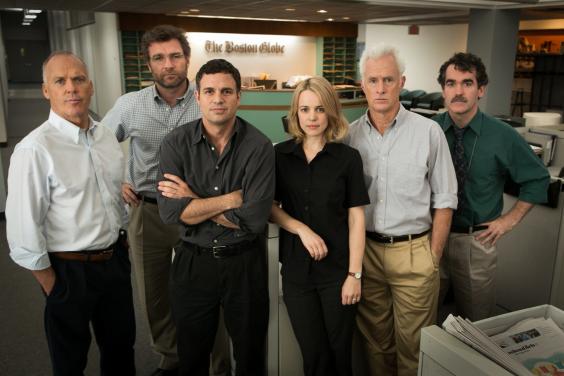 A more comic ode to the fourth estate was Ron Howard's 1994 film The Paper, a portrayal of life on a New York tabloid which also featured Michael Keaton, this time as a workaholic metro editor. Keaton's performance persuaded Tom McCarthy, the director of Spotlight, to cast him as the Globe's Robinson who, incidentally, also rates The Paper as a favourite.
McCarthy has said his intention with Spotlight, similarly to these two films, was "to craft a cinematic love letter to long-form journalism". This comes in the wake of newspapers' turbulent transition into the digital age – a transition well-documented, incidentally, in the 2011 feature length documentary Page One, which explored life at The New York Times.
Yet could we expect an equivalent love letter on these shores? It's doubtful, thanks to the different place occupied by journalism – and newspapers especially – in the respective cultures of America and Britain.
Asked to name a favourite Fleet Street screen portrayal, most British hacks would probably plump for 1986's Defence of the Realm, starring Gabriel Byrne as a reporter exposing nuclear secrets, or the early Noughties BBC TV series State of Play, written by Paul Abbott, about journalists at mythical British paper The Herald trying to unravel a Westminster conspiracy.
However, by and large, British journalists, characterised in the public imagination by the red-top press, are taken less seriously than the Americans. Their culture is more often associated with the kind shown in Channel 4 comedy Drop the Dead Donkey, which is ironically set in a TV newsroom with the sort of tabloid values that are unrecognisable in British broadcasting but familiar in the US.
Satire is perhaps inevitable when journalists are often driven by egotism rather than altruism. More is on its way. Screening on Gold on Wednesday, The Comic Strip Presents …The Red Top! is a 75-minute television film featuring Nigel Planer as Rupert Murdoch and Maxine Peake in the star role as Rebekah Brooks.
Inspired by the hacking scandal (in which Ms Brooks was cleared), it  will reportedly see Brooks get "caught up in a Watergate-style scandal".
Fleet Street might struggle to raise a smile. In the credibility stakes, it's almost the antithesis of All the President's Men. Hacking is also the theme for a planned George Clooney-directed movie based on the book Hack Attack by Guardian journalist Nick Davies, who led on the hacking story. Davies was also featured in 2013's The Fifth Estate, based on the Wikileaks affair.
For a more inspirational portrayal of the power of British investigative journalism, you're better off with the remarkable Attacking the Devil, which is released on Friday. It details The Sunday Times's Insight investigative unit's 1972 exposure of the scandal of children born with malformed limbs to mothers given the Thalidomide drug for morning sickness.
The documentary is also a story of how a brilliant editor – Sir Harold Evans, in this case – can change the world. The phrase "Attacking the Devil" was a description of reporting which Evans borrowed from the great journalistic pioneer WT Stead. Both were campaigning editors of The Northern Echo, where Evans first dared to shine a light on the Thalidomide scandal. 
Sir Harold makes for as fine a champion of journalism as Hollywood could imagine. In the film, David Mason, a parent of a daughter with Thalidomide, emotionally recalls how Evans told him "I want to show you the power of the press", before taking him into the print room.
"He said: 'You see that button, push it!' And all these papers just poured off." The editor handed Mason one of the first copies of an edition carrying the headline "Our Thalidomide Children: A Cause for National Shame." The courageous reporting was pivotal in achieving justice for the families who had previously been ignored.
Such films give important reminders of the press as a powerful force for good. But one of Spotlight's other lessons is that stories get missed – the Globe was reporting on historic abuse that it had previously under-reported. With so many newspapers in decline, it prompts the question: what other scandals are escaping attention?
McCarthy's motivation in making the movie was to highlight the threat to such journalistic detective work posed by the chronic economic conditions facing the press. "I'm extremely concerned with how little high-end investigative journalism is out there right now compared to what we had 15 years ago," he has said.
The BBC is making its own newspaper blockbuster this year. Screened over six hours, The Press will attempt to capture newsroom life in the Leveson era.
Writer Mike Bartlett, creator of the excellent BBC1 drama Doctor Foster, has talked of newspaper journalists as "a group of diverse and troubled people" and notes that "recent events have shown there's high stakes and life-changing drama going on in the news organisations themselves". I hope the BBC, just like the makers of Spotlight, also finds a way to show the good that newspapers do.
'Spotlight' goes on general release on 29 Jan
Reuse content