During his downtime from shooting The Hunger Games in Atlanta, Georgia, Josh Hutcherson would go to the park and join in with games of football, or soccer as the American calls it: "I always think if I was in their position, how weird it would be. You know? Just in the park playing a normal soccer game in Atlanta, and all of a sudden, like, 'Wait, is that fucking Peeta, coming to play? What the hell is he doing here?'"
The 22-year-old Chelsea fan laughs, before adding, "That would be so weird. Sometimes me and Woody [Harrelson] would go and play pick-up games – Woody loves to play soccer too – and it's just a weird thing to be a part of it."
It's a typical gesture from the actor, who seems determined to make the ordinary out of the  extraordinary. Indeed, he's so mild-mannered and down-to-earth, that it's hard to think of him as being the star of the biggest franchise to hit our screens this year.  As soon as he's recognised on the field, and it doesn't take long, he says he has to work twice as hard to prove himself: "You've got a target on your back, that's for sure. 'I  wanna try to take him down.' You have to be careful."
He should be used to coming under attack by now. Peeta Mellark, his character in The Hunger  Games, is a contestant in a game in which the victor is whoever doesn't get killed. Although he and Katniss, played by Jennifer Lawrence, at the end of the first film both survive after a rule change works to their benefit. They fake a love story and must endear themselves to television viewers, Big Brother-style. It's easy to imagine that were Hutcherson to subject himself to a reality show, such as I'm a Celebrity… Get Me Out of Here! ,he would have no problems with winning over voters, he's incredibly likeable with seemingly no airs and graces.
The Hunger Games: Mockingjay Part 1
The Hunger Games: Mockingjay Part 1
1/6 The Hunger Games: Mockingjay Part 1

Jennifer Lawrence plays Katniss Everdeen

Lionsgate

2/6 The Hunger Games: Mockingjay Part 1

Jennifer Lawrence and Liam Hemsworth

Lionsgate

3/6 The Hunger Games: Mockingjay Part 1

Jennifer Lawrence plays Katniss Everdeen

Lionsgate

4/6 The Hunger Games: Mockingjay Part 1

Game of Thrones actress Natalie Dormer plays resident director from the Capitol, Cressida

Lionsgate

5/6 The Hunger Games: Mockingjay Part 1

Liam Hemsworth plays Gale Hawthorne

Lionsgate

6/6 The Hunger Games: Mockingjay Part 1

Jennifer Lawrence plays Katniss Everdeen

Lionsgate
He plays a straight card when I ask him about the naked photographs of his co-star Lawrence, which were stolen and put on the internet. Like any good sportsman, he's determined to defend his team. "But I don't want to talk about it because I'm not here to talk about that, but it's horrible and disgusting that people need to invade other people's privacy the way they do. It's fucking horrible and it makes me angry."
This year The Hunger Games also had to contend with the death of Philip Seymour Hoffman, who died during the shooting of the final two Hunger Games films. A studio executive reported that he had one major emotional scene in Part 2 left to shoot. As with the final book of the Harry Potter franchise, the final episode of the Hunger Games trilogy has been split into two films: Mockingjay, Part 1 and Part 2, which is scheduled to come out in November next year.
The splitting of the book into two films has met with the approval of the 22-year-old. Hutcherson is extremely adept at saying all the right things when necessary, but he doesn't hide the fact that he'd rather just concentrate on talking about himself, and the film at hand. "It's annoying, I don't want it to be, I'm not a PR person, I'm an actor. I want to make movies and tell stories and all the auxiliary things that come from The Hunger Games can be frustrating at times, but I think the good far outweigh the bad."

The actor has been put right into the middle of fan culture. He is an icon. Yet he finds some of the reactions bizarre, "It's weird when people cry. Tears falling down their cheeks and you're like I'm sorry I don't want to make you cry. Shall I go now? I don't know what to do. It's uncomfortable."
He hopes that the tears will dry as he graduates from young adult films. It's a natural process that as actors get older they don't want to be stuck doing teen movies. Yet Hutcherson is still young, and looks younger and could get away with playing teenagers for sometime yet, but it's with some relish that he says, "I think I've had my share of young adult movies. It's been great in many ways, but it's time to move on."
And what Hutcherson wants he usually gets. He was only four years old when the Kentucky native announced to his parents that he wanted to be an actor. Initially, his flight attendant mother, and his father, an analyst at an environmental agency, didn't want him to act. Nonetheless, aged nine, he was on the phone to an agent in Los Angeles trying to get an acting gig.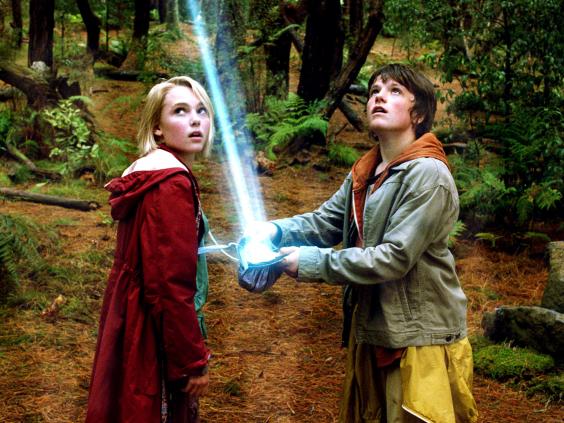 He was an immediate success, winning roles on television, before the character Hero Boy was created using motion capture from his facial expressions and body movements in Polar Express. More prominent film roles in Little Manhattan, Bridge to Terabithia and 2008 remake of Journey to the Centre of the Earth followed. But it was his nuanced role playing the adopted son of a same sex couple searching for his biological father in The Kids Are All Right that demonstrated that he was more than just another flash in the pan child actor.
He's already made his first inroads into more adult fare. He stars in Escobar: Paradise Lost, in which Benicio del Toro plays the Colombian drug baron and Hutcherson plays an American who dates Pablo Escobar's daughter and becomes part of his inner circle. It's based on truth in the most loose sense of the word, as its director Andrea Di Stefano takes liberties with stories he's heard and read about the drugs baron and takes them on a thrilling and dramatic roller coaster ride to wildly entertaining hokum.
"I was nervous," says Hutcherson about playing Nick. "It was the most pressure I've had in a film to perform and execute at a high level. A lot of the plot rides on my character and if I sucked it was going to be so bad. Andrea was the biggest help, he had so much confidence in me."
It was also a chance for him to act alongside Del Toro. The Academy Award winner had cast Hutcherson in a short film that he made as part of the 7 Days in Havana project.
The very fact that the young actor was willing as an American citizen to go to Cuba just highlights his sense of adventure. This desire to take an unusual route makes him a kindred spirit with Del Toro, despite how unlikely that seems, the clean-cut American and the Latino with a twinkle in his eyes. Although Hutcherson admits,  "I still don't understand Benicio, but you can try to… I choose to trust Benicio."
As for drugs in Hollywood, he says, "I'm aware of it definitely. It's something that is all around, but you can choose to be in it or not and it's all about surrounding yourself with the right kind  of people. For me I want to live and experience life and have a good time and everything but all in moderation."
His conversation is peppered with irony,  which he uses to create humour whenever the opportunity presents itself. Asked how he copes with the pressure of being the star of a Hollywood franchise he quips, "A lot of drugs." Before adding, "I don't feel pressure, everybody is talking about it so maybe I should. I feel really comfortable and relaxed, and where my career goes, it goes, and if people stop hiring me then I'll find a way to stay happy and do something else I love. I want to produce and direct."
He's already created a production company with his mother to achieve that goal and judging by how everything else has gone in his career, it'll be no surprise if it's soon flying high.
'The Hunger Games: Mockingjay, Part 1' is out on 20 November; 'Escobar' is out next year
Reuse content