According to JK Simmons, "Being evil is easy." A more accurate statement would be that the actor makes acting evil look easy. He would have scared Hitler with his turn as the neo-Nazi Vernon Schillinger in the HBO prison drama Oz. Playing newspaper editor J Jonah Jameson in Sam Raimi's Spider-Man trilogy, he only needed to raise an eyebrow to make pens quiver. Now, as teacher and conductor Terence Fletcher in the sensational musical drama Whiplash, he takes it to the next level: just a quick wave of his arm is enough to frighten sound waves into silence.
Playing the authority figure has come about more by accident than design, he says. "I am who I am. I have a low voice and I look like somebody's dad, or boss, or a police chief, and those roles come my way. Luckily, within that universe there are enough differences in those characters and the style of those pieces to keep it interesting."
Baftas 2015 nominees
Baftas 2015 nominees
1/20 Baftas 2015 nominees

Rosamund Pike plays over-achieving Ivy League graduate Amy Dunne in Gone Girl and is nominated for leading actress

Fox

2/20 Baftas 2015 nominees

Michael Keaton (left) with Edward Norton in existential comedy Birdman - Keaton is up for leading actor

AP

3/20 Baftas 2015 nominees

Julianne Moore receives a devastating diagnosis as linguistics professor Alice Howland in Still Alice - she has been nominated for leading actress

4/20 Baftas 2015 nominees

Benedict Cumberbatch is up for leading actor for his role as code-breaker Alan Turing in The Imitation Game

Snap Stills/REX

5/20 Baftas 2015 nominees

Reese Witherspoon has earned a Baftas leading actress nod for her adventurous role in Wild

6/20 Baftas 2015 nominees

Jake Gyllenhaal in plays a creepy journalist in Nightcrawler and is up leading actor

AP

7/20 Baftas 2015 nominees

Amy Adams is nominated for leading actress for her role alongside Christoph Waltz in Tim Burton's Big Eyes

8/20 Baftas 2015 nominees

Eddie Redmayne is nominated for leading actor for his portrayal of physicist Stephen Hawking in The Theory of Everything

Universal

9/20 Baftas 2015 nominees

Felicity Jones plays Stephen Hawking's wife Jane Wilde in The Theory of Everything and is up for leading actress

AP

10/20 Baftas 2015 nominees

Ralph Fiennes has a leading actor Baftas nod for Wes Anderson's The Grand Budapest Hotel

11/20 Baftas 2015 nominees

Patricia Arquette has a Bafta supporting actress nomination for her performance in Boyhood

12/20 Baftas 2015 nominees

J.K. Simmons stars as an abusive tutor alongside Miles Teller in Whiplash

Sony Pictures Classics

13/20 Baftas 2015 nominees

Keira Knightley is nominated for supporting actress for her role in The Imitation Game

Hand out press photograph/film still from the movie Imitation Game/downloaded from Papicselect

14/20 Baftas 2015 nominees

Ethan Hawke has a supporting actor nod for his performance in Richard Linklater's Boyhood.

UPI Media

15/20 Baftas 2015 nominees

Emma Stone is up for supporting actress for playing Sam in Birdman

16/20 Baftas 2015 nominees

Mark Ruffalo is up for supporting actor for his performance alongside Channing Tatum in wrestling drama Foxcatcher

17/20 Baftas 2015 nominees

Rene Russo is nominated for supporting actress for her role as Nina Romina in Nightcrawler

Chuck Zlotnick/© 2014 Open Road Films/The Hollywood Archive

18/20 Baftas 2015 nominees

Michael Keaton and Edward Norton star in Alejandro González Iñárritu's Birdman - Norton is up for supporting actor

Rex Features

19/20 Baftas 2015 nominees

Imelda Staunton (centre) with Liz White and Nia Gwynne in Pride - Staunton is up for supporting actress at the Baftas

20/20 Baftas 2015 nominees

Steve Carell is nominated for supporting actor for his role as John du Pont in Foxcatcher
Off-screen, Simmons comes across as more avuncular than authoritarian. The remarkable  facility that he has for delivering commanding monologues is evident, yet there is also a softness and a sincerity in him. "It's interesting playing a lot of authority figures after my own transition. When I was in high school, I went from being one of the jocks to being one of the revolutionary hippie types. I've had a contemptuous relationship with authority throughout my life. I found myself at odds with authority and I'm disdainful of blind authority."
His dream is to get away from typecasting:  "I would like to find, or I would like a part to come to me that is like the part that Dennis Franz was fortunate to be able to play on NYPD Blue, a sort of similar-looking actor to me, a generic bald, white guy who you would often think of as playing the authority figure. But he was the disgruntled middle-man. That would be a fun character."
In Whiplash, he plays Terence Fletcher, a music teacher at a top conservatory who dreams of inspiring one of his students to be the next Charlie Parker. Unfortunately for his pupils, he also believes that Parker only became "Bird", the greatest jazz musician of all time, because one night in 1937 he was performing below standard and the drummer Jo Jones threw a cymbal at his head on stage. Fletcher recounts how instead of licking his wounds, Parker went away to practise, practised some more, and then re-emerged with the greatest saxophone solo ever played. Fletcher thinks nothing of drawing blood from his students, throwing chairs and screaming – a whole lot of screaming is involved. But, as long as the awards for the big band keep coming in, everyone seems happy to indulge his methods.
It is a role that Simmons seems to have been destined to play, a perfect storm of his different life experiences coming together. The first time he met with the director of Whiplash, Damien Chazelle, in a restaurant in Los Angeles, he says, "Damien felt like he still had to pitch the project to me. He said, 'I don't want you to worry about the conducting side of things, as we'll have a coach.' I said, 'I studied conducting and have  a degree in music.'"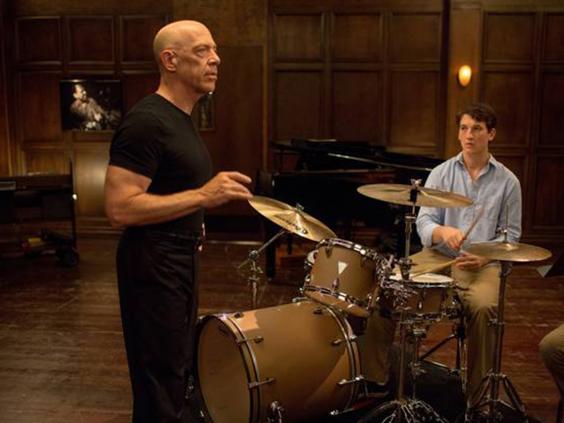 Simmons's father and sister are both teachers, and his brother is a singer-songwriter. Born in Detroit in 1955, he started out in musical theatre, appearing on Broadway in Guys and Dolls in 1992. It was while appearing with Nathan Lane in New York and hearing actors talk about film roles that Simmons made a conscious decision to try and segue into film. He was 37 and in need of better wages, and he told his agent to concentrate on getting him movies. There followed a slow build, mixing theatre and film, before Sam Raimi cast him as the sheriff in The Gift in 2000 and the actor found his niche.
Simmons cites Raimi, the Coen brothers and Jason Reitman as directors he would always work with, although the first time he auditioned for the Coens he didn't get the job. "I auditioned for O Brother, Where Art Thou? As has been the case for most of their films, I auditioned for multiple roles, and they ended up being interested in me for a part that I didn't want at the time because I was doing Oz and the part was to be a racist southern guy and I just thought, I have to get away from that character. They never even offered it to me, but that was the one that they were leaning towards." He appeared in The Ladykillers before going on to deliver one of his most memorable performances, despite only being in two scenes, as a perplexed CIA boss in the black comedy Burn after Reading.
Whiplash has won a plethora of awards, but the big winner looks likely to be Simmons. In a crowded Best Supporting Actor Oscar field that will likely feature Ethan Hawke from Boyhood and Mark Ruffalo for Foxcatcher, Simmons is considered an overwhelming favourite by the bookies. This morning he was given the nod for best supporting actor Bafta. "Honestly, my entire life, I've been dismissive  of the concept of awards for artistic ventures," declares Simmons. "Ever since my father was a choir conductor and was leaving for the weekend to adjudicate a choir competition when I was a nine-year-old kid playing little league baseball and I wanted my dad to watch the game, and he didn't come."
He wouldn't be so presumptuous as to have a speech ready, but he does offer the following  anecdote. "Adam Arkin – Alan Arkin's son – is  a good friend of mine. And he said that his dad was always disdainful of the concept of awards. But he planned his Oscar speech and the speech he planned to say was ,'I think awards for the arts are ridiculous, meaningless and stupid. Having said that, this is the greatest day of my life.'"
Simmons has just completed a small role in the new Terminator movie, which he describes as  a re-imagining rather than a sequel or a reboot. He says that he's been assured that the part will be bigger in future films. Having been in the Spider-Man trilogy, does he think franchise  movies are good for cinema? "Well, they are good at making money. Honestly, truth be told, right down the street here we have The Hunger Games part 1 of part 3 going on, and I read those books with my kids and we've been interested in the films and they have been well made and I've been very proud of the Spider-Man movies. As far as the business model of the franchise goes, there are aspects of it that I find disconcerting, but ultimately I try and take each film on their merits or lack of and try not to prejudge, try not to judge at all. How's that for a non-answer?"
As a father, does he give faint praise or have the exacting standards of Fletcher? "I have kids, 15 and 12. I started late with parenting, and I'm as guilty as many parents of this generation are of over-praising minor accomplishments. When your three-year-old slides downs the slide, 'Good job.' I find myself doing that, and I want to stop but I can't because I love this kid."
In other words, no matter how stern he seems to be on screen, he'll always be a hippie at heart.
'Whiplash' is released on 16 January
Reuse content