"I've always been more afraid of picking up a gun than taking my clothes off," announces Juno Temple between sips of a "very nice morning coffee", made with homemade almond milk, no less. "But I don't like gratuitous nudity because it distracts people. If there's a great speech being delivered and a beautiful pair of boobs, you're going to look at those boobs."
She takes all her clothes off (artfully so, and certainly not for the first time) in Afternoon Delight, the first of a veritable barrage of Temple this spring/summer. Directed by Jill Soloway, best known as the TV producer behind Six Feet Under and United States of Tara, the female-centric cautionary tale for both sexes won the Dramatic Directing Award at Sundance last year. It revolves around Temple's character, McKenna, who ponders trading her life as a stripper (and the rest) for one as a semi-respectable pseudo-nanny for Rachel (Kathryn Hahn) and her wealthy family.
"From the beginning the excitement was reading this incredibly brave story about women, coming from the mind of such a smart, sexy, powerful, intelligent woman as Jill. Having a conductor like her was such a blessing." One of her most intimate scenes, in which McKenna gives Rachel a lapdance, was filmed "pretty early on and I was beyond nervous", says Temple. "But Kathryn is literally one of my favourite women in the entire universe. If I'd fallen flat on my face she'd have been there to cuddle me."
Far from falling flat on her face, Temple has not put a foot wrong since she committed (for now anyway) to a life in Los Angeles, far from the madding crowd of upper-class girls on her early résumé. She lived in LA until she was four and then grew up in a 16th-century house in Somerset, attending weekly boarding school in Taunton and later, Bedales in Hampshire for her A levels in textiles and drama. She has appeared in both St Trinian's remakes and the boarding school drama Cracks, and recently filmed a new version of Thomas Hardy's Far from the Madding Crowd, opposite Carey Mulligan. These days, though, she is more likely to be found in an LA indie production than a period drama. "I love independent films and, based out of LA, you get sent so many great scripts. There might be no money but like this one, they can turn out to be such a delight."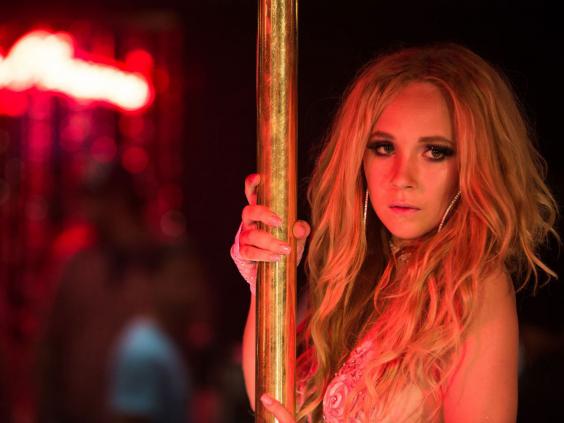 In Hollywood she is homesick not for places but "for people". Her parents are Julien, the famed film and music video director and Amanda Pirie, a producer and she has two younger brothers. "I miss my family desperately. I'm a very family-oriented person. But LA feels like a safe place because my godparents are here and my parents know it. Sometimes I'll say, 'I'm going to this restaurant or that bar on this street'. They'll say, 'We remember being there'. It makes me feel safer." Four years ago she gave her father an unconventional present for Father's day, a tattoo on her ribcage that reads "learning to fly". "It's my favourite Tom Petty song and my dad directed the music video. He is definitely always teaching me how to go and fly off in the wild."
She was living in LA with her parents when she discovered her passion for film, even if she didn't quite understand it at the time. Is it really true that aged four she watched Jean Cocteau's La Belle et la Bête and became obsessed with acting? "I promise you! You could ask my father. I even remember the couch I was sitting on. It changed my life. My parents weren't surprised when I said I wanted to act although I did go deep into the fashion world for a minute. I was obsessed with making clothes, still am, and with lingerie."
In 2006 her mother heard about an open call for Notes on a Scandal, for the role of Cate Blanchett's daughter. "She said, 'Juno, if you want to do this, you need to see how many other people want to do it too.'" Temple beat those many others and to a role in Atonement the following year, too.
Next month, Temple will be seen in the psychological horror film Magic Magic, directed by Sebastián Silva, and in May, in Maleficent, Disney's huge-budget Sleeping Beauty rework, starring Angelina Jolie. In August, she will star in Robert Rodriguez's long-awaited sequel to Sin City, Sin City: A Dame to Kill For, and she was recently announced as one of the cast in HBO's untitled Seventies-set rock'n'roll project for HBO, produced by Martin Scorsese and Mick Jagger. "That was a huge moment," she says. "My boyfriend [the actor Michael Angarano] guessed before I did because he heard me talking on the phone very quickly, not really listening and getting confused. I did go and read for Scorsese and I don't think I have ever been more nervous or more excited in my whole life."

That she is a minuscule pixie in Maleficent and something rather more sexual in the other two (we presume, she's not sure what she's allowed to say about either) is fitting for Temple who both looks and sounds younger than her 24 years. Those years have not encompassed drama school. She trained on the job and has made at least 19 films in the last four years, including Lovelace, the biopic of porn star Linda Lovelace, Killer Joe with Matthew McConaughey, and Horns with Daniel Radcliffe. She has sex scenes in two of those (with McConaughey and Radcliffe) while Lovelace is inevitably replete with naked bodies. Temple does not yet take it all in stride. "That moment when you're about to derobe is like, 'Oh fuck, I'm going to be so naked in front of these people'."
While she's unconcerned about developing a name for edgy fare, Temple's team is no doubt pleased at the change of pace, however fleeting it might be, offered by Maleficent. Temple is most thrilled of all. "I'm not going to lie. If you'd told little Juno aged five to 12 that I was going to play a pixie in a movie, I'd have freaked out. I was so obsessed with fairies and I'm still convinced I saw real fairies. They were multicoloured things that looked like fireflies – pink, yellow and blue. Still to this day I have that memory of them dancing on top of a grave in a churchyard."
The film did provide one disappointment: "I didn't get to work with Angelina Jolie, just a Styrofoam version of her, but I met her and she's lovely." Most of her scenes were with Lesley Manville and Imelda Staunton who joined her dangling from wires. "They were so much fun, so giggly and so genius. They can just tap into their inner eight-year-old. I had the best time with them."
For now, she is holed up in LA in apparent domestic bliss. "I live with my boyfriend in this lovely little house. We cook, listen to records. He writes a lot and I help him write things. I do a lot of thrift-store shopping, I love things that have a story. I love being here when I have downtime. LA can be incredibly relaxing – but it also caters to you so well when you are hungry for work."
Does she feel her Hollywood path is now set? "Oh, I really just have to look at it as one job at a time. And I'm just happy when people realise I'm a woman. For some reason when I'm going to meet people, they always expect me to be a very tall man." Not for much longer.
'Afternoon Delight' is released tomorrow
Reuse content