Oliver Hirschbiegel's new film, 13 Minutes, tells the story of a Swabian carpenter called Georg Elser who, in November 1939, came within moments of killing Adolf Hitler. To Hirschbiegel, Elser is a heroic figure who has been forgotten by history, a resistance fighter who deserves as much credit as Claus von Stauffenberg, the aristocratic German army officer behind a later, much more celebrated, plot to kill Hitler in 1944.
This is Hirschbiegel's second feature about the Third Reich, following on from his Oscar-nominated Downfall (2004), set during the final days of Hitler's life, when he was holed up in Berlin with the Red Army on his doorstep, and famous for Bruno Ganz's barnstorming performance as the Führer.
The Hamburg-born director is now 57. His obsession with the Hitler era began when he was a child of "nine or 10". As he puts it, "I never let go. I was always trying to find more material about the Third Reich – more answers. The more I didn't find answers, the more I had to read. Very early on, I stumbled on this guy Georg Elser. He was regarded as a madman, slightly schizophrenic, a loner, who had this mad, crazy idea to kill Adolf Hitler."
During his research for Downfall, Hirschbiegel "stumbled on" Elser again but still found him a riddle. Then, he was sent the 13 Minutes screenplay by Fred Breinersdorfer and Léonie-Claire Breinersdorfer. He was intrigued by the structure of their story, which started at the end point, with the detonation of the bomb, and then flashed back in time, using the brutal Gestapo interrogation of Elser to tease out the character's motivations.
One of the more bizarre elements in Elser's story is how long he was kept alive after his capture. "Mad master plan," Hirschbiegel states. "Hitler had this idea, supported by Goebbels of course, after the Final Victory to do these show trials for personal, special enemies… that is the simple, sole reason for certain prisoners being kept like in a fairy tale. They fed them well. They kept them well. They (the prisoners) had bigger, nicer cells. They were totally isolated from the rest of the world, and there was always somebody with them in the cell to make sure they didn't kill themselves."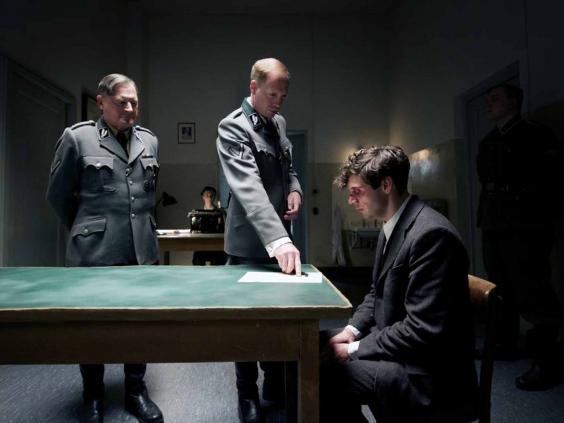 This may be a movie set during the Third Reich but it is full of pastoral imagery. That is what makes it so jarring. Alongside the torture scenes and sequences of the authorities harassing and arresting dissenters, Hirschbiegel shows us an idyllic world a very long way removed from the bombed-out Berlin of Downfall.
The director describes 13 Minutes as a "Heimatfilm". "It is a German genre. It deals with life in the countryside, the beauty of the countryside, the mountains, what we call 'Gemütlichkeit', which has hardly ever been depicted in a serious way in German cinema."
Nazi police chief Arthur Nebe (Burghart Klaussner) appears to show sympathy for Elser (Christian Friedel), and we learn that he was later part of the Stauffenberg plot. However, the director cautions that we should not regard him as a hero.
"He (Nebe) appears to be a nice guy. He is not. He is a 100 per cent Nazi. What you see in the film is a man who is a policeman besides being a Nazi. The Nazis, most of them, were cowards, opportunists, very mediocre as human beings. But, of course, they had good policemen. Nebe was a good policeman. Any good policemen, regardless of the system in which they are working, try to get into the suspect's mind. They want to understand how does this guy tick."
As a young woman, Hirschbiegel's mother was an enthusiastic supporter. "In a way, she is in the film. You see these marching girls there – that is my mother, basically, only she does it three or four years later," the director suggests. "A lot of these kids loved that. They were part of a movement. They were allowed to spend time together. They were sent to the countryside in order to be safe from the war. They had the songs, they had the flags, they had the rituals. It was like the Boy Scouts. They loved it and Hitler was a like a pop star. He was their hero."
Like many others of his generation growing up in the wake of the Second World War, Hirschbiegel became very left wing, briefly joining the Communist Party as he tried to make sense of what had happened during the Hitler years.
Given his background and previous credits, the German film-maker was a surprising choice to direct the ill-fated Princess Diana movie, Diana (2013), starring Naomi Watts. The film was received with derision in the UK. Two years on, the director is remarkably philosophical about its disastrous reception.
"When I read the script, I knew this was a very unusual story about Diana. It was a love story and I didn't know about the story with Hasnat [Dr Hasnat Khan]. I thought – I want to do it," the director reflects. "Of course, you know you are taking quite a risk – it is Diana!" He adds that it wasn't easy, either, to depict Adolf Hitler on screen. "I like a good challenge."
"The basic problem with Diana was that we just focused on the love story. That was a mistake. We should have shown the bigger picture. I think I should have dared to go deeper into the character. She was way more strange and twisted than you see in the film," the director suggests today. "She had many sides – negative, weird ways of behaving… let's say there were more layers to her character than we were able to show. Maybe it is not possible to do that in a movie in the first place." He adds that, at least, the film was a hit in Denmark.
No, Hirschbiegel says, there was no reaction from the Princess's family. "You know they never comment," he says. "They might actually like the film. I think the depiction of Diana is a sweet one. I like watching that Diana. I still like it very much."
He holds no grudges against the UK press. "They kind of treated me very nicely. They didn't hit against me. They hit incredibly against the writer and they were rather unkind with Naomi [Watts] often," Hirschbiegel says. "It was never ever held against me that I was German."
The film 13 Minutes looks likely to receive a far more enthusiastic response than Diana. It was given an ovation at its recent British premiere at the Edinburgh Film Festival and has been sold all over the world.
Hirschbiegel is already in pre-production on a new project, a TV series called Back to Back, set in Berlin during the 1970s. This has been scripted by British writer Paula Milne. In evoking the Cold War era, Hirschbiegel is bound to pay the same painstaking attention to period detail as in his films set during the Third Reich. It is a source of evident pride that Germans in their eighties who saw Downfall "overwhelmingly" praised its accuracy.
"When it comes to the details like the language and the way people carry themselves, I try to be authentic. I don't try to please anybody. I try to get it as right as possible." He does not want to "cheat" or mislead audiences. If they like his films, they like them. If they don't, he will take it on the chin. "You try to do your best but it is part of the deal, part of the game that people don't like a film," he reflects on the risk that the public might turn against a movie. "Most of my films are liked very much and I got lots of awards, but there are no guarantees. If you think that way, you are going to have to stop work."
'13 Minutes' is released in UK cinemas on 17 July
Reuse content