Peppa Pig is undoubtedly the most famous porker since Miss Piggy. The children's animation, whose smiling face has launched a thousand lunchboxes, is set to hit the silver screen with a 15-minute special called The Golden Boots which has its film premiere this Sunday.
But, unlike Miss Piggy - who is something of a prima donna – Peppa has remained polite, giggly and endearingly unconscious of her global fame despite appearing on television for a decade.
The four-year-old (with a little help from creators Mark Baker and Neville Astley) took some time away from jumping in muddy puddles and playing with her friends to answer of The Independent's questions:
1. Tell me about your big screen debut. Are you excited about becoming a film star?
Yes, I am very excited! Oink! Oink! Hee hee hee!
2. What female pig role models have inspired you?
I don't know. I like my cousin Chloe.
3. Are your animal friends jealous you've hit the big time?
No. But I think Suzy really likes my golden boots, because they are made of real plastic gold!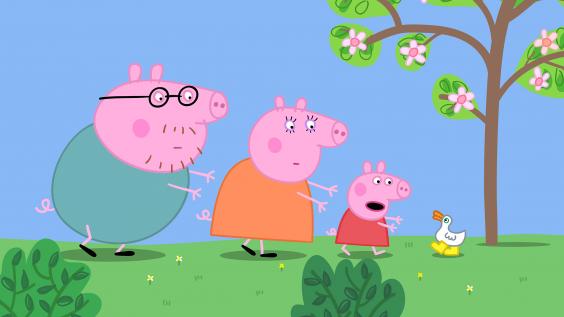 4. How do you cope with the pressures of fame at such a tender age?
I am not famous. Mr Potato is FAMOUS! He has his own television show and he opens shops and he tells us to be healthy by eating lots of something called "five-a-day."
5. Do you ever fight with your brother George?
No. But my little brother George can be a bit annoying. He cries all the time and won't stop going on and on and on and on about Mr Dinosaur!
6. You seem such a nice pig. Have you ever done anything really naughty?
No, never. I'm always good as gold. Ask Suzy Sheep. Actually, don't ask Suzy Sheep.
7. Do you think pigs have a bad reputation? What can be done to tackle the stereotype?
What is stereo-thingy-me-jig?
Children's books with pigs in

Children's books with pigs in

1/5 The Sheep-Pig

Inspiration for the film Babe, Dick King-Smith's children's story features a pig who thinks he's a sheep-dog.

2/5 Wibbly Pig

Trying to get your little one to go to sleep? Mick Inkpen's Wibbly Pig stories are a lovely addition to the bedtime routine

3/5 Peppa Pig

Mark Baker and Neville Astley's modern children's classic is also a popular Channel 5 cartoon

4/5 Winnie The Pooh

The Hundred Acre Wood contains lots of different kinds of animals from kangaroos to tiggers. But Piglet is one of the best-loved A A Milne characters.

5/5 Charlotte's Web

One of the most enduring children's stories features both a scary spider and a smelly pig as its main protagonists.
8. Apart from jumping in muddy puddles, what is your favourite pastime?
Watching Mr Bull digging up the road.
9. Is mummy Pig always right? 
Yes. Mummy told me to say that.
10. Will daddy Pig ever shave off his beard?
No. Daddy told me to say that.
The premiere, which includes an hour of 'Peppasodes', will take place on 1 February at Odeon in Leicester Square where Harley Bird, who provides Peppa's voice, the show's creators and a whole host of Peppa's celebrity friends will be attending. 
The Golden Boots cinema experience will debut in Odeon, Vue, Empire, Cineworld, Showcase and Picturehouse cinemas across the country from Saturday 14th February and will only available during half term week.*
Reuse content