At the heart of one of Roald Dahl's most famous novels is a factory renowned for creating products loved by millions across the globe. The story follows a group of fortunate individuals who win the coveted chance to venture behind closed doors for the rarest of tours around its inner sanctum.
Charlie and the Chocolate Factory may be a work of fiction but it has a real-life counterpart: Pixar Studios in Emeryville, California, the Disney animation house behind the likes of Toy Story, Monsters, Inc. and Up – just three of the many pioneering films that have inspired generations over the past two decades. 
Last week, I was invited behind the doors of that very building.
Allow me to set the scene. Toy Story was released in 1995 – I was four years old. After just two years, viewings alongside my brother could well have entered triple figures. Fast-forward a decade-and-a-half and you could find me shedding tears alongside my family watching Andy leave home for university – like I had done the year before – in Toy Story 3. The trilogy not only shaped my childhood but tracked my coalescence into adulthood and solidified my love for the medium of film. Without Pixar, where would I be?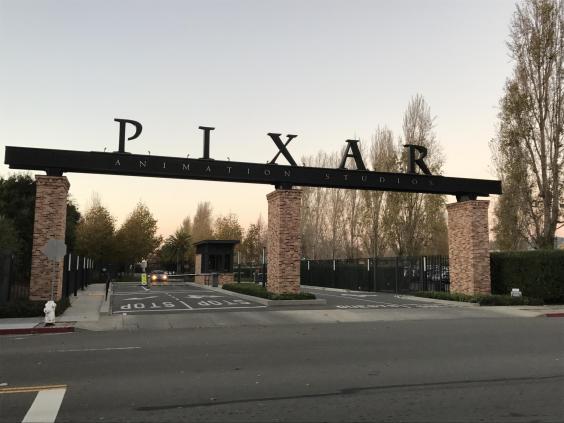 Perhaps it's for this reason I waltz onto the compound with a wide-eyed wonder belying my 25 years. Just one sighting of the giant Luxo lamp and ball that greets all who visit makes me instantly recall blissful memories of yesteryear, like restaurateur Anton Ego after taking one bite of Remy's dish in Ratatouille. 
The sights keep on coming: lifesize figures of Monsters, Inc.'s Sulley and Mike; The Incredibles clan; and, of course, trusty compadres Woody and Buzz side by side. Through these, Pixar makes it known that all who visit – regardless of age or walk of life – are among family. As the mantra goes: "You've got a friend in me."
Bringing me here was the home entertainment release of Finding Dory, the smash-hit sequel to 2004's Finding Nemo. Strolling around the open-plan atrium ("fully designed by Steve Jobs", we're told casually), I stare at each new sight with renewed astonishment: exclusive artwork here, a trophy cabinet boasting eight Oscars there – and that's before we've even stepped into the gift shop.
One breakfast in the Luxo café later and my group are steered into the studio's very own cinema named after the Apple maestro himself.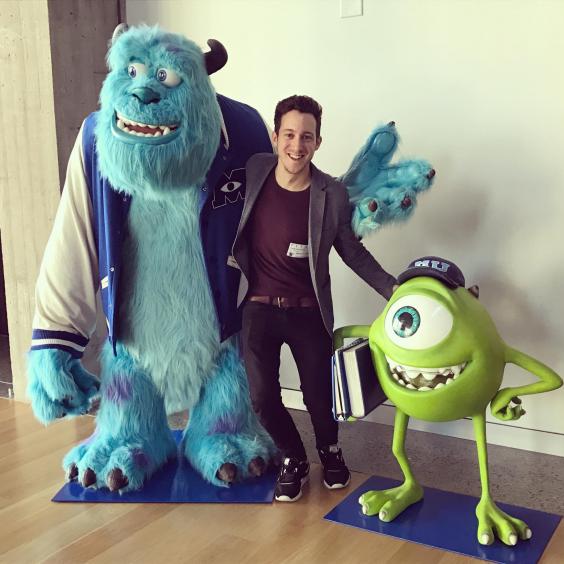 Taking a seat – a mug of coffee in hand (Pixar blend, of course) – we're shown the Blu-ray's guffaw-inducing special features. "Look up as the lights go down – you may see something special," we're instructed as sparkles in the ceiling give the sense we're relaxing under a California night sky. It hits you: any new Pixar property – whether a new film or accompanying short – is premiered here before anywhere else in the world. Cue hairs springing on end.
The special features zip past – interviews with directors, producers and the film's cast including Ellen DeGeneres, who returns as the blue tang fish plagued with short-term memory loss. Most memorable is a feature focused in on Jason Deamer, the film's character designer responsible for creating Hank (Ed O'Neill), the cranky octopus – well, septopus – that almost "broke" Pixar.
Ten minutes later and I'm in a room face-to-face with the man himself. Armed with paper and pen, it's now my turn to draw Hank. No pressure; just a future working as a Pixar animator at stake. The first hurdle claims me – the eyes. "It's okay," chuckles supervising animator Mike Stocker. "You've done the Mike Wazowski Hank." It's hard to argue.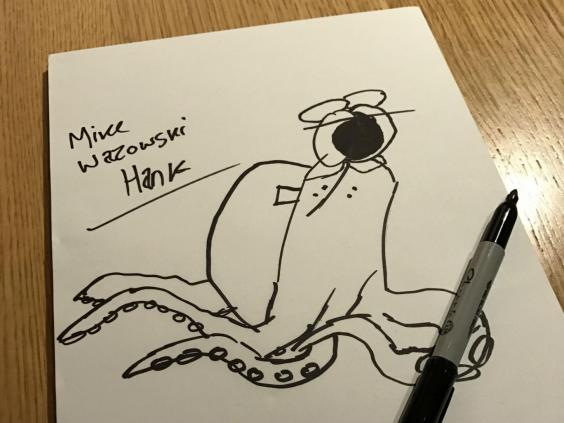 Among the day's remaining highlights are a chat with co-director Angus MacClane and producer Lindsey Collins whose daughter, I discover, voiced the very cute baby Dory – perfectly apt when considering the phrase "one big family" could be applied to team Pixar with ease, a notion cemented by pool tables, football pitch and basketball court peppered about the place.
It's the sprawling scribble of signatures imprinted on a wall outside the actors' voice recording studio that hammers this home most effectively. It soon emerges this familial vibe is not just exclusive to the talent: I'm permitted a brief stint in the same booth that's housed actors ranging from Tom Hanks and Billy Crystal through to Owen Wilson and the inimitable stalwart John Ratzenberger. You can see me giving them a run for their money below.
The friendly cereal-munching nature emitted by all I encounter is infectious and gives off off the precise gregarious yet hard-working vibe you'd expect from such a place. Today especially, employees are excited – while I'm there, the first teaser for upcoming film Cars 3 drops. "Have you seen it?" someone asks me, to which I shake my head sheepishly. Less than a minute later, I'm watching what looks to be the studios' darkest outing yet; despite its 30-year history, Pixar's boldness is clearly in no danger of waning.
Intently observing the artwork in every room I find myself fortunate to be in, I come across letters sent from influential industry figures – Jobs, George Lucas – congratulating the studios on their successes over the years. Resting among them is a letter that's written in the unmistakable scrawl of a pre-teen child thanking Pixar for bringing joy into their life. This letter, while short in length, says everything. 
As I leave the compound, I take one last look around. As with each of Pixar's superior films, I notice things I didn't the first time – the building is a treasure trove designed to be unpacked over time. Unlike being able to revisit the films, though, it's unlikely I'll be here again, a thought as upsetting as the first ten minutes of Up. Yet as the Pixar sign disappears in the distance, the emerging sense is one of gratitude for a day that, unlike Dory, I could never forget.
Finding Dory is out now on 3D Blu-ray, Blu-ray, DVD and Digital HD
I would like to thank Pixar, San Francisco tourist board (@onlyinsf), Virgin Holidays (@VirginHolidays) and, most of all, Disney UK for making me feel very welcome – with a special mention for Aquarium of the Bay in the Fisherman's Wharf area of San Francisco.
Reuse content