Watching an actor evolve can make for fascinating viewing – sometimes proving more entertaining than their output. Take Ryan Reynolds. As he puts it, candidly, "I'd worked both successfully and very unsuccessfully in the movie-star business for a while." The highs include The Proposal, the 2009 romantic comedy co-starring Sandra Bullock that took $317m worldwide. And the lows? Green Lantern, one of the lamest superhero movies of the modern era, springs to mind.
"Ryan is like a Ferrari and they use him like he was a Peugeot," says director Marjane Satrapi, who cast Reynolds in the recent black comedy The Voices. "He's much more talented than people think. He can do anything." Reynolds, 38, chuckles when I relay back this comment. "I think that's a compliment!" he says. "If you talk to someone on the street, they'll say, 'Ryan's the guy who does those action movies' or 'Ryan's the guy who does rom-coms' or 'He does those weird independent movies that no one ever sees.'"
If Reynolds has that everyman quality – a cheeky charmer from Canada, today sporting a waistcoat and tie nonchalantly loosened – he's evidently bored of the act. Like he says, he's plied his trade in the indie sector before: The Nines saw him play three intertwining roles, including a crack-addled actor, while the brilliant Buried was a solo outing that saw his character trapped for the entire movie inside a coffin. Somehow, though, it wasn't enough to convince audiences or executives that this Ferrari could purr.
It made him determined to engineer a lane-change. "I've been looking for film-makers," he admits. "I've been working professionally for 24 years in this business, and it took me a long time to realise that film is a director's medium. The director is god. Theatre is an actor's medium, and television is a writer's medium. So about a year-and-a-half ago, I got a new team. I'd always been with the same people, but I wanted to start afresh, and change the narrative a bit. And I found I was so much happier."
Best films to watch in 2015
Best films to watch in 2015
1/9 Suffragette - 11 September

Meryl Streep is bound to make a formidable Emmeline Pankhurst in Sarah Gavron's new film about the British women's suffragette movement of the early 20th century. Streep is again working from a screenplay by Abi Morgan who also wrote The Iron Lady.

Getty Images

2/9 Far From The Madding Crowd - 1 May

Thomas Vinterberg turns his hand to Thomas Hardy and British costume drama. Memories of the John Schlesinger version with Alan Bates and Julie Christie will be hard to exorcise. Carey Mulligan and the mercurial Flemish actor Matthias Schoenaerts star as Bathsheba Everdene and Gabriel Oak.

3/9 Jurassic World - 12 June

The third Jurassic Park sequel is finally here starring Chris Pratt. The storyline goes something like this - theme park gets dinosaur to attrack visitors and it all goes horribly wrong. Should prove a fun one among cinema-goers.

Colin Trevorrow

4/9 Terminator: Genisys - 3 July

Arnold Schwarzenegger kept his promise - he's back and he's trying to stop Judgement Day.

5/9 Spectre - 6 November

Bond is back for the 24th time. So is arch-villain Blofeld. Director Sam Mendes did a sterling job with Skyfall but the last movie ended on a very downbeat note with poor old Judi Dench signing out of the series. The challenge now is to reinvigorate a franchise that is already well into its 50s.

Rex Features

6/9 Cake - 20 February

It's Rachel from Friends as you've never seen her before as Jennifer Aniston plays Claire Bennett - a woman who initiates a relationship with a widower while battling hallucinations of his dead wife.

7/9 Suite Francaise - 13 March

It will be intriguing to see how Saul Dibb's long-awaited adaptation of Irène Némirovsky's novel deals with a problem that has often confounded British film-makers: how to portray French characters played by English-speaking actors in Nazi-occupied, wartime Paris without slipping into 'Allo 'Allo!-style caricature. Michelle Williams and Kristin Scott Thomas lead Dibb's promising cast.

8/9 In The Heart Of The Sea - 13 March

Chris Hemsworth plays tough seafarer Owen Chase in this dramatic Moby Dick movie.

Warner Bros

9/9 Cinderella - 27 March

Kenneth Branagh's live action remake of Disney's classic tale stars Downton Abbey's Lily James. Helena Bonham-Carter and Cate Blanchett also star as the Fairy Godmother and evil stepmother.

Disney
His latest attempt at rebooting his career is Woman in Gold. Directed by Britain's Simon Curtis, who made My Week with Marilyn, it casts him as Randol Schoenberg, a real-life lawyer who risked his livelihood when he undertook the case of Maria Altmann (played by Helen Mirren), an Austrian immigrant who escaped to California from Vienna as the Second World War began. The film concentrates on her legal battle to retrieve a series of Gustav Klimt paintings, stolen from her family by the Nazis and retained ever since in Austria.
While his bickering relationship with Mirren's Altmann provides the film's heart, it's an unusual role for Reynolds – more people's champion than poster-boy. It helped, he says, that he was able to meet his real-life counterpart. "Randy is an interesting character. He's myopic in his focus. Usually guys like that, their personal lives are incredibly dysfunctional – but Randy has got a great wife, kids and a happy household. I know this case was very stressful on his family. He almost lost everything. But as a guy, he's like a dog with a bone. He pours himself into things one thousand per cent."
Keen to play down his looks, Reynolds insisted on dressing his character in glasses – lending him a sort of pseudo-Gregory Peck look – that not everyone agreed on. "Simon and I were both on the side of glasses. I don't think Harvey was," he says, referring to the film's executive producer, Harvey Weinstein. "[He'd say] 'He's got to look like a movie star – c'mon!'" Realising that he may have overstepped the mark, he adds: "At the end of the day, Harvey was very happy with it all."
Such gambles don't always pay off, of course. Atom Egoyan's The Captive, in which Reynolds plays a man whose daughter is kidnapped, proved a ham-fisted look at paedophile rings and online child abuse. Yet to be released in the UK, it was roundly panned when it bowed in Cannes last year. "I was sad that the movie wasn't received as well as Atom had hoped, but I'm so proud of it," says Reynolds. "Growing up as a Canadian kid, Atom Egoyan is like our Spielberg – well, our Spielberg on a welfare budget."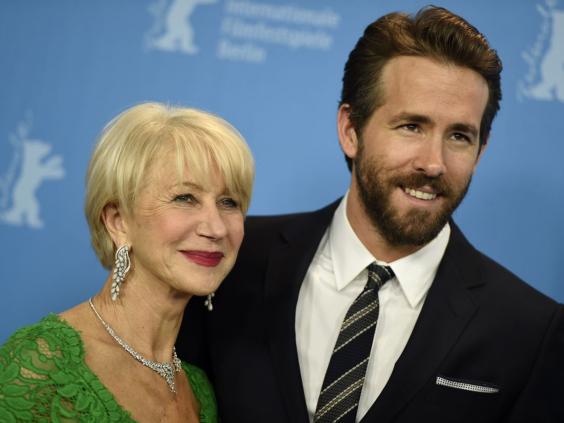 The flipside to this earnest misfire was The Voices, a "bonkers" comedy with Reynolds playing a shrink-visiting psychopath who works in a bathtub factory and goes home (in his mind, anyway) to a talking cat and dog. Reynolds stalked Satrapi after he saw her animated film Persepolis. "She came to the States to give a lecture and I got a chance to meet and spend some time with her. Mostly as a fan – I was abusing my privileged position and geeking out with somebody."
You have to applaud Reynolds' desire to shake up his GQ-like movie persona. Five years ago, he was voted People magazine's Sexiest Man Alive – and he was married to Scarlett Johansson, causing a paparazzi frenzy. He and Johansson divorced in 2011, and just over a year later, he was married to the Gossip Girl actress Blake Lively, with whom he'd starred in Green Lantern. They recently became parents – to a little girl named James.
When we meet, Reynolds has that tired-but-happy daze of a new father about him. "I have to remind myself to blink sometimes!" he jokes. He and Lively and their "new-born", as he refers to his daughter, live in New York, under the radar, away from the one-industry town that is Los Angeles. He first moved to LA when he was 18, when "on the whimmiest of whims" he decided to drive there with an actor friend. After checking into a cheap motel, his jeep got stripped – not exactly a warm welcome.
Raised in Vancouver, Reynolds grew up as the youngest of four boys in a blue-collar household . He started acting in his early teens, on the Canadian soap Hillside. But even then he was keen to explore a world beyond Hollywood and the US. He spent a year backpacking across Europe when he was young, and – until he became a father at least – took motorbike trips through South America and Australia.
Yet for all his adventurous nature, "I never put my guard down if I'm in a public place," he says. Nor at home, it seems, with Reynolds explaining that he covers up the camera on his laptop. "I've done it for the last few years. I've read articles saying that it's very easy to hack into someone's computer." Then there's social media, which he avoids. "Not because I don't like that world, but I'm a little safety-conscious – I'm married to a beautiful woman and I wouldn't like tweeting something like, 'I'm off to Jamaica!' It's like, 'Come to my house, live in my bed for two weeks!'"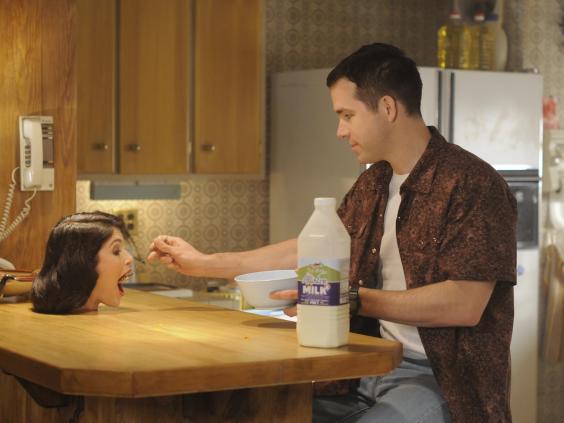 With early Hollywood hits including 2002's Van Wilder: Party Liaison and Blade Trinity (2004), Reynolds has been in the public eye for so long such caution is understandable. Even before his marriage to Johansson, he was engaged to singer Alanis Morissette for three years (her song "Torch", with its cry of "I miss your smell and your style", is said to be about Reynolds). "I've had my head screwed on right," he notes. "I'm lucky that I've been able to navigate those choppy waters with some degree of trueness – I'm grateful for that."
Being settled in his personal life has certainly given him the courage to take more risks professionally. He's recently completed Mississippi Grind, a gambling tale by the writer-directors of the acclaimed indie Half Nelson, starring that other (and arguably hipper) Ryan – Mr Gosling. Then there's Self/less, a thriller by the off-kilter visionary Tarsem Singh. But most excitingly, he's finally getting to do his pet project Deadpool, reviving the character he played in the earlier spin-off X-Men Origins: Wolverine.
With the titular mutant a disfigured and unstable mercenary who appears entirely aware that he's in a fictional universe, Reynolds warns fans to expect something offbeat. "It's not like an X-Men movie where there's this gigantic budget. It's quite a small film. It's very difficult to weave that character into other comic movies. He knows he's in a comic book. If he met Wolverine, he'd greet him as Hugh Jackman. It's tough to create a meta-universe within another universe that doesn't have any of those components."
Shooting in Vancouver, Reynolds is bringing Lively and daughter James with him. "With family, you stay together – so we're all going. We're excited, though – it's just part of the adventure." Finally, it seems that he's manoeuvring his career to where he wants it, and he's grateful. "When you're a working actor and you're able to pull in a pay cheque doing something you love, you're a success story," he shrugs. "I know that I have an obscenely wonderful life because of this business – I'm able to do something that I love."
'Woman in Gold' opens on 10 April