It has been warmly received by the critics, but the film professed to be Steven Soderbergh's last is proving less potent at the box office. Side Effects, which cost around $30 million to make, is already being branded a flop having taken just $10 million at its opening weekend in the US. Perhaps the psychoanalytical tale of prescription drug-popping is too close to reality for Stateside viewers?
It will be something of a shock for Sonderbergh, who has had huge success and been widely prolific since his 1989 film Sex, Lies and Videotape. Side Effects is believed to be the 50-year-old director's swan song before he leaves the movie business to focus on painting and writing. But compared to the $22.4 million taken at his last hit Contagion's first weekend, and following the equally desultory way2009's Informant! was greeted at the box office, the primary commercial side effect from this film will be disappointment.
One theory for its poor performance lies with the marketeers. It is telling that Warm Bodies, a 'zombie romance' targeting the lucrative tween market (and starring British actor Nicholas Hoult) took $24 million on its opening weekend at the start of February, and still beat Side Effects on its debut last weekend. Similarly, this week's biggest hitter in the US is feel-good comedy Identity Thief.  Industry insiders have suggested that if Open Road Films, the studio behind Side Effects, had made the presence of 'romcom' heartthrob Channing Tatum (whose last three films gleaned $100 million each) more obvious, the film might have garnered more attention among the cinema-going public.
Click here or on "View Images" for the biggest movie turkeys of 2012
Also, rather than spell out every plot twist as the most commercial of Hollywood's cinematic exports are wont to do, the film's trailer plays its cards close to its chest. "Side Effects is a psychological thriller full of twists, and distributor Open Road Films opted to conceal those twists in the marketing campaign. While that surely delighted the cinephile population (personally I loved having no idea what was coming), it made the movie seem vague and inaccessible to the general movie-going public," writes BoxOfficeMojo.com.
It has been suggested that the Side Effects posters, which focus heavily on the "psychological thriller" element of the film, with mash-up mug shots of its stars Tatum, Catherine Zeta-Jones, Rooney Mara and Jude Law partially obscured by a red overlay (which the graphics department at the British Red Cross might take issue with), might have put viewers off.
Ok, so nobody likes it (Keira Knightley certainly doesn't) when movie posters enter the realms of fantasy, Photoshopping non-existent cleavage as they did on her 2004 film King Arthur, or making 2007 film Juno look like a follow-up to Super Bad. But with four big name stars to take full advantage of, it's surprising that the film poster makes them virtually unrecognisable.
Another version, solely featuring Girl With A Dragon Tattoo star Mara (below) is tinted red with a playful take on a doctor's note beneath, which includes the tagline "some people want to get better in the worst way". It's a beautiful piece of design. But who's to know from this that the film is about a relationship that enters that realms of drug-addled bliss followed by inevitable disaster?  It's rare that major corporations let style override substance in this way – and it looks as if they're paying for it.
Like Love and Other Drugs before it, where Jake Gyllenhaal and Anne Hathaway couldn't make addiction sexy enough for the box office. Let's hope it doesn't join a litany of recent turkeys (by which I mean movies that didn't make their production costs back at the box office) from Big Miracle, Rock of Ages to Wanderlust. It'll be interesting to see the effect of its release in the UK on 15 March.
Perhaps they should have stuck to the film's original title The Bitter Pill.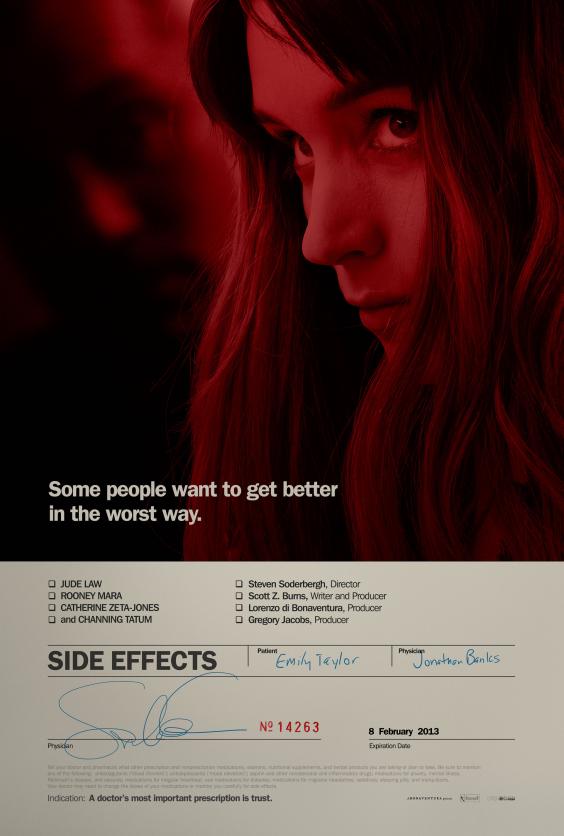 Reuse content