In their new boxing comedy film, Grudge Match, Sylvester Stallone and Robert De Niro portray rival pugilists who are enticed out of retirement for one last fight. But for Stallone and De Niro, the stars of Rocky and Raging Bull respectively, a misfiring comedy set in the ring risks landing a blow to the reputation of their iconic boxing cinematic triumphs.
When we meet in New York, Stallone admits that it was for this reason he originally demurred about starring in Grudge Match. "I was thinking, 'I don't know, this could be a parody'," he says. "I was overthinking it." A phone call from De Niro changed his mind. "He brought me to my senses. I was torturing Pete [director Peter Segal] to rewrite or change this scene. Then I realised that I was the one who had to change. He [De Niro] said, 'Let's do it, we'll have a good time', and he was right. It was a great script and it touched on all these things without getting maudlin."
De Niro, 70, and Stallone, 67, might both have had a good time filming their new movie in New Orleans, but they are two markedly different cinematic fighters. Stallone made his name with the 1976 boxing drama Rocky, which landed him Oscar nominations for both acting and writing. Yet no other Academy Award nominations ensued and he became an action-movie star in franchises such as Rambo, The Expendables and other less memorable fare. De Niro has two Oscars, for The Godfather II and for his performance as the flawed middleweight boxer Jake LaMotta in Martin Scorsese's Raging Bull, picking up an additional five nominations.
Over the past decade, De Niro has specialised in comedy (he hasn't collaborated with Scorsese since Casino in 1995). By contrast, Stallone has shied away from being funny since two comedic flops, Stop Or My Mom Will Shoot! and Oscar, in the early 1990s. Meeting them in person confirms that the on-screen variations extend to their personalities. Stallone is gregarious and perceptive; he knows his forte lies in action movies, but his creative intelligence reminds you that he's also an accomplished abstract painter and a romantic who turned down big-money offers when he was broke and starting out to make the first Rocky film his way. De Niro is his trademark bashful offscreen self, his face obscured by a flat cap. He feels no need to significantly expound on his craft; his performances do the talking.
The pair have acted together once before, in James Mangold's 1997 police drama Cop Land, but have never sparred like they do in Grudge Match. The film also stars comedy veteran Alan Arkin as the trainer to Henry "Razor" Sharp (Stallone) and Kim Basinger as the erstwhile love interest of both Sharp and Billy "The Kid" McDonnen (De Niro). Segal says that Stallone had the most to lose: "Sly definitely took the biggest risk, because Bob had given a wink to The Godfather with [1999 mob comedy] Analyze This," he says. "This was a tricky thing for Sly. We adore those movies [Raging Bull and Rocky] and to even wink at something, a source material, you have to love it."
Stallone talks about De Niro's career with awe: "We started out at the same time and I'll never forget that Rocky and Taxi Driver were playing at the same time," he says. "I thought, 'who is this guy with the mohawk?' I wouldn't have the guts to do that kind of film. When I did First Blood, I had no intention of doing action. I just went down that route. He became this great dramatic actor. You just take these tributaries in opposite directions and we end up back in the ring 30 years later having had incredibly diverse careers. His is lucky. Mine is scorned. But it's a good scorn!"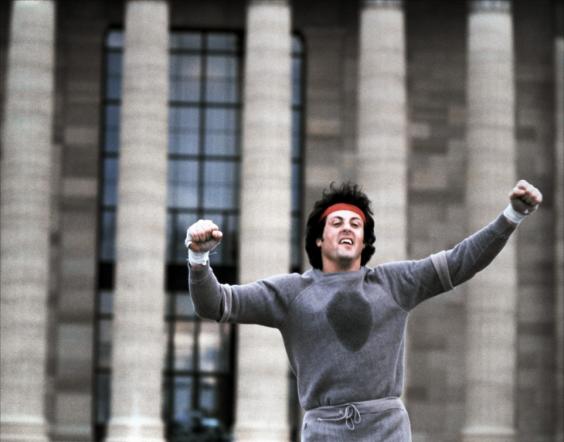 Grudge Match required both actors to get in shape with boxing trainer Bob Sale, who previously worked with Stallone as technical adviser on the sixth Rocky movie, Rocky Balboa. But unlike Raging Bull, where De Niro famously gained 60 pounds to portray Jake LaMotta in physical decline, they needed to shed the weight. Stallone went on a 95 per cent protein, no carbs diet and went down to 168 pounds, his lowest weight since 1981. "For me it was an excuse to get back into training and boxing," De Niro says. "Bob Sale trained me in New York and Sylvester in California. He gave me the choreography that Sylvester had created. We did it separately and then met in New Orleans and worked on it."
Both Stallone and De Niro have further caught the boxing bug. Stallone will soon play Rocky Balboa for a seventh time in Creed, directed by Ryan Cogler, who recently made the acclaimed drama Fruitvale Station, while De Niro is playing the trainer Ray Arcel in Hands of Stone, a biopic of Panamanian boxer Roberto Duran. For Stallone, as in Grudge Match, boxing serves a metaphor for life. For him the actor is the underdog in the ring: "You feel like an underdog because when you're trying to get a job you're going against a studio and it's a big mountain to climb. I don't know if you ever really get over it." He adds: "In acting you take a good beating now and then. You take a few falls."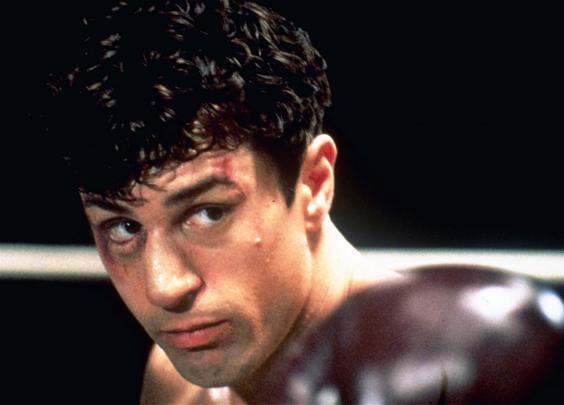 Indeed when Stallone is asked whether, like his character 'Razor'9 Sharp in Grudge Match, he would like to go back and revisit anything in his life, he doesn't hold back. "How about everything!" he jokingly muses. "I'd like to start at July 6 1946!" [his date of birth]. Of course we have regrets but then again a lot of our regrets and mistakes in a sense develop our personalities... You show me a happy actor, I'll show you a sh**ty actor."
De Niro professes to be content with his lot: "I'm having a good time. I like doing comedies. They're different... I consider myself very fortunate. The choices I've made in my life are the ones that I'm comfortable with." One thing that does irk him is ageism in society: "When you get older there's a discrimination against age by people. You walk down the street and you see younger people and they don't recognise [you], they don't look as much, they don't turn, they're not interested." Grudge Match has received mixed reviews in the US, something I suspect that Stallone will take to heart more than De Niro. Asked about the climactic bout between the pair in the film, Stallone says, "It was lovely. To finally get in the ring with him [De Niro]... It's never going to happen again. It's one of those amazing moments where you think, 'is this possible 30 years after Raging Bull?'" De Niro has a different take on the concept of art and time: "You always care what people think about you. But I have to do what I feel I'm going to do, because it's not going to matter in 30 or 40 years."
'Grudge Match' is released on 24 January