Not everyone's twenties inevitably play out like the HBO sitcom-worthy chaos of a true quarter-life crisis, but I'd always half-assumed the pressures of fame and artistic legacy somehow made those feelings unavoidable in any young actor's mind.
Actors, in some ways, live with two identities: themselves, and the idea of themselves that they build up on screen. We spend our twenties in a half-blind panic as we try to solidify our sense of self, but to do so at the same time as knowing that every role chosen, every character played, might forever determine how we're seen by of thousands of people seems an insurmountable task. 
If Taron Egerton – the 27-year-old actor who first shot to fame as Eggsy in 2015's Kingsman: The Secret Service – feels even a flicker of that foreboding, that small inkling of a crisis of self, he's done an incredible job of not letting those feelings surface as he discusses his career with an absolute, calm sense of assuredness, a roll-with-the-punches attitude of someone who's merely focused on the thrill of opportunity.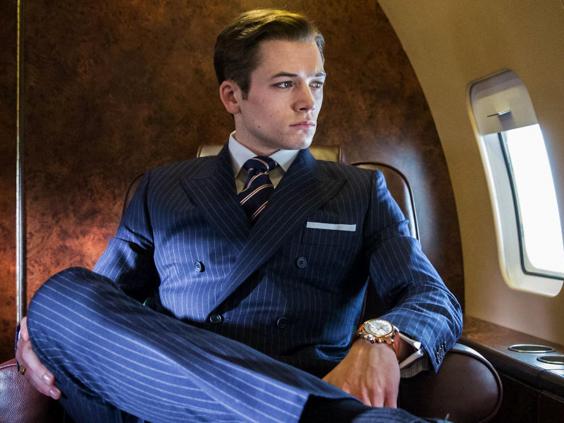 "I want to have fun," he says. "I'm not interested in being a serious actor because I think it's boring, and I think we've got plenty of them. SoI like to do stuff that has a sense of humour, and stuff that doesn't necessarily take itself too seriously. But equally I'm also now yearning to explore the dark side of life a little bit.
"The joy of the job is the diversity and the variety – and, if you're lucky enough, to have the freedom to do different things. I don't like the idea of a box. It's nice to kind of defy the idea of a box."
Egerton's explorative approach to his work is evident: his roles are varied, interesting, but not deliberately poised to show range like somebody attempting to thrust their portfolio in everyone's face. 
Following Kingsman, he went from playing a lover of Tom Hardy's Ronnie Kray – basically a high-pitched laugh on legs – in Legend to the endearing buffoonery of one of the UK's most beloved underdogs, Eddie the Eagle.
"If something appeals, something appeals," Egerton says. "I don't think I'm particularly calculated about it. I know I have an alarm bell that goes off in my head where something feels like it has no creative integrity to it at all, and it's just about making money. I'm not interested in going and doing a big, action-adventure romp with nothing to say about being a human being. Whereas Kingsman's become quite a lucrative thing, but it's also a big arthouse movie in a lot of ways. It defies the parameters within which those big budget commercial films normally operate."
He now enters brand new territory with Sing, both marking the first time he has lent his voice to an animated feature, and the first musical production he's featured in. He voices the soulful ape Johnny, burdened by a father intent on him joining the family business, a business that happens to be theft and robbery. What's surprising, listening to Egerton's utterly soulful versions of "The Way I Feel Inside" and '"I'm Still Standing", is the fact singing remains a fairly new enterprise for him.
"I'd done it before," he says. "I'd done, like, amateur musicals and I'd done choral singing at school, but I think it was at [drama school] Rada where I first had that validation and someone actually saying, 'You know, you can sing'. And I go, 'OK, I can sing!' That was the first time I remember feeling that way. Then, when I was in my third year, everyone in their third year has a meatier role – a lead or a really interesting, big character part – and mine was the lead in a musical."
Over the course of his time at Rada, Egerton reflects that he was always, in some ways, considered the "male singer" of the year; though the reputation never made him shift his priorities in terms of career plans.
"I didn't go to drama school to be a musical theatre performer," he says. "I enjoyed it, but I didn't go to do that; I went to be an actor. So I felt a little bit... not cheated, but a bit miffed that my big chance was in the musical. That said, now I'm desperate to do a musical, and I'm trying to find one. Or find someone who will let me do one. I mean, it's about someone presenting me with an opportunity really, but I'd bite their hand off if they did. I think it's about time we had some."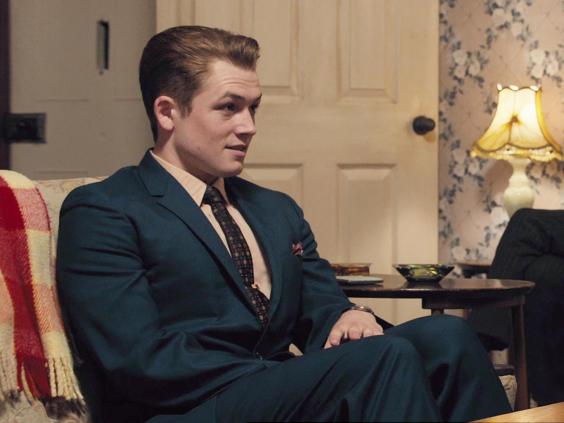 He's yet to see La La Land and acknowledges he might be the last person on the planet not to have seen the Oscar favourite. But he seems enthused at the prospect of the screen musical's much-discussed grand return: "I feel like we're due a stint of them," he says.
In reality, Egerton has little time to spend waiting by the phone for the next Damien Chazelle to call, considering how packed his current schedule is; he's currently working on Lionsgate's Robin Hood film, playing the titular role alongside Jamie Foxx and Ben Mendelsohn, with two films set for release this year. 
First up is Billionaire Boys Club, which almost acts as a who's who of young Hollywood talent; here starring alongside the likes of Ansel Elgort, Emma Roberts, Jeremy Irvine and Billie Lourd, in the real-life tale of a band of LA rich kids whose financial scam soon ended in deadly consequences. "I play a bit of a s*** in that," the actor adds. "Which is kind of nice, since I usually play more sympathetic characters generally. So he's a bit of an arsehole, which is kind of fun. Because there's an arsehole in all of us."
Films to get excited about in 2017
Films to get excited about in 2017
1/22 Star Wars: The Last Jedi

Director: Rian Johnson

Cast: Mark Hamill, Carrie Fisher, Adam Driver, Daisy Ridley, John Boyega, Oscar Isaac, and Lupita Nyong'o

Plot: No details yet, but it will continue directly on from Rey coming face-to-face with Luke at the end of The Force Awakens.

Release Date: 15 December 2017

2/22 Thor: Ragnarok

Director: Taika Waititi

Cast: Chris Hemsworth, Tom Hiddleston, Cate Blanchett, Tessa Thompson, Jeff Goldblum, Karl Urban, and Mark Ruffalo

Plot: Story details are minimal as of now, but Thor's third return to screen has already been teased to feature a loose adaptation of the famous 'Planet Hulk' storyline.

Release Date: 27 October 2017

3/22 Song to Song

Director: Terrence Malick

Cast: Ryan Gosling, Christian Bale, Natalie Portman, Rooney Mara, Michael Fassbender, and Cate Blanchett

Plot: Two intersecting love triangles. Obsession and betrayal set against the music scene in Austin, Texas.

Release Date: Unknown

4/22 Wonder Woman

Director: Patty Jenkins

Cast: Gal Gadot, Chris Pine, Robin Wright, and Connie Nielsen

Plot: After leaving her all-female island, Wonder Woman discovers her full powers and true destiny while fighting alongside soldiers during World War I.

Release Date: 2 June 2017

5/22 The Circle

Director: James Ponsoldt

Cast: Tom Hanks, Emma Watson, John Boyega, and Karen Gillan

Plot: A young female tech worker takes a job at a powerful internet corporation, quickly rises up the company's ranks, and soon finds herself in a perilous situation, which that involves privacy, surveillance and freedom. She comes to learn that her decisions and actions will determine the future of humanity.

Release Date: 28 April 2017

6/22 The Beguiled

Director: Sofia Coppola

Cast: Elle Fanning, Nicole Kidman, Colin Farrell, Kirsten Dunst, and Angourie Rice

Plot: A Union soldier is held captive in a Confederate girl boarding school, and begins to con himself to each of their hearts.

Release Date: 23 June 2017

7/22 You Were Never Really Here

(image from Her)

Director: Lynne Ramsay

Cast: Joaquin Phoenix, Alessandro Nivola

Plot: A war veteran's attempt to save a young girl from a sex trafficking ring goes horribly wrong.

Release Date: Unknown

8/22 Annihilation

Director: Alex Garland

Cast: Natalie Portman, Jennifer Jason Leigh, Tessa Thompson, and Oscar Isaac

Plot: A biologist's husband disappears. She thus puts her name forward for an expedition into an environmental disaster zone, but does not quite find what she's expecting. The expedition team is made up of the biologist, an anthropologist, a psychologist, and a surveyor.

Release Date: Unknown

9/22 Wonderstruck

(image from Far From Heaven)

Director: Todd Haynes

Cast: Julianne Moore, Michelle Williams, and Amy Hargreaves

Plot: The story of a young boy in the Midwest is told simultaneously with a tale about a young girl in New York from fifty years ago as they both seek the same mysterious connection.

Release Date: Unknown

10/22 Suburbicon

(image of director George Clooney)

Director: George Clooney

Cast: Matt Damon, Julianne Moore, Josh Brolin, and Oscar Isaac

Plot: A crime mystery set in the quiet family town of Suburbicon during the 1950s, where the best and worst of humanity is hilariously reflected through the deeds of seemingly ordinary people. When a home invasion turns deadly, a picture-perfect family turns to blackmail, revenge and betrayal.

Release Date: Uknown

11/22 Okja

Director: Bong Joon-ho

Cast: Ahn Seo-hyun, Tilda Swinton, Jake Gyllenhaal, and Paul Dano

Plot: A young girl named Mija risks everything to prevent a powerful, multi-national company from kidnapping her best friend — a massive animal named Okja.

Release Date: Unknown

12/22 Dunkirk

Director: Christopher Nolan

Cast: Tom Hardy, Cillian Murphy, Harry Styles, and Mark Rylance

Plot: Dunkirk opens as hundreds of thousands of British and Allied troops are surrounded by enemy forces. Trapped on the beach with their backs to the sea they face an impossible situation as the enemy closes in.

Release Date: 21 July 2017

13/22 Mother

(image of Darren Aronofsky)

Director: Darren Aronofsky

Cast: Jennifer Lawrence, Javier Bardem, Michelle Pfeiffer, Domhnall Gleeson, and Ed Harris

Plot: A couple's relationship is tested when uninvited guests arrive at their home, disrupting their tranquil existence.

Release Date: Unknown

14/22 The Killing of a Sacred Deer

(image from The Lobster)

Director: Yorgos Lanthimos

Cast: Colin Farrell, Nicole Kidman, and Alicia Silverstone

Plot: A surgeon forms a familial bond with a sinister teenage boy, with disastrous results.

Release Date: Unknown

15/22 Blade Runner 2049

Director: Denis Villeneuve

Cast: Ryan Gosling, Harrison Ford, Robin Wright, and Jared Leto

Plot: Thirty years after the events of the first film, a new blade runner, LAPD Officer K, unearths a long-buried secret that has the potential to plunge what's left of society into chaos. K's discovery leads him on a quest to find Rick Deckard, a former LAPD blade runner who has been missing for 30 years.

Release Date: 6 October 2017

16/22 Lady Bird

(image of director Greta Gerwig)

Director: Greta Gerwig

Cast: Saoirse Ronan, Laurie Metcalf, and Lucas Hedges

Plot: The adventures of a young woman living in Northern California for a year.

Release Date: Unknown

17/22 The Kidnapping of Edgardo Mortara

(image of director Steven Spielberg and star Mark Rylance)

Director: Steven Spielberg

Cast: Mark Rylance, Oscar Isaac

Plot: The Kidnapping Of Edgardo Mortara recounts the story of a young Jewish boy in Bologna, Italy in 1858 who, having been secretly baptized, is forcibly taken from his family to be raised as a Christian. His parents' struggle to free their son becomes part of a larger political battle that pits the Papacy against forces of democracy and Italian unification.

Release Date: Unknown

18/22 How to Talk to Girls at Parties

Director: John Cameron Mitchell

Cast: Elle Fanning, Ruth Wilson, and Nicole Kidman

Plot: An alien touring the galaxy breaks away from her group and meets two young inhabitants of the most dangerous place in the universe: the London suburb of Croydon.

Release Date: Unknown

19/22 The Dark Tower

Director: Nikolaj Arcel

Cast: Idris Elba, Matthew McConaughey, and Tom Taylor

Plot: Gunslinger Roland Deschain roams an Old West-like landscape in search of the dark tower, in the hopes that reaching it will preserve his dying world.

Release Date: 28 July 2017

20/22 The Shape of Water

(image of Guillermo del Toro behind the scenes of Crimson Peak)

Director: Guillermo del Toro

Cast: Sally Hawkins, Michael Shannon, Richard Jenkins, Doug Jones, Michael Stuhlbarg, and Octavia Spencer.

Plot: An other-worldly story, set against the backdrop of Cold War era America circa 1963.

Release Date: Unknown

21/22 Alien: Covenant

(image of director Ridley Scott behind the scenes)

Director: Ridley Scott

Cast: Michael Fassbender, Katherine Waterston, Noomi Rapace, and Guy Pearce

Plot: Headed toward a remote planet on the far side of the galaxy, the crew members of the colony ship Covenant discover what they believe to be an uncharted paradise, but it is actually a dark, menacing world in which the only inhabitant is the synthetic David, a survivor of the doomed Prometheus expedition.

Release Date: 19 May 2017

22/22 Baby Driver

Director: Edgar Wright

Cast: Ansel Elgort, Lily James, Jamie Foxx, Jon Hamm, and Kevin Spacey

Plot: A young, music-loving expert getaway driver is coerced into a heist for a mob boss, which threatens his life, love and freedom.

Release Date: 18 August 2017
The other is, of course, Kingsman's highly-anticipated sequel The Golden Circle; how does the film's host of A-list Americans (Channing Tatum, Jeff Bridges, Julianne Moore, Halle Berry, Pedro Pascal) may affect what feels like such a quintessentially British blockbuster.
"I think it's still got that quintessential Britishness and it's still about what being a gentlemen is, and we're still in those beautifully tailored suits," he responds. "As much as a large portion of the film is spent exploring what the Statesmen are – the American version – by the end, it's very much the Kingsmen who are saving the day again."
"So I think it's very faithful to its identity and what Matthew [Vaughn, director] established in the first one, but equally I think he recognises the importance of there being a new world to explore. I would never presume to know how his mind works, but I think, in this one, he knew that the audience would have that hunger for stuff they hadn't seen, which was what was fun about the first one, this world of Kingsman opening up before them. So in this one, we discover the Statesmen and we didn't even know they existed, and it's a whole new world to explore again."
SING is available now on Special Edition on 4K Ultra HD™, Blu-ray 3D™, Blu-ray™, DVD and On Demand, courtesy of Universal Pictures Home Entertainment (UK).
Reuse content