Just in time for Valentine's Day last week, it was reported that Amanda Knox was engaged to Colin Sutherland, a 27-year-old musician she has known since they were at high school together in Seattle. Should they choose to honeymoon, the destination will not be Italy, where she is currently in the middle of an appeal against a 28-and-a-half-year sentence for the murder of her flatmate, the British student Meredith Kercher.
The case made headline news around the world. Editors and readers alike lapped up the tale of beautiful, white, middle-class students, bound together in a horrific murder and sex crime. Knox, an American student studying in Perugia, was accused, alongside her Italian boyfriend Raffaele Sollecito, of murdering 21-year-old Kercher on 1 November 2007. More than seven years later, despite numerous trials, who murdered Kercher and what happened that night remains open to conjecture.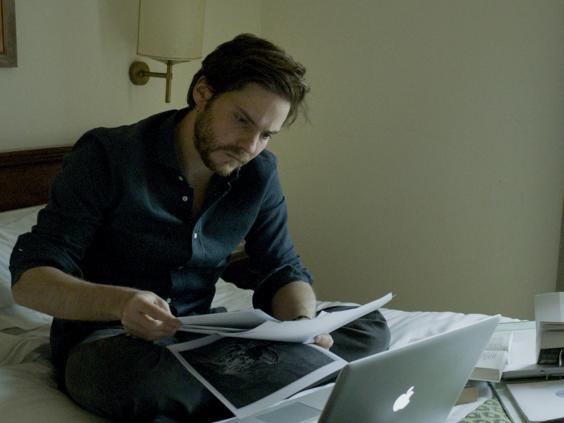 Knox spent almost four years in jail after initially being found guilty, alongside Sollecito, of murdering her flatmate. A third man, Rudy Guede, a local criminal whose DNA was found in Kercher's room, was tried and convicted separately: he is the only person still behind bars. When in 2011 an appeal judge decided that there was insufficient evidence for the conviction, Knox was released from prison and left Italy, vowing never to return. That judicial decision was questioned and subsequently overturned. The most recent decision, upholding the conviction of Sollecito and Knox, came just a few weeks ago, at the end of January. Knox is currently in the process of appealing the sentence to the Supreme Court of Italy, while trying to rebuild her life in Seattle.
It's a case that still sends the internet into a frenzy every time it is mentioned and arguments seem set to flare once again with the arrival of The Face of an Angel. Michael Winterbottom's new film is inspired by Barbie Latza Nadeau's book Angel Face, set around the trial.
"I read Barbie's book, which was a straight account of the trial," says Winterbottom. "Meeting Barbie the journalist, it made me want to look at the issue of why we are so interested in the story." Instead of trying to decipher the clues that have had Italian legal eagles arguing for years, Winterbottom turns his camera's gaze on those reporting the murder and trial.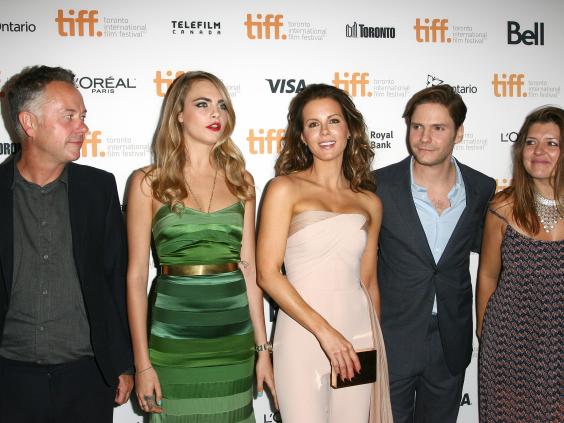 The main protagonist is documentarian Thomas, played by Daniel Brühl, the star of Rush. Thomas has recently separated from his wife and resents having to live apart from his nine-yearold daughter Beatrice. Sent to make a film around the 2011 appeal of the conviction of an American student, he wants to make a film based on a book written about the trial, rather than the trial itself. Sounds familiar? It's a parallel that makes one wonder whether Brühl is actually playing a version of Winterbottom. In 2004, the British director's ex-wife Sabrina Broadbent wrote Descent: An Irresistible Tragicomedy of Everyday Life, a roman à clef about the end of their marriage in which Genevieve, a psychiatric nurse, stays at home while her film-maker husband travels the world, having sex with wellknown actresses.
Brühl doesn't deny that there are elements of Winterbottom in his character. "Barbie told me that the character, Thomas, is a combination of Paul Viragh, the film's screenwriter, and Michael, and I don't know who else. I always have empathy with this character because he's a guy who is struggling to make his new film, he wants to tell something intimate, something important."
As Thomas follows the case, he suffers from nightmares, that are visualised on screen, and cold sweats. Reflecting his hellish state of mind, Winterbottom has divided his tale into three parts, in the style of Dante's Divine Comedy. What drew him to the story, as he read Barbie's book, was how muddy the waters were, and that so much of how one viewed the events depended on where you were born: "I think the fact that it had three different cultural perspectives was good. Because the Italians saw it one way, the Americans another way and the British another way."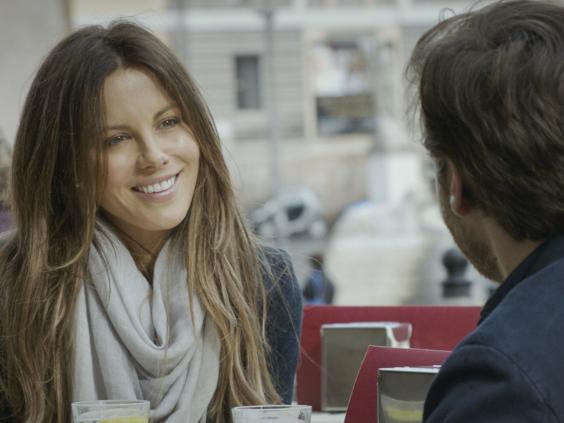 The cultural bias created issues when filming began. One of the first things Winterbottom did was move the action to Siena in order to avoid any hostility from locals who were still angry at the media circus that followed the murder: "It wasn't easy, as you would expect. There was a little bit of nervousness around it. The Italians were aware that the Americans were saying the Italian judicial system is rubbish, which is why she was found guilty. Even though it was a British film, they saw it as American. So we couldn't get away from that fear."
In order to allay those fears, Winterbottom met local journalists to explain that he wasn't trying to make a film about the Amanda Knox case. It only made the situation worse; every time he spoke and tried to clarify what his story was about, the assembled media became more convinced that it was a film about Knox.
Winterbottom also spoke with the Kercher family. He met Lyle, Meredith's brother, "who acts as the person who protects the family," he says. "One of the things that I saw at the start was how the Kercher family had not got involved in the media circus. They went to Italy to make sure Meredith wasn't forgotten. For me the film is about this – why do you forget girls that are the victims in a case? We showed him the film and we thought it was a film that served her memory and he agreed, so we added the dedication at the end." It's the only mention of the real-life figures in the film.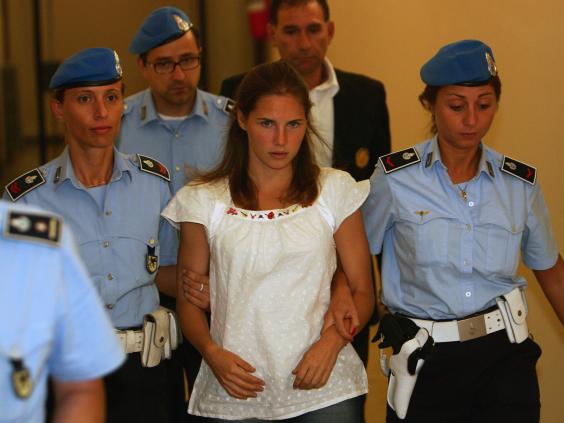 Kate Beckinsale plays Simone Ford, the onscreen incarnation of Barbie. The film opened her eyes up to journalism, she says. "I was struck by how much similarity there is between the professions of acting and media. There is a mindset of it being very much a vocational job, there is a lot of competition for work, and [having to be] prepared to leave your wife and kids at a moment's notice and go to other countries."
Barbie introduces Thomas to the reporters working on the story in Siena – a British tabloid hack (John Hopkins), Italian correspondent (Corrado Invernizzi) and an American (Sara Stewart) who is convinced of the accused's innocence. They live up to the stereotype of the cynical journalist willing to do anything for a story and then, cavalierly, dismiss it once it's done. Yet Winterbottom, whom Beckinsale calls "the great puppet-master", also captures the camaraderie of the job, and the changing times. It also touches upon citizen journalism, through the character of Italian blogger Edoardo (Valerio Mastandrea).
Winterbottom's boldest move is to create an entirely fictional character, Melanie, a 21-yearold student who acts as Thomas's salvation. She is played by the ubiquitous supermodel Cara Delevingne in a beguiling turn that makes it likely that she will be appearing on screens almost as often as on catwalks from now on. She is currently preparing for a major role in studio blockbuster Suicide Squad opposite Will Smith and Jared Leto.
Best films to watch in 2015
Best films to watch in 2015
1/9 Suffragette - 11 September

Meryl Streep is bound to make a formidable Emmeline Pankhurst in Sarah Gavron's new film about the British women's suffragette movement of the early 20th century. Streep is again working from a screenplay by Abi Morgan who also wrote The Iron Lady.

Getty Images

2/9 Far From The Madding Crowd - 1 May

Thomas Vinterberg turns his hand to Thomas Hardy and British costume drama. Memories of the John Schlesinger version with Alan Bates and Julie Christie will be hard to exorcise. Carey Mulligan and the mercurial Flemish actor Matthias Schoenaerts star as Bathsheba Everdene and Gabriel Oak.

3/9 Jurassic World - 12 June

The third Jurassic Park sequel is finally here starring Chris Pratt. The storyline goes something like this - theme park gets dinosaur to attrack visitors and it all goes horribly wrong. Should prove a fun one among cinema-goers.

Colin Trevorrow

4/9 Terminator: Genisys - 3 July

Arnold Schwarzenegger kept his promise - he's back and he's trying to stop Judgement Day.

5/9 Spectre - 6 November

Bond is back for the 24th time. So is arch-villain Blofeld. Director Sam Mendes did a sterling job with Skyfall but the last movie ended on a very downbeat note with poor old Judi Dench signing out of the series. The challenge now is to reinvigorate a franchise that is already well into its 50s.

Rex Features

6/9 Cake - 20 February

It's Rachel from Friends as you've never seen her before as Jennifer Aniston plays Claire Bennett - a woman who initiates a relationship with a widower while battling hallucinations of his dead wife.

7/9 Suite Francaise - 13 March

It will be intriguing to see how Saul Dibb's long-awaited adaptation of Irène Némirovsky's novel deals with a problem that has often confounded British film-makers: how to portray French characters played by English-speaking actors in Nazi-occupied, wartime Paris without slipping into 'Allo 'Allo!-style caricature. Michelle Williams and Kristin Scott Thomas lead Dibb's promising cast.

8/9 In The Heart Of The Sea - 13 March

Chris Hemsworth plays tough seafarer Owen Chase in this dramatic Moby Dick movie.

Warner Bros

9/9 Cinderella - 27 March

Kenneth Branagh's live action remake of Disney's classic tale stars Downton Abbey's Lily James. Helena Bonham-Carter and Cate Blanchett also star as the Fairy Godmother and evil stepmother.

Disney
Melanie, a happy-go-lucky student abroad who works in a pub, represents the life that Meredith – or Elizabeth (Sai Bennett) as she is in the film – might have led had she not been murdered. "We try not to borrow from the specifics from Meredith's life," says the director. "But the film is about the father and the family's love for Elizabeth who is absent and about Daniel's character's love for his daughter, who is absent. Cara/Melanie is the one who is there, she represents, or embodies certain qualities – optimism, joy in life, the spirit of happiness and energy, all the things that these people have lost because of absence."
Delevingne was nervous about taking on the role, despite admitting that acting and music were always her plan A: "Michael was saying [that] it's got to be a natural performance, and he made it real in what is an occasionally surreal film. My character comes in and she's not aware of it, she doesn't know she is doing it, but she makes Thomas see the light." The film doesn't attempt to find an answer to the case.
The cast and director avoid making assertions. On Knox, Delevingne says: "I don't know. If I was able to interview her, if I could ask her, I'd make my own judgement, but from someone else's point of view, how can I make the decision? I'm not the judge and the jury."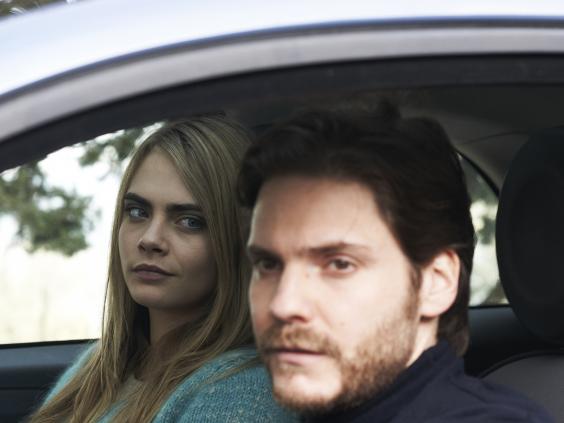 Yet Delevingne understands the fascination with the case. "Death happens around us all the time, something that shocks you. We live in a world that is quite structured, and if you see something that is crazy, you are going to want to see it. They are the memories you want to build and want to stick in your head. I don't know why humans want to do that with bad stuff, but that is what humans do."
I saw the film at Toronto Film Festival and felt it was carried by the sense of mystery, sex and the unanswered questions. but it has received mixed reviews so far. Deborah Young in The Hollywood Reporter, argued, "It's hard to even describe this will-o'-the-wisp film, and audiences are likely to feel alternatively intrigued and frustrated as they try to puzzle it out." Screen International's Mark Adams praised the performances and the look but said, "it is also a rather plodding film that rarely reaches dramatic highs."
What's clear is that how much one likes the film depends on the viewer's willingness to accept that Winterbottom hasn't made a whodunnit. As the director states: "The central themes about grief and loss and love [are] way more important and interesting than the details of 'was it 9.52 or 9.55?', 'were there 2 or 3 people?', 'did they open the door or smash it down?'. All of those things that people write books about and we listen to time and time again on these murder cases. None of these elements change the fact that someone has been killed."
'The Face of An Angel' is released on 27 March
Reuse content